In July 2019, Ubisoft partnered with Joseph Gordon-Levitt's HitRecord, an online platform designed to bring artists together for collaborative projects. The goal of this partnership was to encourage fans from all over the world to write, record, and submit tracks and samples to be used in Watch Dogs Legion and Beyond Good & Evil 2, which, on paper, sounds like a fascinating initiative.
Unfortunately, the reality was far more grim – anyone who had their music selected would receive part of a one-off sum of $2,000, equally split between all parties who contributed to the track in question. If your track didn't make the cut, you earned nothing, which is bad for the industry on several counts.
The reason this is worth discussing today is because of Ubisoft's recent decision to engage in yet another bout of spec work in relation to Assassin's Creed Valhalla. Again, this is ostensibly pretty innocuous – fans of the series can submit a design they're passionate about and, if they're lucky, it will be available to players all over the world for free. "Ubisoft isn't even earning any money from this" you might say, labeling it as a harmless round of fanfare and excitement.
It certainly looks that way at face value. The competition tasks you with designing a tattoo for Eivor's head, arms, torso, or back, and is due to run from May 17 to June 7. If you're one of four winners, your tattoo will be available to download from Ubisoft Connect free of charge and you'll receive $225-worth of merch. That second part is already a little shady – paying someone in proprietary assets as opposed to legal tender is already navigating murky waters, but when you look into the rules behind winning – which a lot of people don't – the situation becomes markedly worse very quickly.
The little Valhalla care package awarded to winners includes a hoodie, a t-shirt, a snapback, a towel, an art print, and some stickers. As mentioned previously, this has been assigned a total retail value of exactly $225. However, if you look into the competition rules, you'll see that the sum of all prizes has an estimated retail value of $900. The $225 of merch is one prize, while getting your tattoo in the game is the other one. This implies that Ubisoft implementing your design in Valhalla – which you earn no actual money from – is worth $675 to you. Bit strange, right? It gets worse.
The fine print in this new wave of spec work is just as bad as any of the other similarly deceptive and exploitative initiatives conducted in the games industry. On top of the fact that this devalues the work of actual artists who should be hired, contracted, and paid competitively for designing and implementing assets for a game, it takes advantage of fanfare in a nefarious way.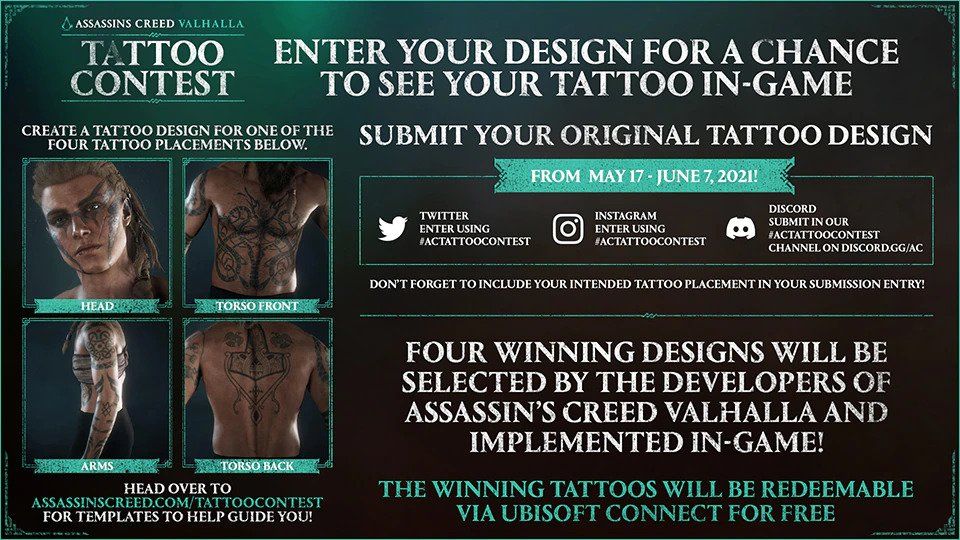 There are some standard scummy but typically jargonic legal clauses in the terms and conditions. If you get charged import tax for receiving the prize, that's on you. Prizes can't be redeemed for cash – again, you're being paid in assets that cost nothing to offload – and Ubi is allowed to substitute compensation for an equivalent award if it deems necessary. Lost or stolen prizes are not the studio's problem.
What's worse is that Ubisoft is gaining a lot more from this exchange than a few thousand drawings of Celtic crosses and Norse runes. Accepting a prize, which is compensated by in-house, non-transferable, non-legal tender, grants Ubisoft rights to everything submitted as an entry material, which includes "video, name, pseudonym, photograph, likeness, voice, biographical information, statements, and complete address." These can be used for "advertising and/or publicity purposes worldwide and in all forms of media now known or hereafter devised for five (5) years, without further compensation or authorization and releases the Competition Entities [see: you] from all claims arising out of the use of such Attributes."
And if you don't win? Well, if you use an Ubisoft account in order to enter the competition, all of your entry materials become known as "User Generated Contents" as part of this agreement and the wider Ubisoft Terms of Use. Under that binding, the following terms apply:
"In any event, all materials submitted to Sponsor shall become the sole property of Sponsor and will not be returned or acknowledged. As consideration for entering and participating in the Competition, Entrant agrees that Entrant shall relinquish any and all rights to the materials that Entrant submits. Submission of an entry grants the Sponsor and its agents the right to record, copy, publish, use, edit, exhibit, distribute, perform, merchandise, license, sublicense, adapt and/or modify such entry in any way, in any and all media, without limitation and without any compensation to the Entrant. Submission of an entry further constitutes the Entrant's consent to irrevocably assign and transfer to Sponsor any and all rights, title and interest in the entry, including, without limitation, all copyrights."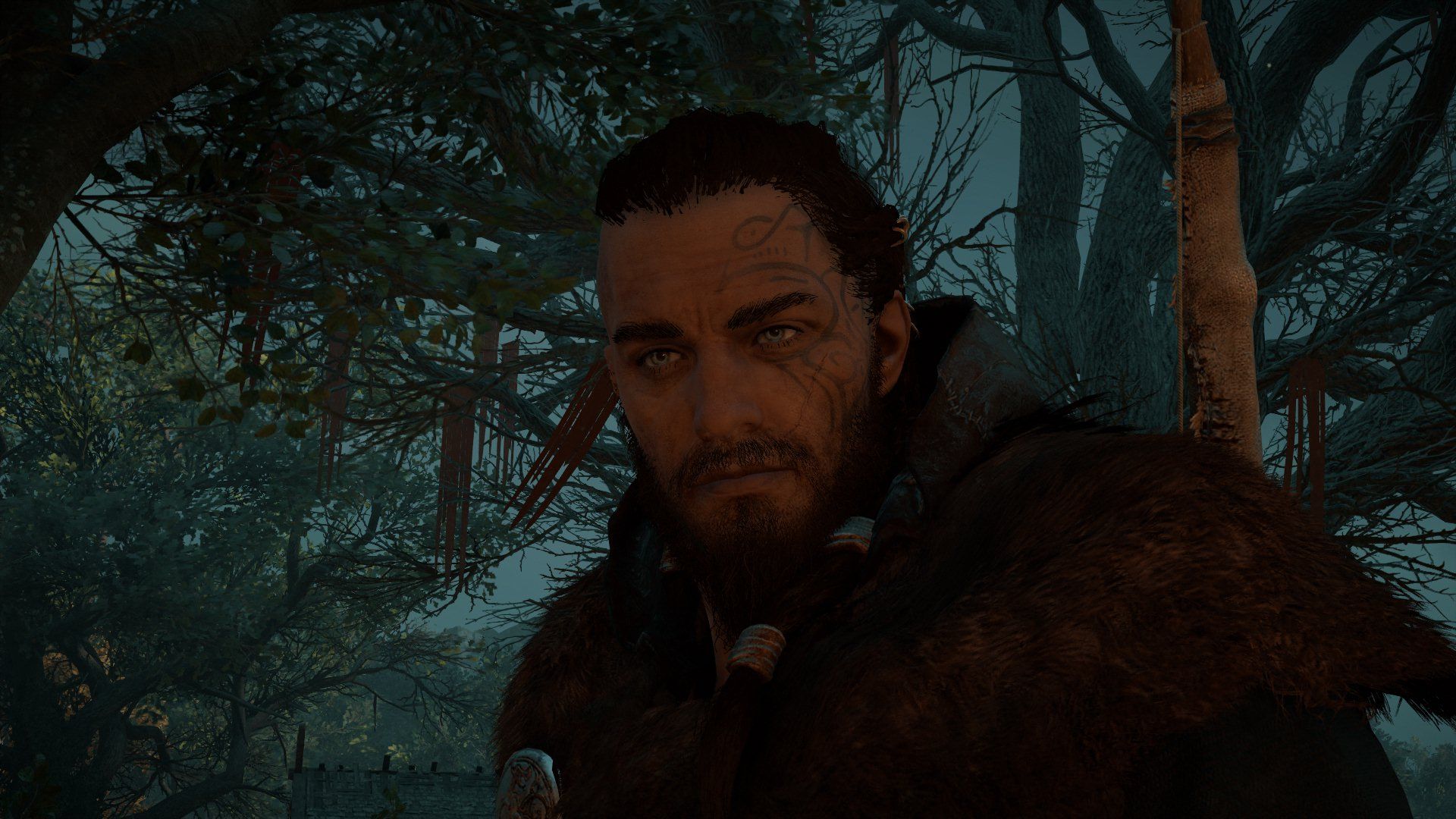 Essentially, anything you submit for this contest becomes Ubisoft property whether you like it or not. Whether your design is used as inspiration, slightly modified, or ripped verbatim and implemented into a Watch Dogs or Immortals game in five years' time, you relinquish all authority you hold over it at the point of submission to the extent that you legally cannot exercise interest in it – it is no longer your intellectual property.
This is further built upon in section eight of the competition rules, which includes a clause posted in all caps. When distilled into simpler language, it states that entrants agree to "indemnify, defend, and hold harmless," Ubisoft, as well as all of its social media platforms and any third party contractors affiliated with the contest, from any and all claims based on rights of privacy. There are also other clauses you are blocked from asserting, but the privacy section specifically includes "rights of privacy, rights of publicity, false light, defamation, copyright and/or trademark infringement relating to the submission or exploitation of the entrant's concept." Note that as per the legal terminology used in this document, this applies to "entrant" rather than "winner," which further proves that Ubisoft is not only engaging in spec work tied to the face value implementation of tattoos, but is hosting a thinly veiled competition specifically geared towards obtaining "User Generated Contents" from thousands of people all over the world.
The generation and retention of this data, as described in the aforementioned privacy clause entrants are blocked from contesting, is outlined in a supplementary privacy notice published alongside the main rules. Again, this expands the scope of what Ubi plans to use the information it garners from entrants for.
"The processing of your personal data is necessary to perform the contract you have entered into with Ubisoft by accepting the rules of the competition," the privacy notice reads. "If you consent, your data may also be used to create in-game content. Your personal data will be accessible by Ubisoft, its affiliates, and sub-processors. The content you have published as part of the competition will remain publicly available until you choose to delete it.
"Ubisoft may transfer your personal data to non-European countries that ensure an adequate level of protection according to the EU Commission or within the framework of the standard data protection clauses adopted by the EU Commission here. You can withdraw your consent at any time, request a copy of your data, its deletion or rectification, object to the processing of your data, request the restriction of its processing, and/or receive your information in portable form by contacting Ubisoft's data protection officers here. After contacting us and if you are not satisfied with the way we have handled your request, you may address a complaint to the regulatory authority of your country."
While all of this is standard fare for any legal document pertaining to data protection, it's worth hearkening back to the earlier points in this article and penning a brief summary: this is a competition that will go on for three weeks. Tens of thousands of people from all over the world will enter, four of whom will be given some Assassin's Creed clothes, and all of whom will have all of their entries collected and examined for potential reuse in future commercial products. This includes personal information like complete addresses and limited biographical accounts of entrants who, more likely than not, think they're submitting a drawing of a dragon tattoo with no strings attached. Like its previous indulgences in spec work, this is simultaneously an initiative that devalues professional, skilled, highly trained work and exploits the interest and excitement of fans. It is bad for workers, it is bad for communal transparency among players, and it is bad for the industry in general, and "contests" like this should be vehemently denounced by anyone able to recognize their origin in capitalistic exploitation of artistic merit.
Source: Read Full Article