For years, it felt like Pixar had settled into a predictable rhythm. Toy Story, Finding Nemo, The Incredibles, and a handful of other marquee franchises became fertile ground for sequels, while new properties like The Good Dinosaur sank far more often than they swam. Quality was still incredibly high, especially when looking at beautiful films like Coco, and Inside Out – but they all felt like classic Pixar.
However, things were beginning to grow stale, and there was a worry that perhaps the studio wasn't ready to embrace a new generation of talent with fresh ideas and a more modern perspective. Turning Red feels like that tired attitude has finally been thrown aside, building upon Luca's charming foundations with a fun, bubbly, and empowering coming of age tale that feels like nothing else before it.
Much like Luca, Turning Red isn't about dealing with grief or delivering an overbearing life lesson, and it also doesn't give a shit about toys, cars, or superheroes. It's just about a bunch of dumb teenagers having fun and enjoying the act of growing up. Meilin and her friends are a bunch of clumsy and adorable idiots who love geeking out over clichéd pop groups and crushing on boys in the school corridor. The film isn't afraid to let kids be kids, having fun and learning so much along the way through a fantastical lens.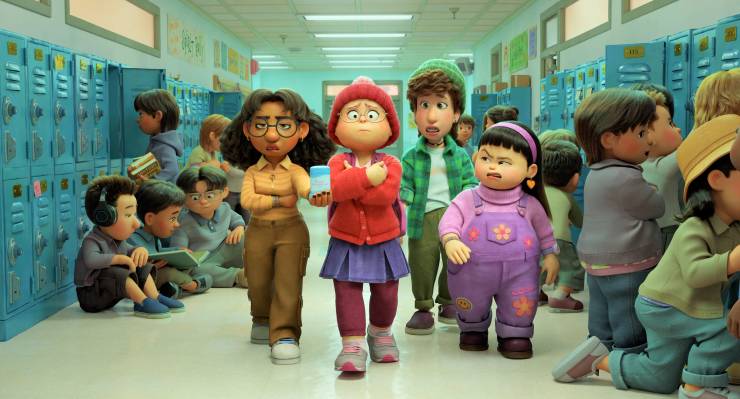 Director Domee Shi, who previously picked up an Academy Award for Best Animated Short with Pixar for Bao, has used Turning Red as an honest retelling of her own experiences growing up as a Chinese-Canadian in Toronto. Obviously she didn't transform into a giant red panda when things got emotional, but dealing with generational trauma, growing up with a love of anime, and confiding in a small yet caring group of friends all feel like aspects of the film's narrative that are based on the real world.
The film is set in 2002, a time when Sailor Moon and Backstreet Boys were all the rage. Smartphones are replaced by Tamagotchis, allowing a further emphasis to be placed on human connection and dialogue instead of resorting to social media as an easy escape. So many young girls who are growing up now and those who were raised in the same time period as Mei will find so many similarities in her joys and struggles. I remember drawing cute art in my notebook during class, or hiding away stories from my friends and family in fear of potential embarrassment. Who hasn't drawn fan art doodles am I right?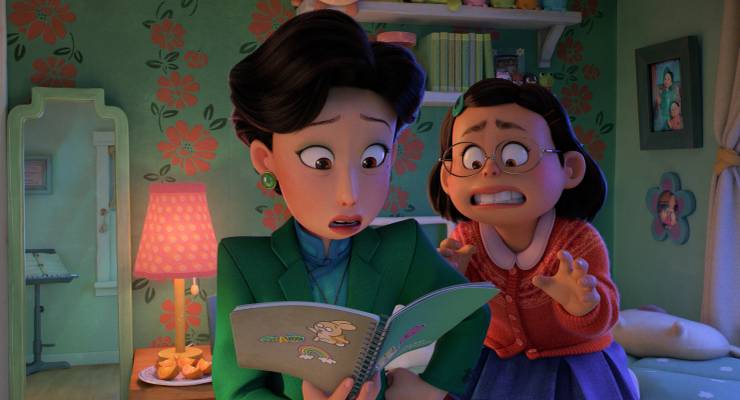 Turning Red is simultaneously bubbly and poignant, progressive in its character designs and subject matter while appealing to all age demographics. Pixar has always nailed this, but it often felt like certain topics were considered taboo, or more inclusive storytelling concepts were sanded down to appeal to the mainstream. We heard this from employees in response to Disney's support of the 'Don't Say Gay Bill' with the studio speaking out about queer characters and ideas that were returned by corporate as a shadow of what they used to be.
This isn't a queer film by any stretch, but the fact Domee Shi and the production team were able to explore periods and the idea of womanhood with such overwhelming honesty feels like a groundbreaking moment for not only Pixar, but Western animation as a whole. The attitude of Turning Red is unlike anything the studio has done before, exuding a sense of rebellion that reflects the millennial upbringing and how we are living in a world where the stories we tell can no longer be protectively sanitised. Things aren't getting any better, and young audiences are far more intelligent than we give them credit for, so it makes sense to incorporate worthwhile lessons and advice into films in a way that feels natural.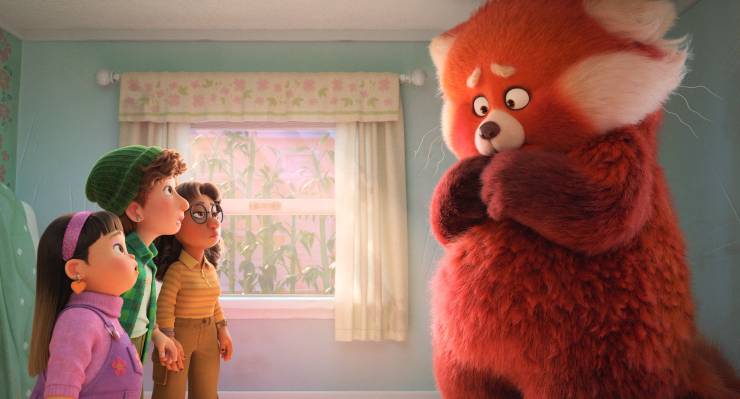 Turning Red does that while still being a delight to watch. After Disney closed Blue Sky Studios and canned the production of Nimona I've been hoping something like this would come along and reignite my hope in animated films. With any luck it will inspire future creators, or perhaps movies that are now entering production and will take notes from its exuberant character designs and uncompromising approach to storytelling. Pixar's creative future is bright, and it's all thanks to new talent being given a chance to shine.
Source: Read Full Article