Grab your pizza and your nunchucks, because TMNT: Mutant Madness is now available as a free download on iOS and Android devices. Developed by Kongregate's Chicago-based studio, Synapse, and published by Nickelodeon, TMNT: Mutant Madness picks up where the 1987 animated series left off, ushering in a brand-new adventure for the Teenage Mutant Ninja Turtles to take part in wherever you may be.
I had the opportunity to check out a pre-release build of the game, and while I don't usually gravitate towards these types of mobile titles, TMNT: Mutant Madness provides more than enough content – especially in the way of nostalgia – to have a permanent place on my phone.
The Gang's All Here
If you happened to have played last year's Zombieland: Double Tapper, you'll feel right at home with TMNT: Mutant Madness. After running through the guided tutorial and getting a sense of the story – having defeated Shredder and the Foot Clan once and for all, the Turtles take some well-deserved R&R only to immediately be thrown back into action – you'll be taking the heroes through battle after battle, taking on groups of enemies as well as bosses. You won't just be controlling the Heroes in a Half-Shell, though. An impressive roster of other characters will also be available to join the fray.
In addition to the Turtles themselves, fan-favorite characters such as Casey Jones and April O'Neil will eventually be available to join your team, as well as some of the TMNT universe's most iconic villains such as Rocksteady, Tokka, and Baxter. (My personal favorite – and one of the characters that I still have yet to add to my lineup – is Mondo Gecko.)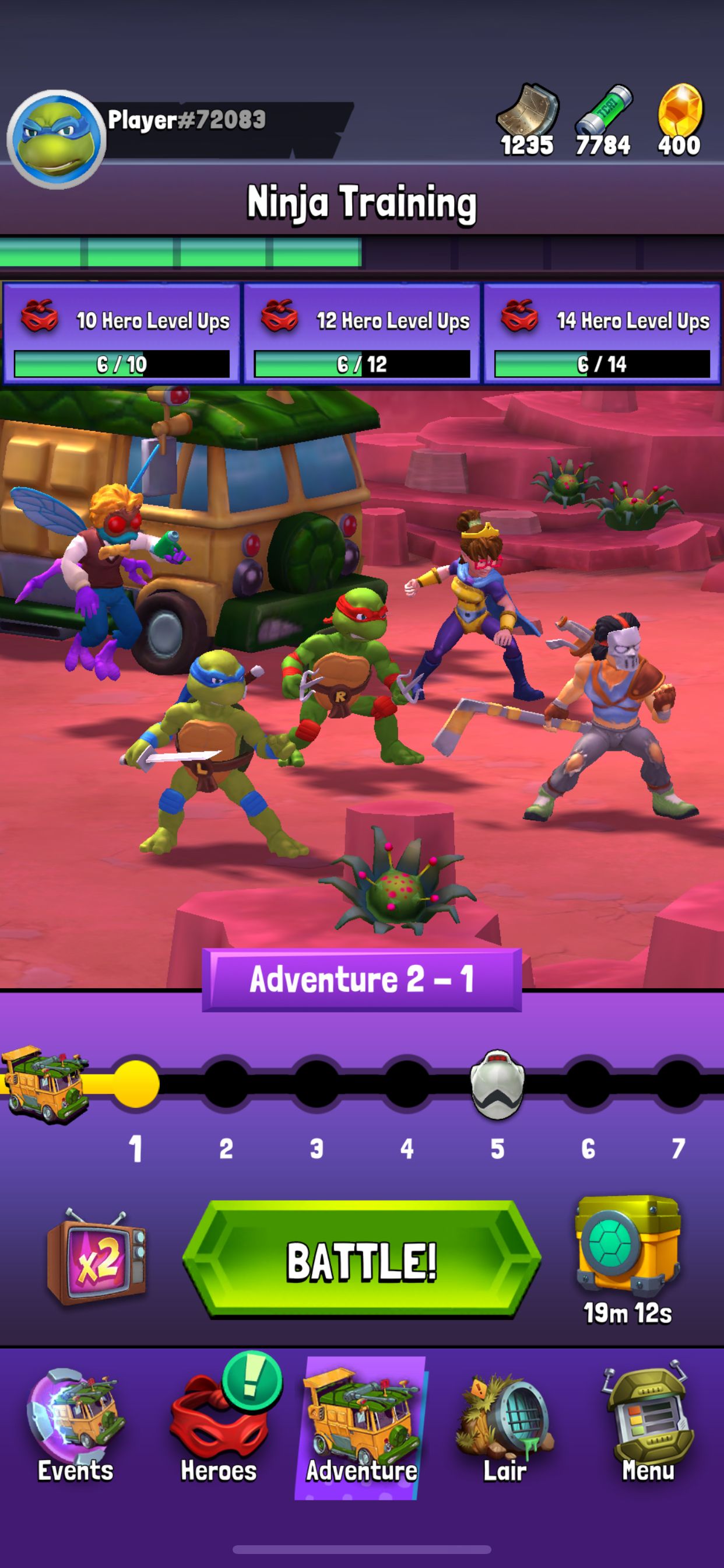 It's the old-school roster of characters (as well as some of the newer characters from the Nickelodeon animated series) that makes TMNT: Mutant Madness so enjoyable. Rather than giving me control over only the Turtles, Mutant Madness allows me to mix and match my lineup with some of my favorite characters from the longstanding franchise, catering to the warm nostalgia that I feel for the series.
Turtle Power
As battles rage on, you'll be able to activate special abilities for your characters, giving you a leg up on your foes. What's great about combat is that even if all but one of your characters get knocked out, they'll all be ready to go in the next encounter without having to use any healing or other forms of resources. As you progress, you can level up your characters making them more powerful, which will be needed as the difficulty level increases with each encounter. A pre-fight gauge will show your potential success rate, which allows you to prepare for each encounter. It's a worthwhile strategy to do so as well, since each victory will reward you with resources that will allow you to unlock additional abilities and increase your characters' level ratings.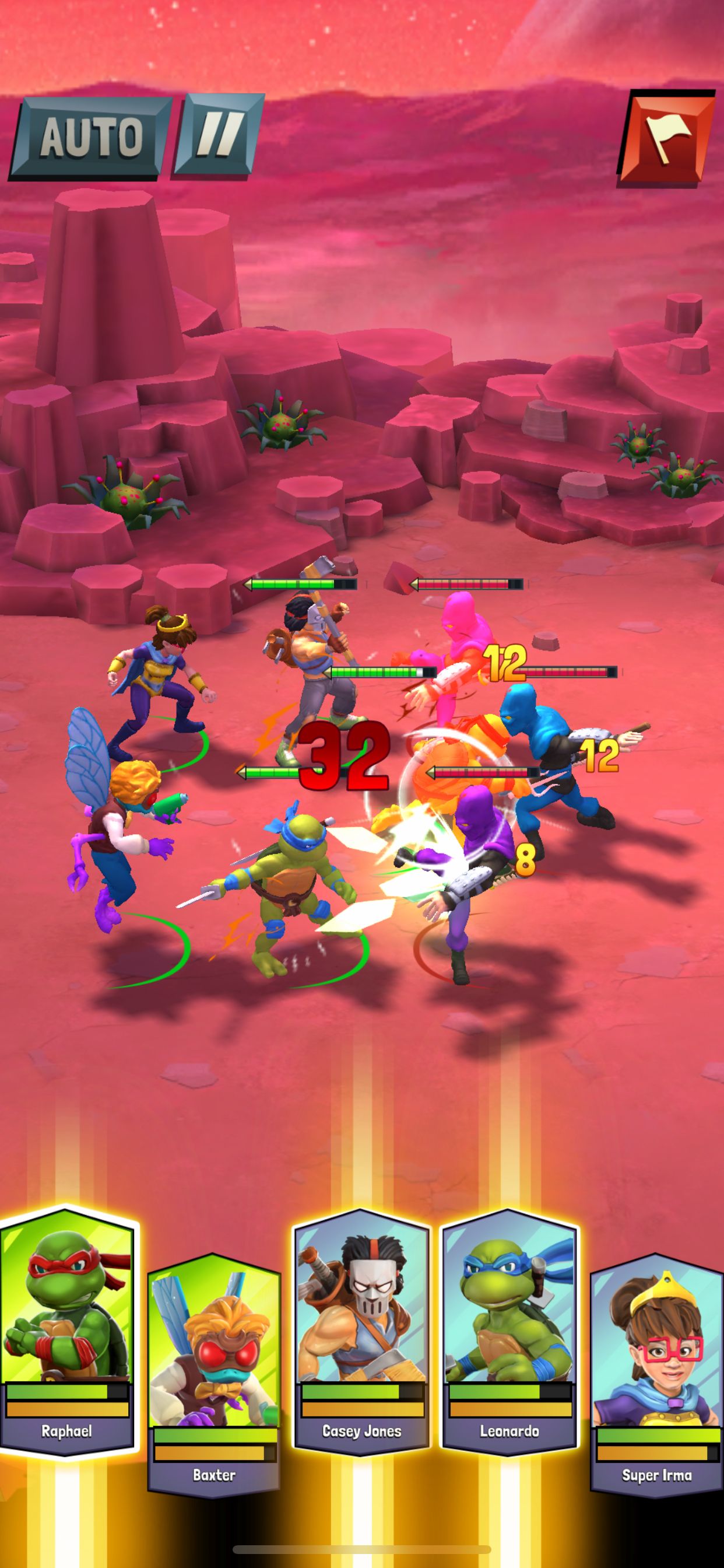 You'll also build up your lair, which will reward you with additional resources even when you're not playing. Again, this isn't necessarily anything new for this type of game, but it's a pretty good feeling to come back into the game and see the resources that have been added while you were away. Timed community events are also available, giving players additional resources to level up and earn other rewards. A ranked leaderboard shows how your progress compares to other players, adding a fun competitive element to the game.
Cowabunga!
I expected TMNT: Mutant Madness to be a relatively standard mobile gaming experience, but quickly found it to be so much more. It has admittedly sunk its teeth into me and has made its way into my phone-checking rotation: Twitter, Instagram, Facebook, TMNT: Mutant Madness, repeat. What's more is that the game has even inspired me to re-download The Simpsons: Tapped Out. Tapped Out's description of being "life-ruiningly fun" is something that I would also label TMNT: Mutant Madness as being, and that is absolutely a compliment.

An iOS copy of TMNT: Mutant Madness was provided to TheGamer for this review. TMNT: Mutant Madness is available now for iOS and Android mobile devices.
Source: Read Full Article