Quick Links
Spotlight Hour and Raid Hour
News, Updates, and Reminders
This week, there's a lot going on in Pokemon Go. With the start of the Season of Heritage, wild spawns have changed, new events are announced, and there's a ton to see and do.
Luckily, we have all the info you need for this week in one convenient post. We've also included a preview of what's coming next week and we'll have a new post next Sunday on the week's events, so be sure to check back.
Season of Heritage
December 1, 2021 to March 1, 2021
At the beginning of December, a new three-month season began in Pokemon Go. This is the Season of Heritage and it comes with a new set of spawns, new events, an overarching story, and a ton more. Check out our full guide for all the details, but here's a quick overview of the major points:
Each of the three team leaders will lead the events and Timed Research for one of the three months. In December, Blanche is spearheading a Timed Research challenge to collect a ton of Stardust and rewarding you for doing so. Next, Spark will issue an XP collection challenge for January and then in February, Candela will lead an expedition to catch a ton of Pokemon.
These Timed Research stories are meant to help investigate a mysterious door in a cave that Professor Willow found. They'll all reward you with a new avatar item for completion.
There are bonuses in effect for the whole season as well as monthly bonuses.
Incense is more effective when stationary or moving
Remote Raid participants will deal more damage
PokeStops are guaranteed to drop gifts
You'll receive an extra candy when trading Pokemon
Candy XL is guaranteed from trades
December: Double Stardust for the first catch of each day
January: Double XP for the first catch of each day
February: Increased Candy XL from eggs and double XP for hatching eggs
The entire Season of Heritage will end in a huge celebration called Pokemon Go Tour: Johto. This event looks to be the same as the Kanto Tour from earlier this year, but focused on Johto instead.
Swinub Incense Day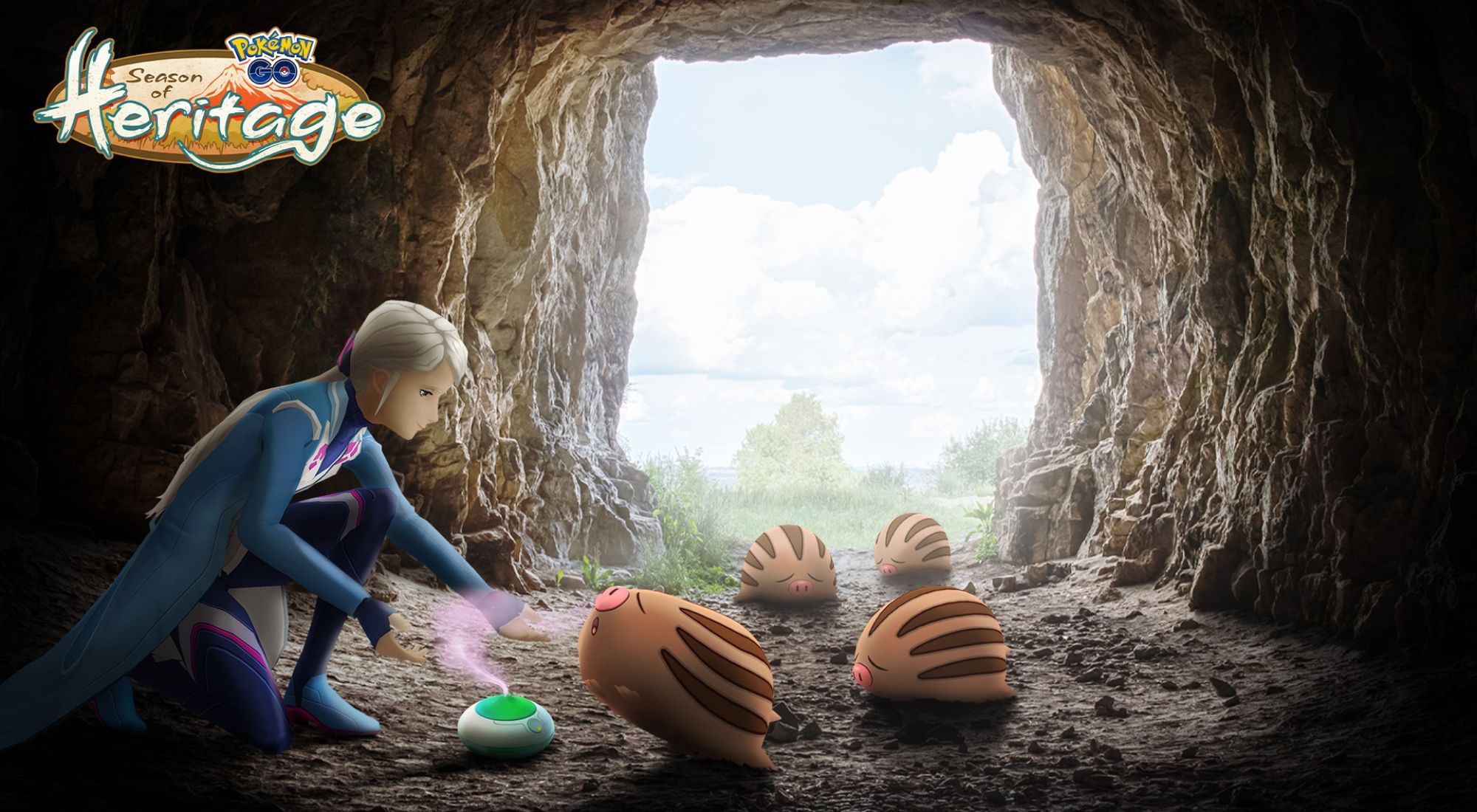 Sunday, December 5 from 11am to 5pm local time
One of the first events taking place in the Season of Heritage is the Swinub Incense Day which may be already finished or underway depending on when you're reading this.
Supposedly, Blanche discovered that one of the locking mechanisms on the mysterious door has some connection to Stardust and Ground- and Ice-type Pokemon. As a result, this Incense event focuses on those types of Pokemon, most notably the Ground/ Ice-type Swinub.
Swinub will be attracted to Incense throughout the event
Swinub and Piloswine evolved up to Mamoswine will learn Ancient Power
Event-exclusive Field Research tasks will be available
The in-game shop will have a 1 PokeCoin bundle with two Incense
Ice-type Pokemon will be attracted to Incense from 11am to 12pm, 1pm to 2pm, and 3pm to 4pm

Seel, Jynx, Sneasel, Snorunt, Snover, Vanillite, Galarian Darumaka

Ground-types will be attracted to Incense from 12pm to 1pm, 2pm to 3pm, and 4pm to 5pm

Onix, Cubone, Rhyhorn, Wooper, Phanpy, Barboach, Larvitar

Raid Bosses

The same set of Raid bosses will be headlining throughout the week and into next week. Here's who is in Raids:

Tier 1
Tier 3
Tier 5
Mega

Magnemite
Dratini
Tepig
Drilbur
Klink

Alolan Raichu
Alolan Graveler
Typhlosion
Aggron

These Raid bosses will leave on December 16 at 10am local time. Tier 5 Raids will then be taken over by Kyurem, but Mega Steelix will continue headlining Mega Raids until December 23.

Dragonspiral Descent

December 7 to December 12

Given the Season of Heritage's focus on history and looking to the past, it's only fitting that the Unova region will be featured throughout. Aside from Zekrom, Reshiram, and Kyurem headlining Raids, there is a mysterious event coming this week that focuses on Unova's Dragonspiral Tower.

All we know so far is the Dragonspiral theme and more details have not yet been released. We'll update with more info once Niantic releases it!

Spotlight Hour and Raid Hour

This week's Spotlight Hour and Raid Hour events take place at the usual times. These are 6pm to 7pm local time on Tuesday and Wednesday, respectively.

Spotlight Hour: On December 7, Electabuzz in the spotlight. The featured bonus is double transfer candy.

Raid Hour: On December 8, there will be an increased number of Tier 5 Raids and Zekrom and Reshiram will be the bosses.

News, Updates, and Reminders

There's quite a bit of news this week as well as a few things to remember, so let's jump right in.

> Research Breakthrough

The month of December brings a new Research Breakthrough. By obtaining seven Field Research stamps, you'll be able to encounter Deino!

> Native Refresh Rate

There is now a setting available to upgrade the visuals of Pokemon Go. You can enable a native refresh rate for the game by going to your settings, scrolling to the bottom, clicking "advanced settings," and turning on the Native Refresh Rate setting. You may not have the setting if you haven't updated Pokemon Go to the latest version.

This setting might be harder on your battery, but some players are finding the opposite to be true. Your mileage may vary!

> Brazil – 40 Graus

Trainers in Brazil are receiving a mini event this month. Each weekend in December, players in Brazil will receive double catch XP.

> Monday Bundles

Niantic has continued the weekly 1 PokeCoin bundles this month. These will always be available starting on Mondays and each will contain a Remote Raid Pass.

> Go Battle League – Season 10

The GBL has switched over to Season 10 which brings a wealth of new content including new tournaments and some move updates. Check out our GBL Season 10 guide for all the info you need.

> January and February Community Days

While the featured Pokemon were not announced, Niantic has revealed the dates for the Community Days in January and February. Look forward to these events on Sunday, January 16, 2021 and Saturday, February 12, 2021.

> Johto Tour Tickets

Niantic have announced that the Timed Research quests for January and February (explained above) will only be available to those who pre-purchase their tickets for the Johto Tour event. Sale dates for tickets are not yet known, but this is an important thing to keep in mind. The Pokemon Go Tour: Johto event takes place February 26 and 27, 2022.

Next Week

Here's a preview of next week's events:

December 12: GBL changes over to the Ultra League and Ultra League Remix
December 14: Magmar Spotlight Hour (double evolution XP)
December 15: Raid Hour (Reshiram and Zekrom)
December 16: Kyurem takes over Tier 5 Raids
December 16: Holiday 2021 event begins
December 18: December Community Day (Part One)

Source: Read Full Article