On July 16, 1993, Steven Spielberg wowed the world with his illustrious adaptation of Michael Crichton's Jurassic Park. Among the film's star-studded cast were household names such as Samuel L. Jackson, Laura Dern, and Richard Attenborough, but perhaps its most memorable character was Ian Malcolm, portrayed by the lovably eccentric Jeff Goldblum.
Although Goldblum famously came back for Jurassic Park 2 in 1997, he was actually involved in another Spielberg project in the meantime. This wasn't a movie, and it had absolutely nothing to do with dinosaur-infested islands. Instead, it was a video game based on R.L. Stine's Goosebumps novels, and saw Goldblum take on the riveting role of Count Dracula. Here's the story of how it was made.
Larry Guterman, who served as creative director on Goosebumps: Escape From Horrorland, had just shown off his Master's thesis film at USC. "A wonderful executive at Dreamworks Interactive (which was just starting) saw it and encouraged the president of production to watch it," Guterman tells me. "It took some time, so eventually he gave it to Steven Spielberg. I got a call in early 1996 saying that Steven liked it, 'thought I had a good eye,' and wanted to meet."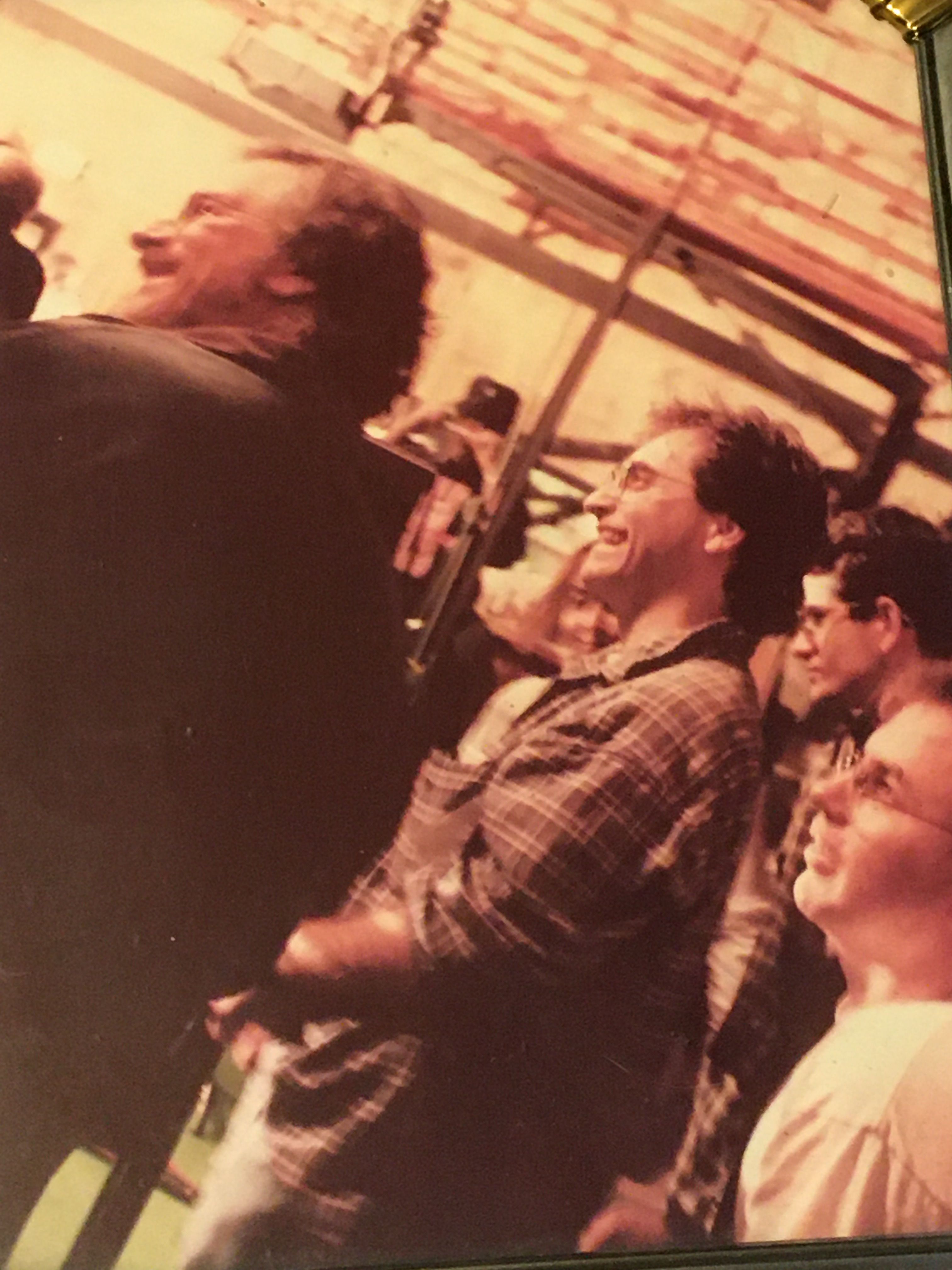 Naturally, Guterman was on cloud nine. Spielberg was one of his filmmaking heroes, and a job at the new Dreamworks studio was a dream worked (Eh? Eh?) into reality. After meeting with the production team, Guterman got the gig and started a hectic 25-day shoot. According to art department assistant Paul Eppleston, the last two days were 20 hours each, with a then-standard ten-hour turnaround between them. Digital artist Craig Clark, meanwhile recalls six-day weeks of crunch, noting that the team even got personal massages one day. Within a month, filming was finished.
"The shoot was pretty complex, even relative to a feature," Guterman explains. According to him, filming primarily involved integrating motion control miniatures with live action sequences, and there was even "a guy in a gigantic werewolf robot-controlled suit." The team was investing huge amounts of time in a process called "non-motion control CGI-background matching" — something that was pretty unheard of at the time. "I remember Spielberg came by once and saw our footage of that, and liked the fact that we were pushing the envelope," Guterman says.
Ultimately, Goosebumps: Escape From Horrorland was a success. It won Best Kids' Game in Time Magazine and sold relatively well. Dreamworks was happy with it, too, according to its new CEO. The old one had recently left to become head of DARPA at the Pentagon — interesting career move.
"It was a great team," Guterman says. "I got along really well with the group and the shoot, while complex, went very well. There was a sense we were in somewhat uncharted territory in terms of combining live action and gaming, and that was exciting."
Eppleston can also speak to this new methodology of combining live action with gaming. After a string of twists of fate, he happened to help an art director in LA load his truck one day. When asked what he wanted to do here, he said "art direction," and the guy took his number. Naturally Eppleston thought nothing of it — not a whole lot of people actually follow up on these things. However, about a week later he received a phone call, and was offered a job as a personal assistant to the art director on a new project. Eppleston said yes, and soon found out he'd been drafted onto Goosebumps.
Eppleston's primary job on set was to arrange props and set each take for continuity, but he also drove an 18' cube truck used for transporting furniture to location. He often visited Image Q Studios, which is where the miniatures for Star Trek: The Next Generation and Deep Space Nine were filmed. As part of this, he had some pretty interesting experiences when it came to dressing sets for what was ostensibly a children's game.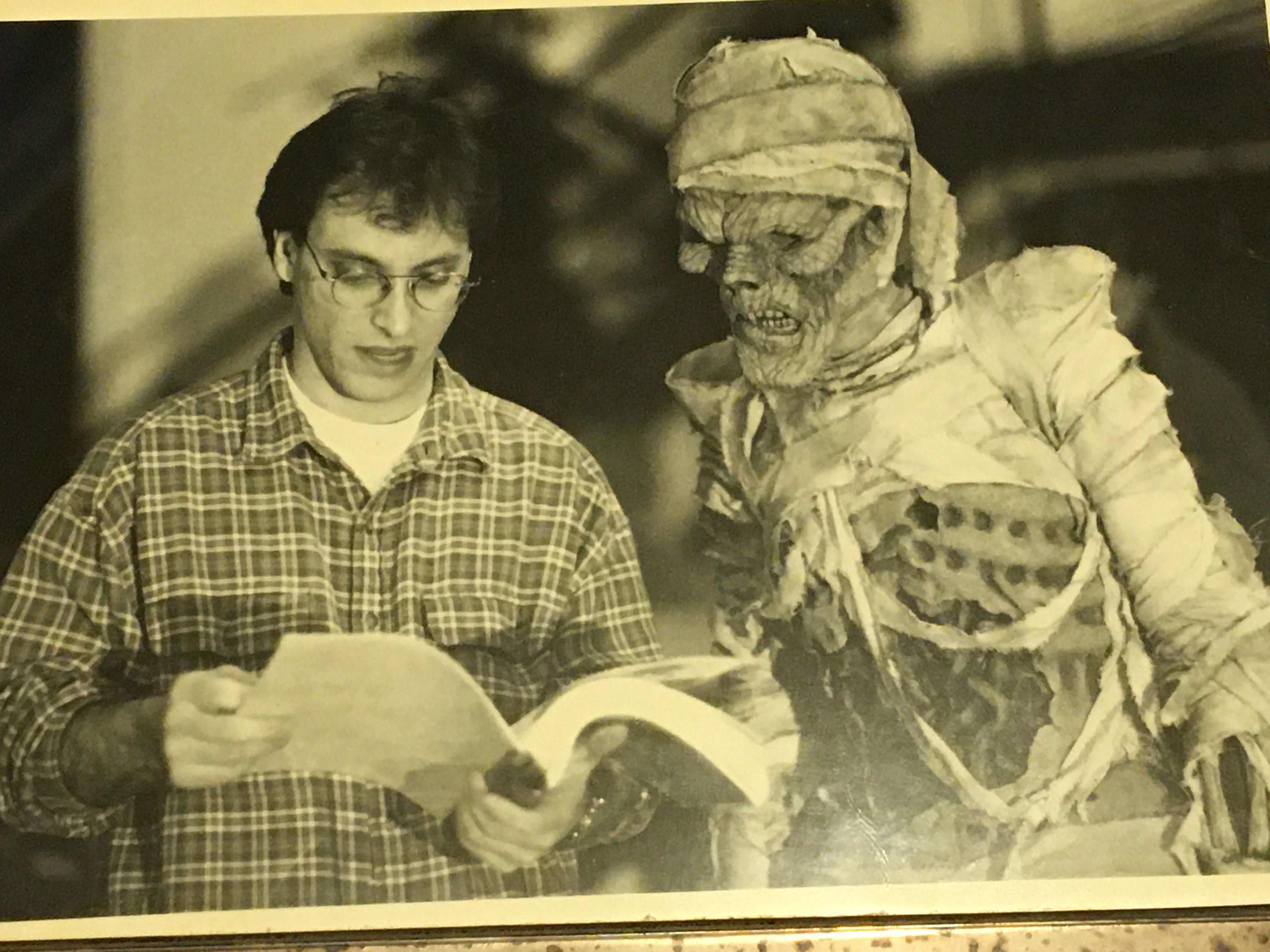 "I did some emergency pull-it-out-of-thin-air things," Eppleston tells me. "For instance, the werewolf has a mummy hand around its neck in the game and you're supposed to try and grab it. My boss was told it would be CG and that he just needed a model to be photographed. Well, come the day of, the director wanted a prop around the werewolf's neck. The problem was, the mummy hand to be photographed was a 2″ toy and he wanted a life-sized hand. The other art PA and I found a spare body part — as you do — wrapped some cloth around it, sprayed it with some flower colorant — which, unnervingly, warns you not to get it on you because it will 'de-fat' the skin — and ran it out to set.
"I can't tell you how impressive the werewolf was," Eppleston continues. "Hand punched hair. All of it. I had to tie the mummy's hand around its neck and I genuinely felt nervous being that close to it. First time I saw dog-leg stilts in action, which was cool as hell." There were literal wolves on set too, according to Guterman. The trained wolf who played Two Socks in 1990s blockbuster Dances With Wolves was brought in for filming, but it was a closed-set day due to concerns from the higher-ups that the massive 25-foot cyclorama would psych him out. "Turns out he was fine," Eppleston explains.
Eppleston also improvised for the game's dining hall scene, where he was instructed to find the "oddest" produce he could. The star fruit and horned melon were staples for sci-fi, but he quickly learned that aubergines went transparent courtesy of the latest chroma-keying tech of the time — still, spooky ghost eggplant sort of worked. On top of that, he scoured the town in search of creepy crawly molds and chocolate clay to pass as edible bugs — Charles Martin Smith, director of Dolphin's Tale and A Dog's Way Home, politely asked if they could add a bit more flavour to them, but all they could find was a few mints. "If you're reading this, I'm really sorry," Eppleston says. "I'd send some properly flavored treats to make up for it, but I think after 24 years it would seem a bit… stalker-y."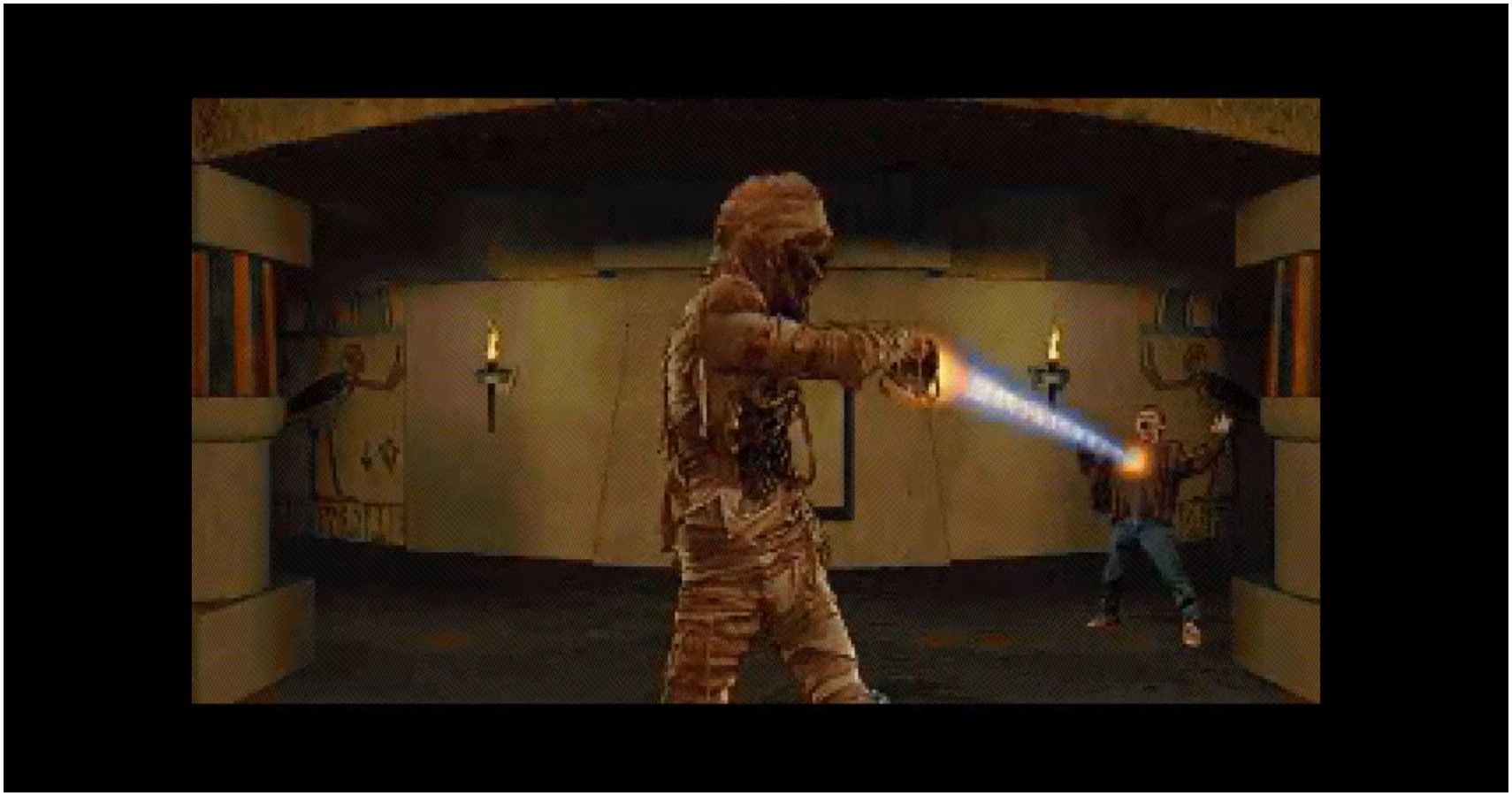 Speaking of the art department, digital legacy artist Craig Clark already had previous experience with Goosebumps' formidable exec team. Clark had been a part of Amblimation — a subsidiary of Spielberg's Amblin Entertainment — and had worked with the iconic director doing 3D previs for Jurassic Park 2 prior to coming on board for Goosebumps. "The project was a very big deal," Clark explains. "It was the second release from the overall Dreamworks Studio, the Peacemaker movie being the first. This was the first game, and received lots of attention on national TV and at E3." Eppleston echoes this sentiment, noting that everyone could tell how excited and invested Spielberg and Dreamworks CEO Jeffrey Katzenberg were.
Guterman, who worked directly alongside Spielberg, also notes that he was far more engaged than he expected throughout production. "He likes video games," he explains. "He came by during the casting of Lizzy. I was picking between the girl who got the part and another girl. One really 'looked' the part more, and was a good actress, but the other was a slightly better actress. Spielberg paused, then chose the better actress. I thought that was telling.
Eppleston notes that he only saw Spielberg and Goldblum on set once — the same time Guterman mentioned above.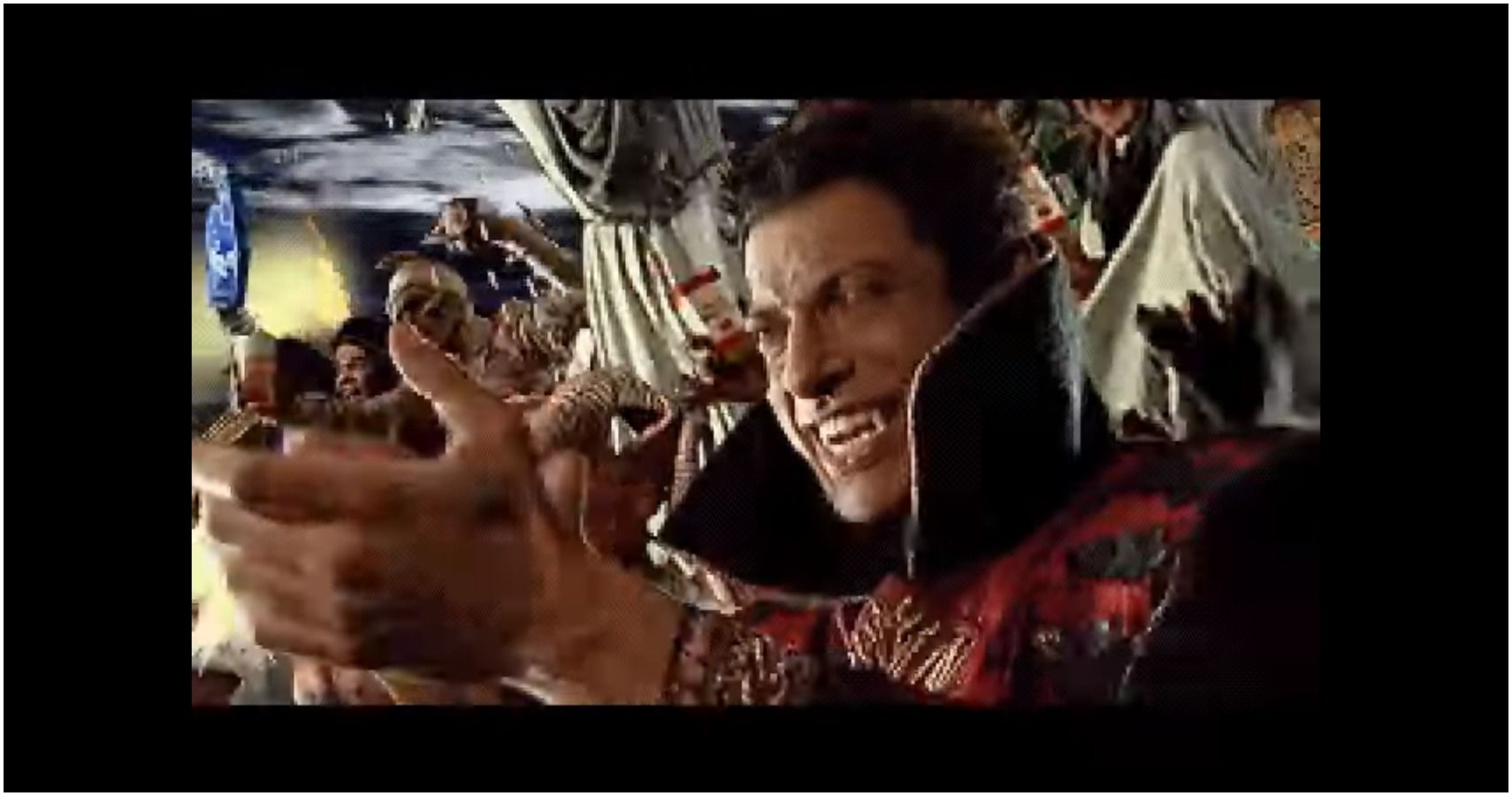 "Funny story about that," Eppleston says. "So, someone in the art department long ago tried to be helpful and offered to move around the directors' chairs. From then on, it became an industry-wide practice for the art department to handle them. The chairs were usually centered around a single monitor, especially for this shoot because the camera video had to be composited with stills in order to check how the final product would look. Well, one day I came in and saw someone who was Not The Director sitting in Larry's chair. Monitoring the chairs was in my wheelhouse of things to do, so I started to go over, ready to tell the person that they'd have to find another seat. When I got closer, I got a better view and moved to the side a bit. I asked someone standing nearby, 'Is that Spielberg?' 'Yes, and the guy next to the monitor is [CEO and founder of Dreamworks Animation Jeffrey] Katzenberg.' Spielberg had come that day to say hello to Jeff and see how things were going. It is one of my deep regrets that I had the sense to look at him first, because what an awesome story it would have been to be The Guy Who Asked Spielberg To Get Out Of The Director's Chair."
Guterman also notes that Goldblum was a pleasure to work with as Count Dracula. "I worked with him again on Cats & Dogs," he says. "He's the same quirky, charming guy he is when you see him in interviews, and obviously a very engaging actor." Eppleston, meanwhile, recalls an… interesting anecdote. "Jeff Goldblum seemed cool," he explains. "His performance was… unique. It came across on screen a lot different, but in person it felt like he was doing an Elvis impersonation via Transylvania — 'I wanna be your Dark Prince, baby.' In the game it doesn't look like that at all so kudos to him for knowing what he's doing."
There's much more to Goosebumps than Spielberg and Goldblum, though. As it turns out, Bill Gates had played a part in investing seed capital — about $50 million — into Dreamworks Interactive in order to give it a bit of a head start. "He came by one day to see what we were doing with Goosebumps, since it was the flagship game," Guterman tells me. "Jeffrey Katzenberg brought him through, and I was there to show him some of the early prep work that was being done on the game. After the tour, he sat down with folks from our and other projects going on there and answered questions. This is 1996, right before DVDs. He talked about the coming transition from VHS to DVDs and someone in the audience asked some sort of snarky question, implying that VHS tapes would never go away. Gates answered graciously but I remember thinking a few years later, boy was that guy wrong!"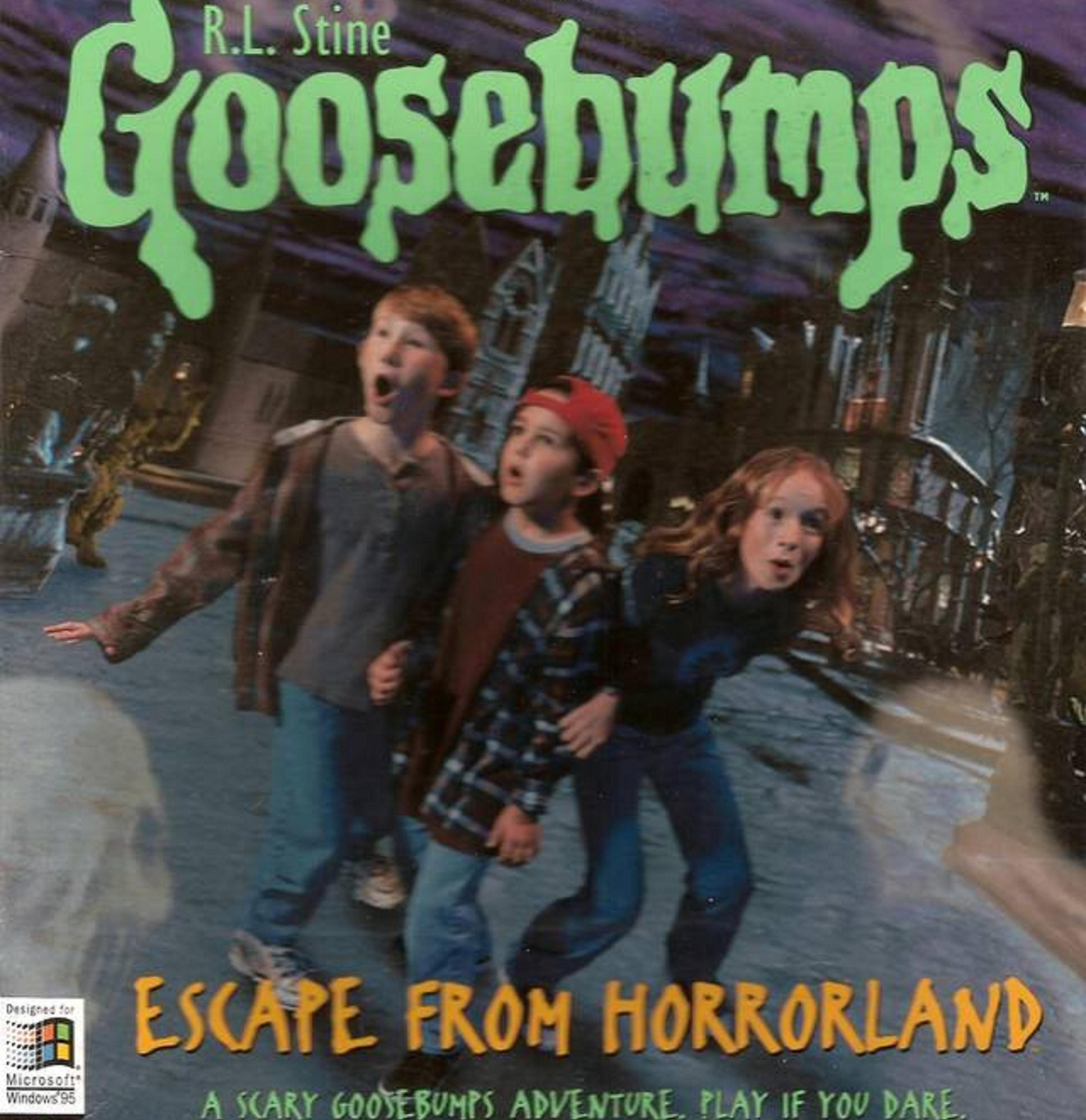 According to Clark, the success of Goosebumps: Escape From Horrorland really rubbed off on Spielberg, to the extent that he became increasingly interested in developing Jurassic Park video games. A year after shipping Goosebumps, his department at Dreamworks Interactive launched The Lost World: Jurassic Park to coincide with the 1997 film of the same name. Meanwhile Katzenberg took a more hands-on approach to the studio's video games department, simultaneously juggling Goosebumps, Jurassic Park, Prince of Egypt, Antz, and even early Shrek tests.
It's a curious story, how Dreamworks entered the games sphere. Having Spielberg produce a Goosebumps game starring Jeff Goldblum is definitely a way to enter the industry with a bang, while bringing Bill Gates on set to argue with people about the impermanence of VHS tapes mid-shoot is definitely something that isn't featured in every origin story. But even today it's relevant — Dreamworks Interactive folded in 2000, having been acquired by EA Los Angeles, before converting to Danger Close Games in 2010. Three years later, the remaining devs moved to DICE LA — which is now part of Respawn Entertainment — and are currently hard at work on a Medal of Honor VR game.
So, if you really think about it, Medal of Honor's future is inadvertently defined by Jeff Goldblum playing an Elvis-impersonating Count Dracula. Everything ties back to Goldblum being endearingly odd, doesn't it? Literally everything.
Read next: Rockstar Buys Crackdown 2 Developer Ruffian Games, Rebrands To Rockstar Dundee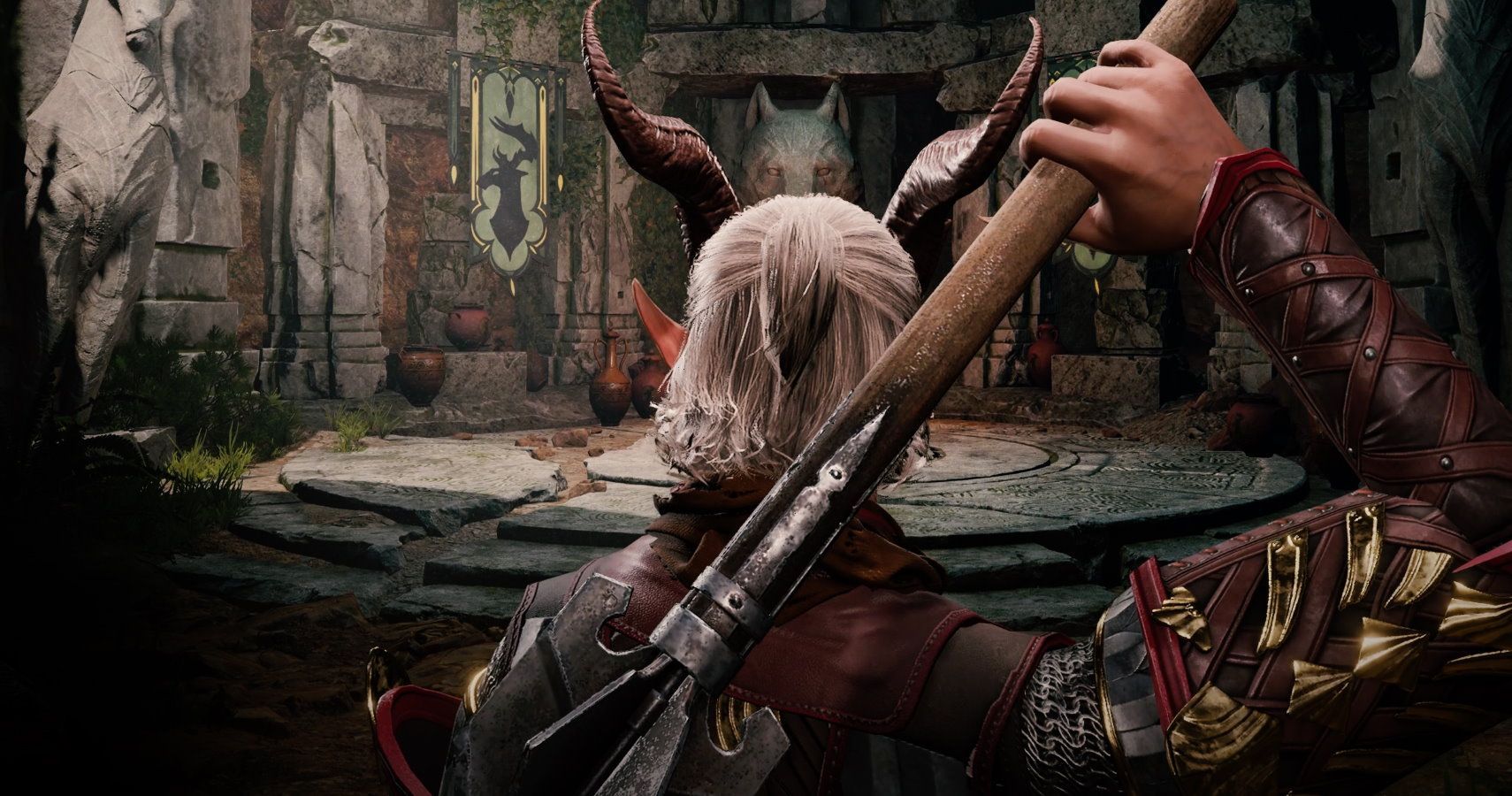 TheGamer Originals
PC
Goosebumps
Dreamworks
Jurassic Park
Steven Spielberg
Cian Maher is an Associate Editor at TheGamer. He's also had work published in The Guardian, The Washington Post, The Verge, Vice, Wired, and more. His favourite game of all time is and always will be The Witcher 3, but he also loves The Last Guardian, NieR: Automata, Dishonored, and pretty much every Pokemon game ever released. You can find him on Twitter @cianmaher0.
Source: Read Full Article