As I've grown older, I've struggled to get into the festive spirit more and more with each passing year. I don't fully understand why I get a kind of empty feeling around the holiday season. Perhaps it's because as an adult, you have all the stress and pressure of making Christmas absolutely perfect, especially if you have children, without much of the reward. When you have to make Christmas happen, the magic of Christmas is lost on you. Magic tricks are just work for the magician. Whatever the reason, I just don't get the same wonderful feeling as I did when I was a kid. Maybe the lustre is just gone for good once you realise your parents made up the story of an old man visiting your house with presents, who knows?
There was one thing I could always rely on to light a festive fire within me, and that was attending local Christmas fayres with my friends. Stores stay open late, the streets are lined with all kinds of stalls with gifts, festive food, mulled wine, and you'd often find Christmas carollers singing on the side as throngs of people wander around with hands full of shopping bags. But I haven't been able to do this for the past couple of years due to covid, ridding my adult life of the few festive pleasures I had left.
I had almost given up on getting that Christmas feeling this year when I logged into Final Fantasy 14 to take part in the Starlight Celebration seasonal event. On my way to the quest NPC, I was distracted by the sound of Christmas carols and followed the noise until I came upon an adorable Lalafell dressed as a pink reindeer. This talented bard was playing various classic Christmas songs for a small crowd, many of which were dressed in seasonal outfits, and I couldn't help but join in and watch.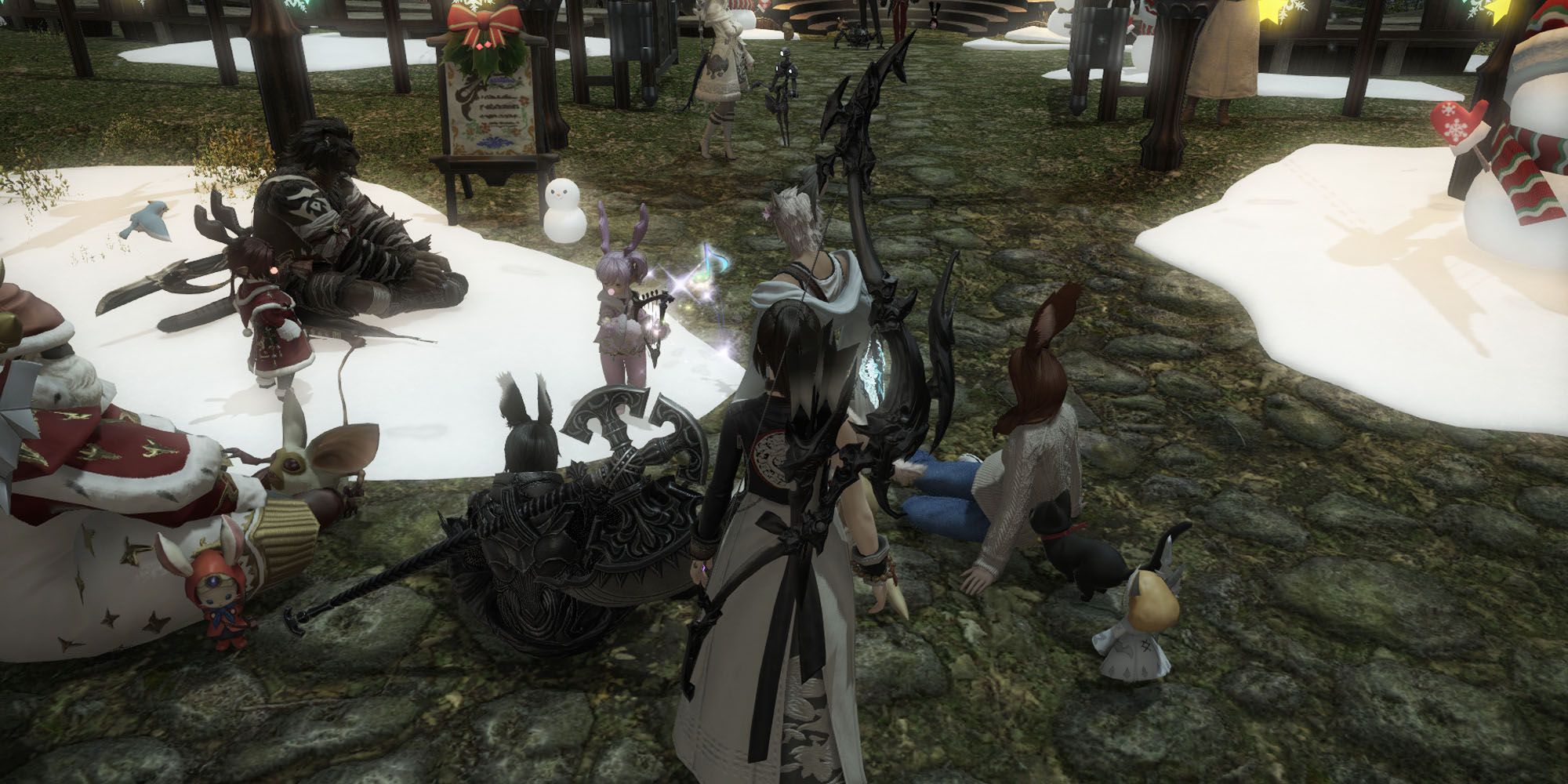 I felt my first little spark of Christmas cheer at that moment as it made me stop and take in my surroundings. There were players who had decked their characters out in festive gear, including event outfits that looked like Santa, reindeer, woolly winter jumpers, and even snowmen. It made me reminisce about how as a kid, I would steal an hour or two on Christmas day to play Final Fantasy 11 with my online friends, much to my family's disapproval. They were the type to ask you to pause an online game and had no idea how much that community meant to me, even during the holidays.
We'd sit in San d'Oria with our Dream Hats on (the Vana'diel equivalent of a Santa hat) and just chat for a little bit before wishing one another a merry Christmas. It was with my Final Fantasy 11 buddies that I hopped over into Final Fantasy 14, but as I recently discussed, all of my friends have stopped playing now as their lives are just too hectic.
Despite not having any friends online to share the event with, I decided to embrace the community festive spirit and ran to an inn room to dig through my armoire and get my own Christmassy outfit on. Despite collecting various Starlight Celebration event outfits over the years, I don't recall ever bothering to wear them in Final Fantasy 14 before now.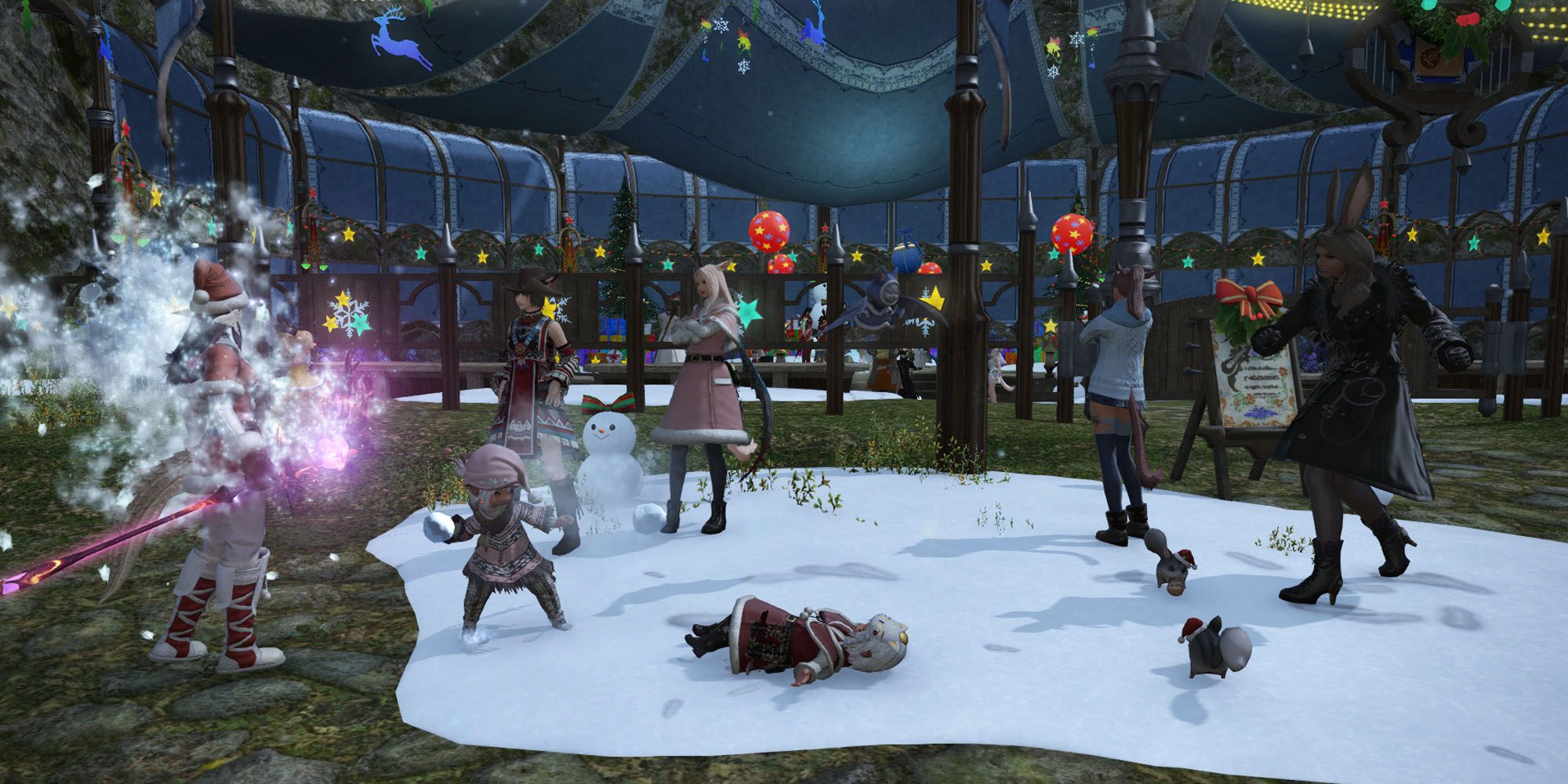 Starlight Celebration's event quests took a backseat as I was too engrossed in the merriment of everyone around me. People were running around with their new Christmas-themed minions, there were others having snowball fights in the snowy patches of Gridania, and there were plenty of players dancing and celebrating together like this season really meant something to them. It was really heartwarming to see everyone enjoying the holidays together like this.
It wasn't the Christmas fayre I was expecting, but Final Fantasy 14 still hit plenty of the same notes and delivered the Christmas spirit that I had so desperately been seeking. No amount of Spotify Christmas song playlists had managed it, yet the kindness and joy of strangers in Eorzea had accomplished the seemingly impossible.
I have always adored the Final Fantasy 14 community for its camaraderie, but I think it's especially important right now that players are able to log in and find comfort with others. The current pandemic means that not all of us get to visit our loved ones for the holidays, and whether you have friends in-game or not, you can still find joy by logging in and spending the holiday meeting new people and having fun.
Source: Read Full Article