The Chivalry 2 cross-play beta wraps up tomorrow at 11am EDT. The weekend-long beta was made available for free to all players on PC via Epic Games Store, PS4, PS5, the Xbox One family of devices, and Xbox Series X|S, putting the game's cross-play capabilities center stage in the final playable test before its June 8, 2021 global release.
The beta showed off more content that what I had originally played during last month's closed press event, such as duel servers, in which players duke it out in one-on-one duels; 64/40 player server options, which opens up the battlefield for massive and chaotic big-team battles; character customization; a free-for-all game mode; and same-platform parties, allowing you to group up with friends playing on the same platform.
In short, I had even more fun than I did in my first preview or the game, whether I was defending or fighting for a team objective or simply lopping off the heads of a group of enemies in a single heavy swing of my polearm. As a long-time fan of the original game, this wasn't necessarily surprising since Chivalry 2 already appears to be taking its incredibly fun gameplay and making it even better. There was one thing that I wasn't expecting, though: my enjoyment of the Ballista Bolt.
Check out the video below for a quick look at what made me laugh until I cried:
I'm generally not someone who uses stationary weapons, even if they're affixed to a moving vehicle, such as the turret on the back of a Warthog in Halo. I'm usually the one driving, so it tends to just work out. This all changed this past weekend when I happened upon an unmanned Ballista Bolt while playing on The Siege of Rudhelm map, defending my Mason stronghold from the attacking Agathian forces.
The massive stationary crossbow was set on a platform that overlooks the area during the second to last second in the map which tasks the Mason Order with defending the courtyard. I had already had some luck getting a couple of kills and still being alive (which is especially difficult to do in 64-person battles), so I figured I'd try something new and give the Ballista Bolt a try before my luck ran out.
I stepped behind the machine and loaded in a bolt – a process that takes a good five-seconds. Once loaded, I quickly scanned the courtyard, looking for a group of Agatha Knights that I could send the bolt flying into. Then, out of the corner of my eye, I caught a glimpse of a single knight making his way up the stairs to the platform, no doubt aiming to take me out while my polearm was out of my grasp. Little did he know that I was already aiming the Ballista Bolt at the top of the staircase.
His head and torso emerged, along with his drawn longsword, ready to strike me down.
*Foomp*
The massive arrow flew from my Ballista Bolt and sank directly into his stomach, sending him flying backwards off of the staircase and out of sight. All that was left was his longsword which flew from his grasp, but still had enough forward momentum to land at my feet. The shot accounted for 100% damage and a final kill for me.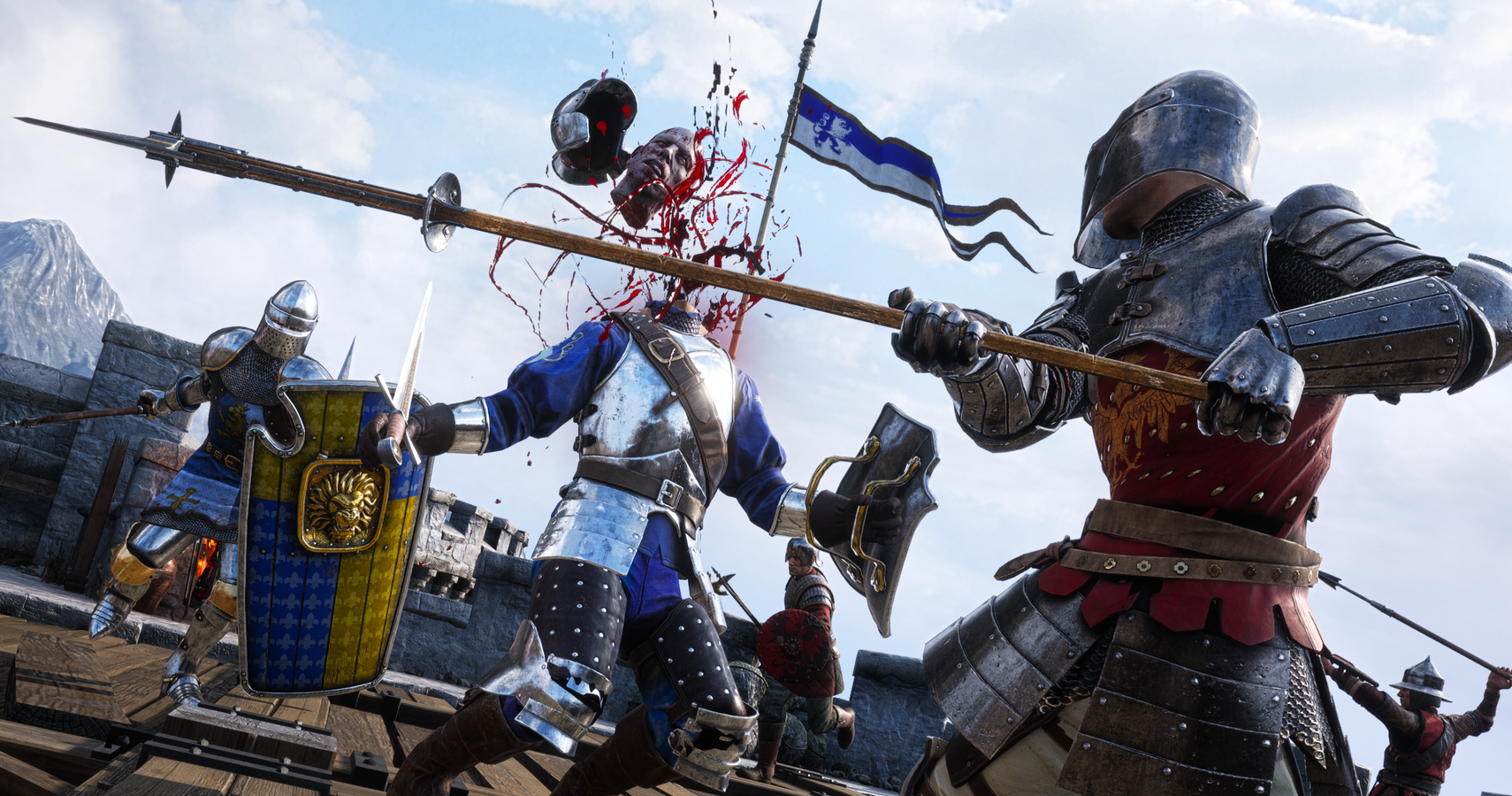 I absolutely lost it. I tried reloading as I laughed out loud, but was interrupted by another attacking player. I did my best to fight him off while tears of joy filled my eyes, but ultimately fell to his blade. It was so worth it. I spent the next couple of minutes laughing harder than I have in a long, long time.
I spent the rest of the "Defend the Courtyard" portion of the game trying my best to get back to the Ballista Bolt. Alas, it wasn't meant to be, as we failed the objective and allowed the Agatha Knights into the keep. (We ended up winning the game, fortunately.)
The Ballista Bolt is just one of the many weapons that can be used throughout each map. To be honest, pretty much everything not nailed down can be thrown or used as a weapon. It's just one of the things that makes Chivalry 2 so incredible (and hilarious). The cross-play beta is only available for a few more hours, so be sure to get in before it's too late. Otherwise, you'll have to wait a week for the game's full release. It will absolutely be worth the wait, though.
Source: Read Full Article