Quick Links
About The Castle In The Sky Mission
How To Find The Jacul Ire
End Result And Rewards For Completion
Monolith Soft's Xenoblade Chronicles X is the unique, robust spin-off of the renowned Xenoblade Chronicles series for Wii U. The game captures much of the same grandiose, imaginative nature of the mainline games, while bringing its own elements. These include less linear and more free-roaming gameplay, an online emphasis, and large weaponized mechs.
There are tons of missions and activities to get lost in while exploring the uncharted and gorgeous environments of Mira; some of which can prove tricky given the game's vast, often cryptic nature. One such example is a retrieval mission during the fourth Chapter, known as Castle in the Sky. The quest tasks players with seeking out some stolen cargo within the large region of Sylvalum and clashing with an elusive monster to do so.
About The Castle In The Sky Mission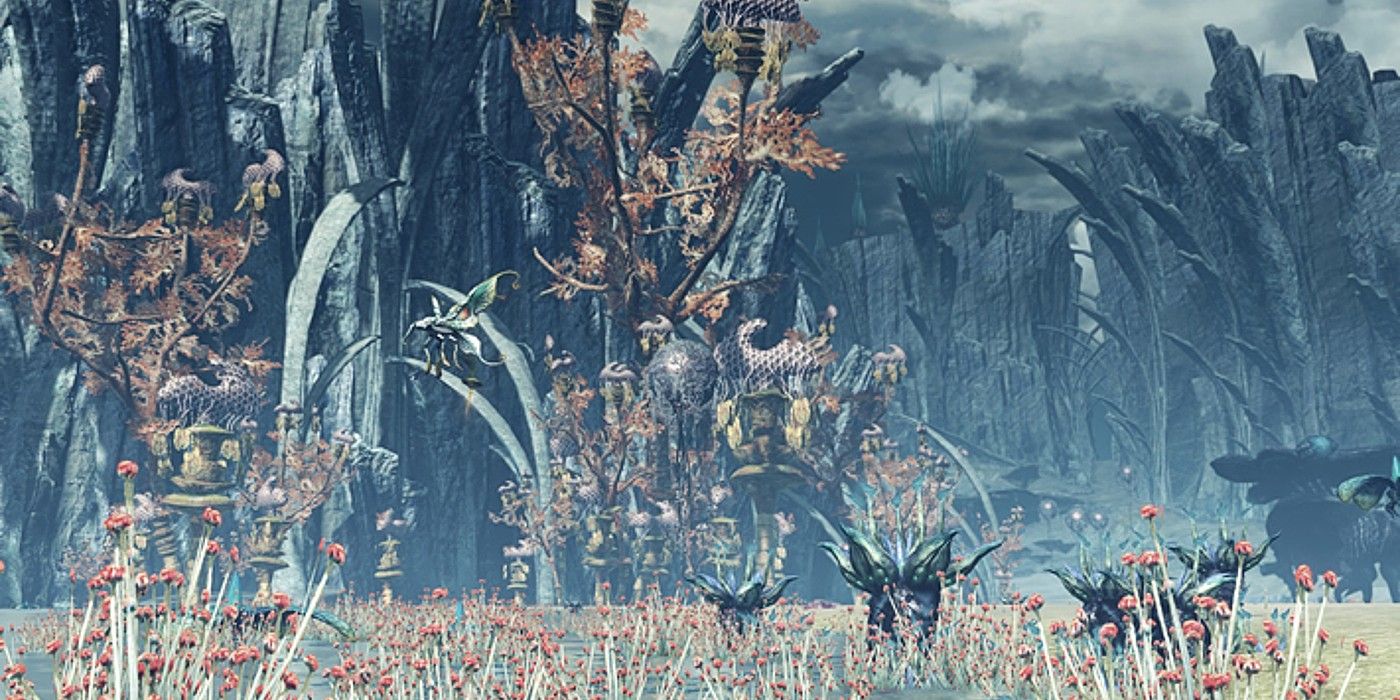 This mission is initiated by speaking with the Nopon NPC Kuta. He resides at Dopang Caravan near the Cleansing Spring in Sylvalum.
Kuta is active in the game world from 7pm to 5am.
The Cleansing Spring is a fairly small body of water that resides to the southeast of FN Site 417 in Sylvalum. It can be reached after the completion of the mission "Mighty Mia."
The Objectives are as follows:
"Talk to Wanana at Sylvalum's Cleansing Spring at nighttime" (7pm to 5am).
"Talk to Nana at Sylvalum's Cleansing Spring at nighttime."
"Retrieve Kuta's cargo from a 'huge thing' somewhere in Sylvalum."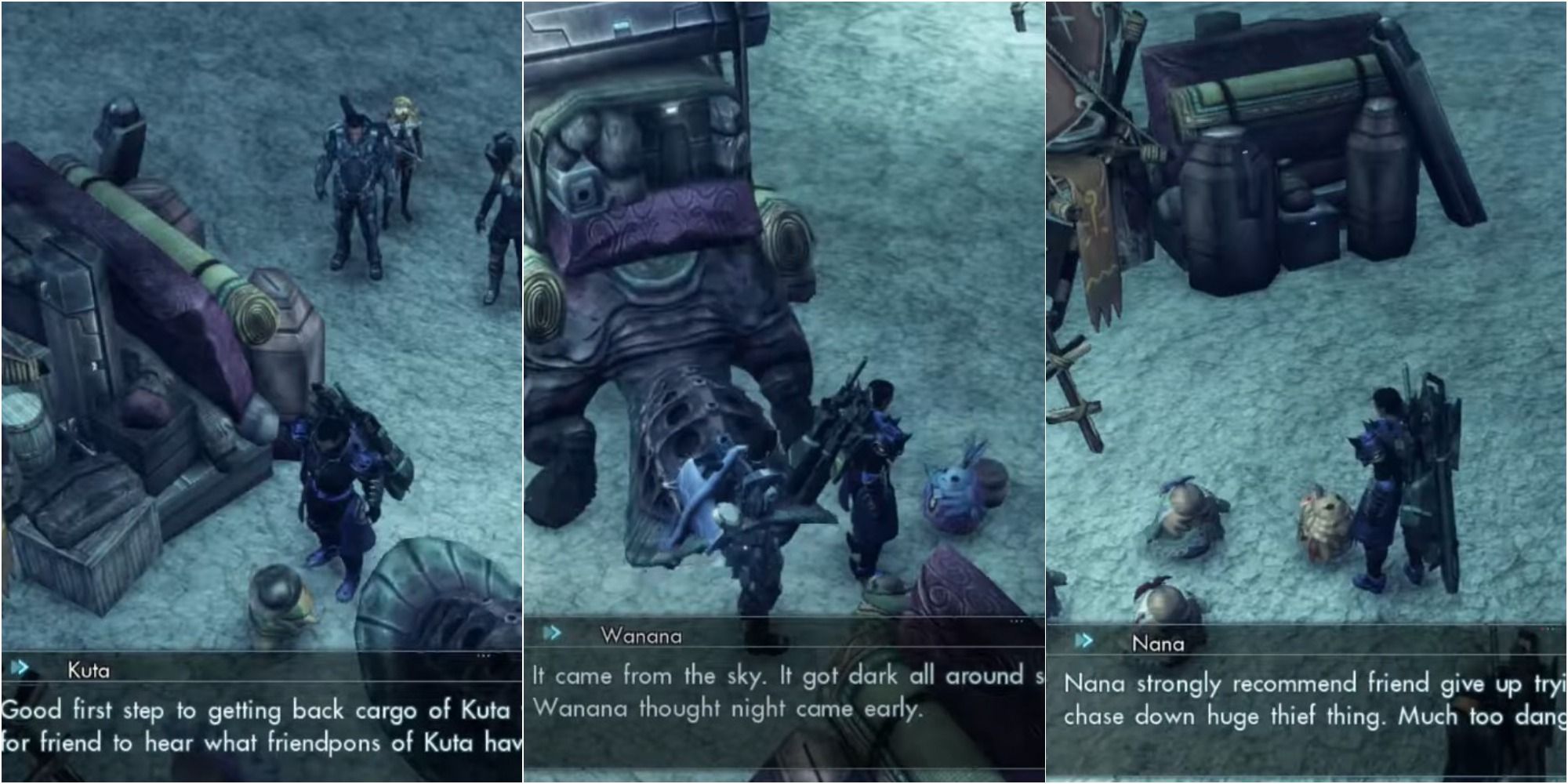 With regard to the third objective, this is where the mission can be a little tricky, as the game doesn't clarify exactly what this "huge thing" that you're supposed to secure the cargo from is. In fact, the thing being referred to is the monster Jacul Ire, which we'll cover in more detail below.
As an optional part of the mission, you can speak with the Nopon Bobora (at Xanadu Overlook, at the eastern end of the mountain range north of Lake Ciel) before nabbing Kuta's cargo. It's a Scenic Viewpoint cliff that can be reached by following a mountain path from FN Site 413 or Badr Stonebridge.
Talking to Bobora will reveal the name and location of the monster in question. If you happen to do this, the previously mentioned objective description is removed and replaced with the description:

"You spoke to Bobora in Sylvalum."
"Retrieve Kuta's cargo from the Jacul Ire on Sylvalum's Lake Ciel."
Bobora will identify the "huge thing" as Jacul Ire and mark its exact location on your map, which will make it easier to hunt down.
Keep in mind – this NPC, while helpful, can be dangerous to reach, as there is likely to be a Zig around level 60 very close to Bobora, so be wary. If the battle state initiates, tap "B" a couple of times quickly to cancel it out. Then quickly speak with the Nopon and flee the region. Even if the Zig does defeat you, the game will save the progress of the new objective logged after speaking with him.
There will likely be a number of other high-level monsters in the area, so be careful and try to avoid them when possible.
Luckily, with this guide, you can theoretically skip over this part, anyway, as the purpose of Bobora is just to reveal the monster you're supposed to slay.

How To Find The Jacul Ire

The Jacul Ire is a large mission-exclusive monster (level 32) who can be found flying about at the south-western region of Lake Ciel, near the Sylvalum entrance. It's reportedly often found just to the north of point 405. It can be seen in any weather condition and reportedly at any time of day.

The monster has resistance to Thermal (-50), Ether (-25), and Gravity (25).

Battling this creature is required while doing the Castle in the Sky mission in order to retrieve Kuta's cargo.

Jacul Ire's Drops

| Part | Item | Type | Rarity |
| --- | --- | --- | --- |
| Body | Kuta's Cargo | Important Item | Common |
| Body | Fertilized Jacul Egg | Material | Rare |
| Back | Jacul Waterfall Orb | Material | Rare |
| Horn | Jacul Horn | Material | Rare |
| Tail | Green Jacul Wing | Material | Rare |
| Body | Cracked Bill | Material | Common |
| Body | Filthy Wing | Material | Common |

Only the first item listed, Kuta's Cargo, is needed for completion. However, the other materials are still useful — as they can be used for the creation of Augments and sold for Credits.

End Result And Rewards For Completion

Once completed, the objective will read: "You obtained eyewitness reports, tracked down the thief, and returned the cargo. Kuta was delighted."

If Bobora is spoken to ahead of time: "You encountered Bobora, whose account led you to the thief and the stolen cargo. Kuta was delighted."

Completion of this mission will yield 11,000 Credits, 190 EXP, as well as the Holofigure Ensnared.

Source: Read Full Article