Quick Links
Obsidian Citadel Key Farm
The Renown Track And Its Rewards
With four brand-new reputations coming with the launch of World of Warcraft Dragonflight, there is a hefty amount of horizontal content to be had. The Valdrakken Accord (named after the capital city, Valdrakken) is one of these four new factions, and it essentially encapsulates all the draconic forces and their close allies into one.
Reaching max Renown with the Valdrakken Accord is definitely one of the slower processes, and is likely the slowest if you're primarily relying on its infinitely grindable methods. But, you'll want to put some work into this one, especially if you're a Blacksmith or Tailor, as their Renown rewards offer many plans/patterns for those professions.
How To Gain Renown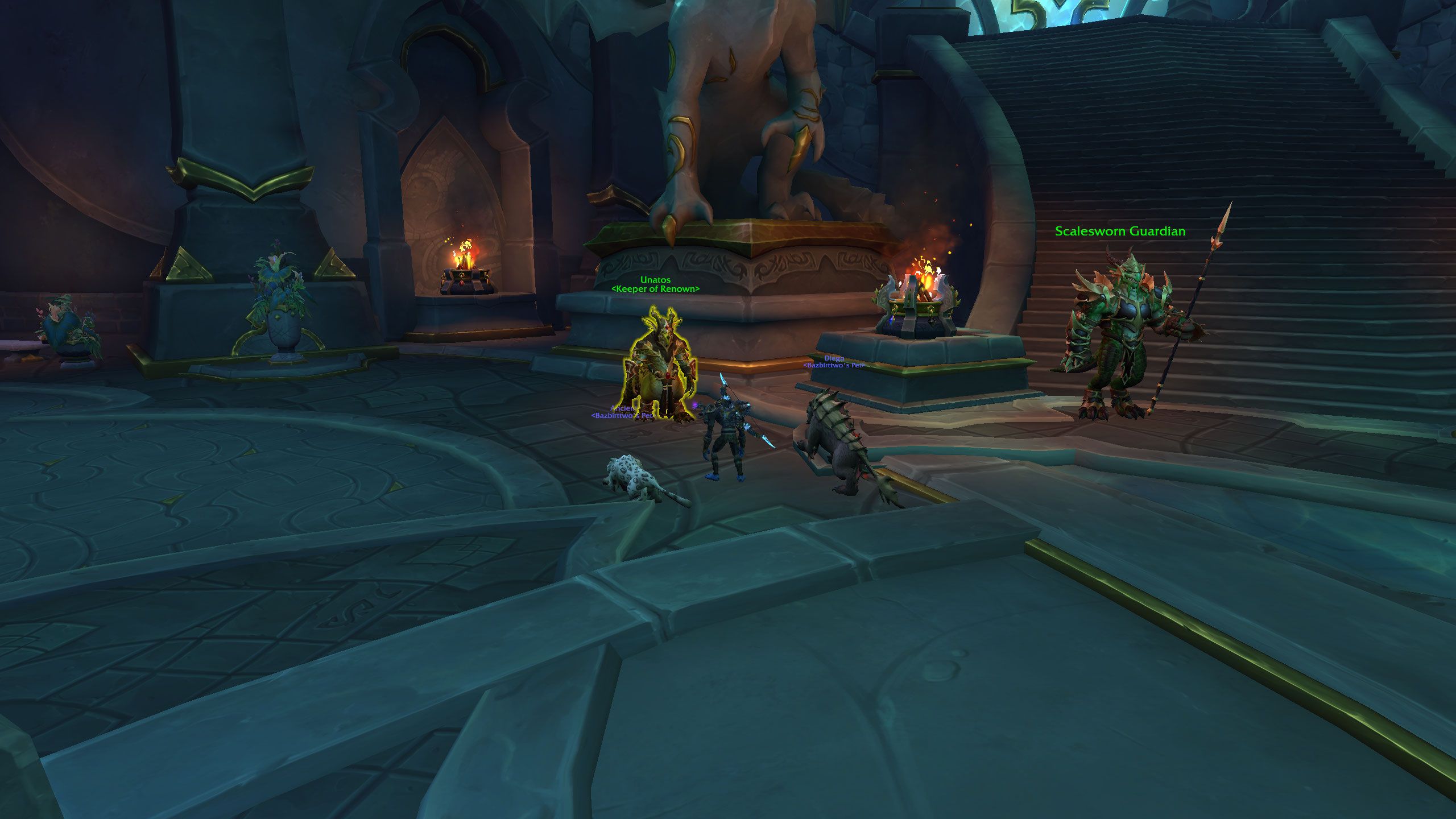 While the following list may make it seem like there are a lot of ways to earn reputation with the Valdrakken Accord, in truth, there aren't too many options, as many coincide with one another. Some will be elaborated on in later sections too.
| | |
| --- | --- |
| Main Story Quests | A phenomenal way to earn Renown that shouldn't be forgotten if you're grinding on another character. |
| Side Quests | These help you gain a nice amount of reputation for sure, but note that the side quests that provide reputation for the Valdrakken Accord are not limited to Thaldraszus. |
| World Quests | While most world quests are on a semi-weekly rotation, the few on a daily rotation award Valdrakken Accord reputation, namely the two war mode PvP quests (100 reputation per) and the daily pet battle quest (25 reputation per). |
| Obsidian Citadel Key Farm | This grind can get you many different rewards, but it can also get you Titan Relics. When you turn in your Obsidian Keys, the strongboxes and caches you get in return have a chance to drop Titan Relics (among all the other rewards), and give you flat reputation gains for the Valdrakken Accord just for completing the quest. More on this in a following section. |
| Siege on Dragonbane Keep | This is a repeatable community event that gives decent Renown progress and some Titan Relics. This is repeatable, but you can only get an epic-quality Dragonbane Keep Strongbox once per week. Each time repeated gives you the strongbox at rare-quality, but you still get relics from it and reputation for doing the event. |
| Titan Relics | There aren't very many ways to get this infinitely grindable currency, but more on that in the next section. |
Titan Relics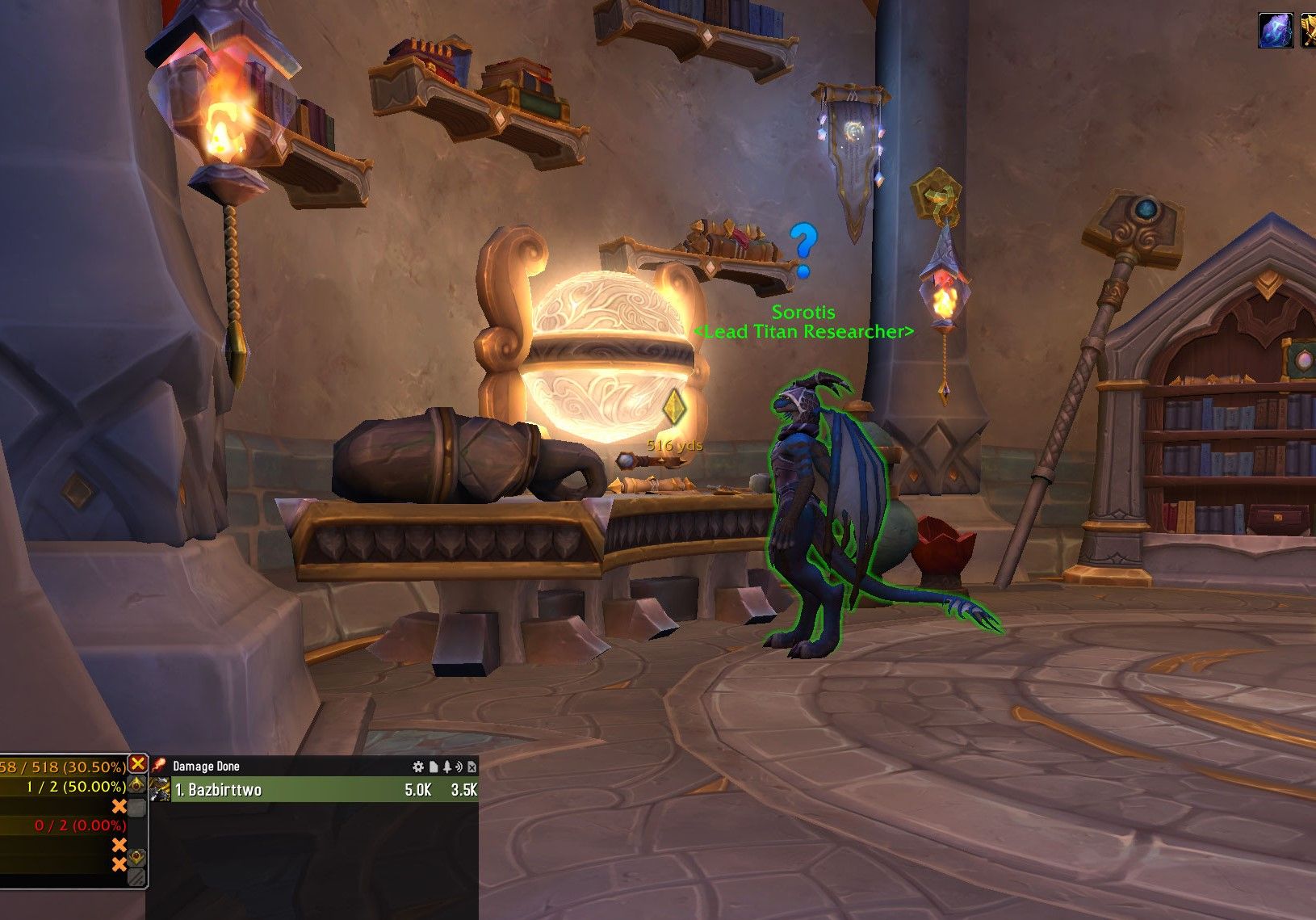 There are a few ways to get these, the most reliable source being from the aforementioned strongboxes and caches from turning in Obsidian Keys. You can also pick them up from various treasures around the world (i.e. Magic-Bound Chests and Titan Chests), as well as the weekly chests for the Trial of Flood and Trial of Elements.
Of the four main infinitely grindable items for each respective faction in Dragonflight, Titan Relics are the least common and the most difficult to obtain in multitudes. They are turned in at Sorotis in Valdrakken for 15 reputation each.
Obsidian Citadel Key Farm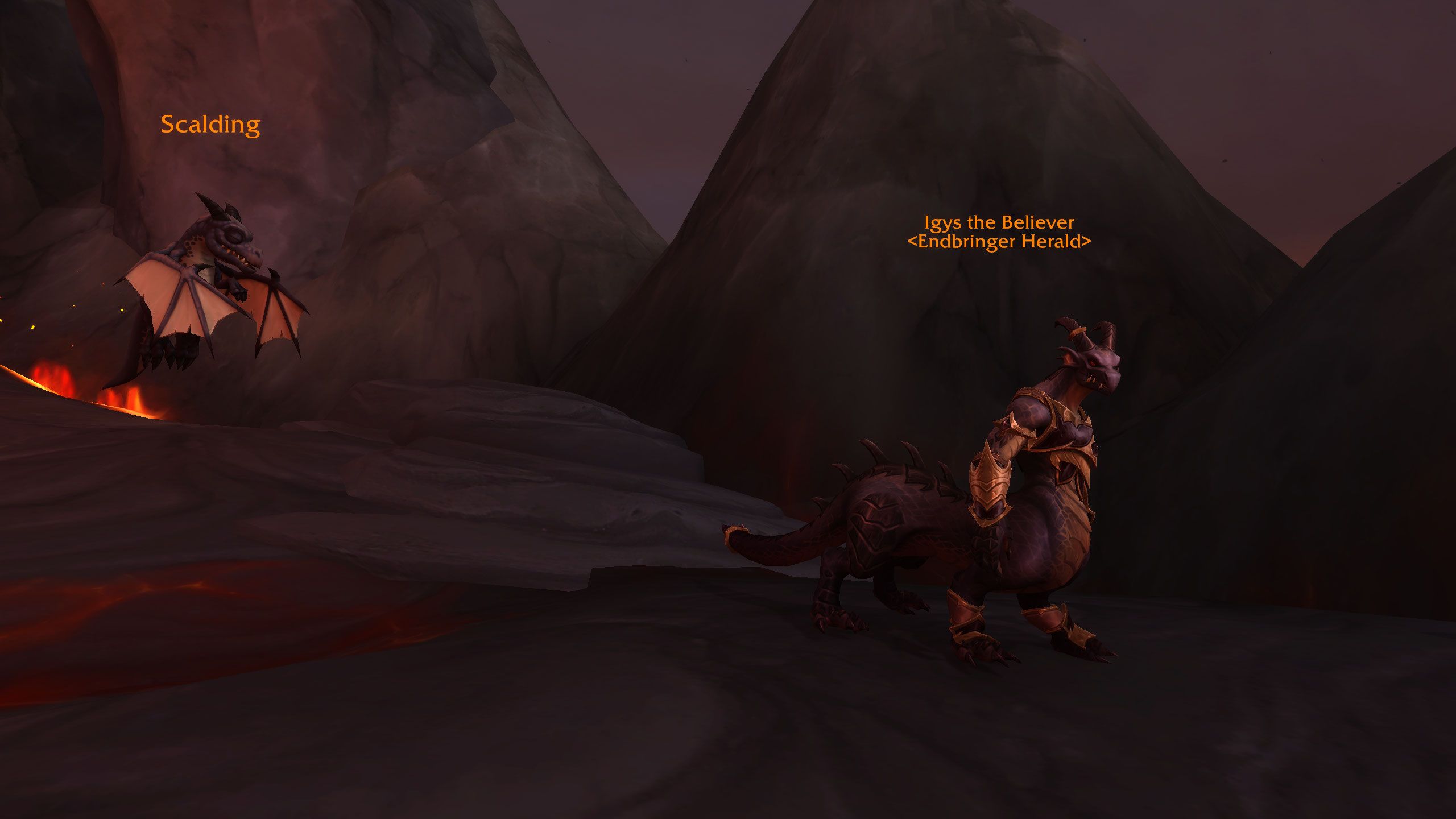 Turning your Obsidian Keys into either Wrathion or Sabellian may seem like the way to go, but actually, the most efficient person to turn your keys into is Igys (as shown in the image above), the drakonid off to the side of the Obsidian Citadel who spawns Morchok. The cache Igys rewards offer a higher chance at the Titan Relics, but also, you get reputation with Wrathion, Sabellian, and the Vakldrakken Accord for each turn-in.
Though you get flat Valdrakken Accord reputation for turning keys into Wrathion and Sabellian, if you turn your keys into them, you'll max out their reputations long before you're done farming relics and Valdrakken Accord renown.
So, if you're trying to be efficient, hand your keys in to Igys.
Outside turning in keys, don't forget to do your weekly quests for Wrathion and Sabellian, as those give some nice Valdrakken Accord reputation too.
The Renown Track And Its Rewards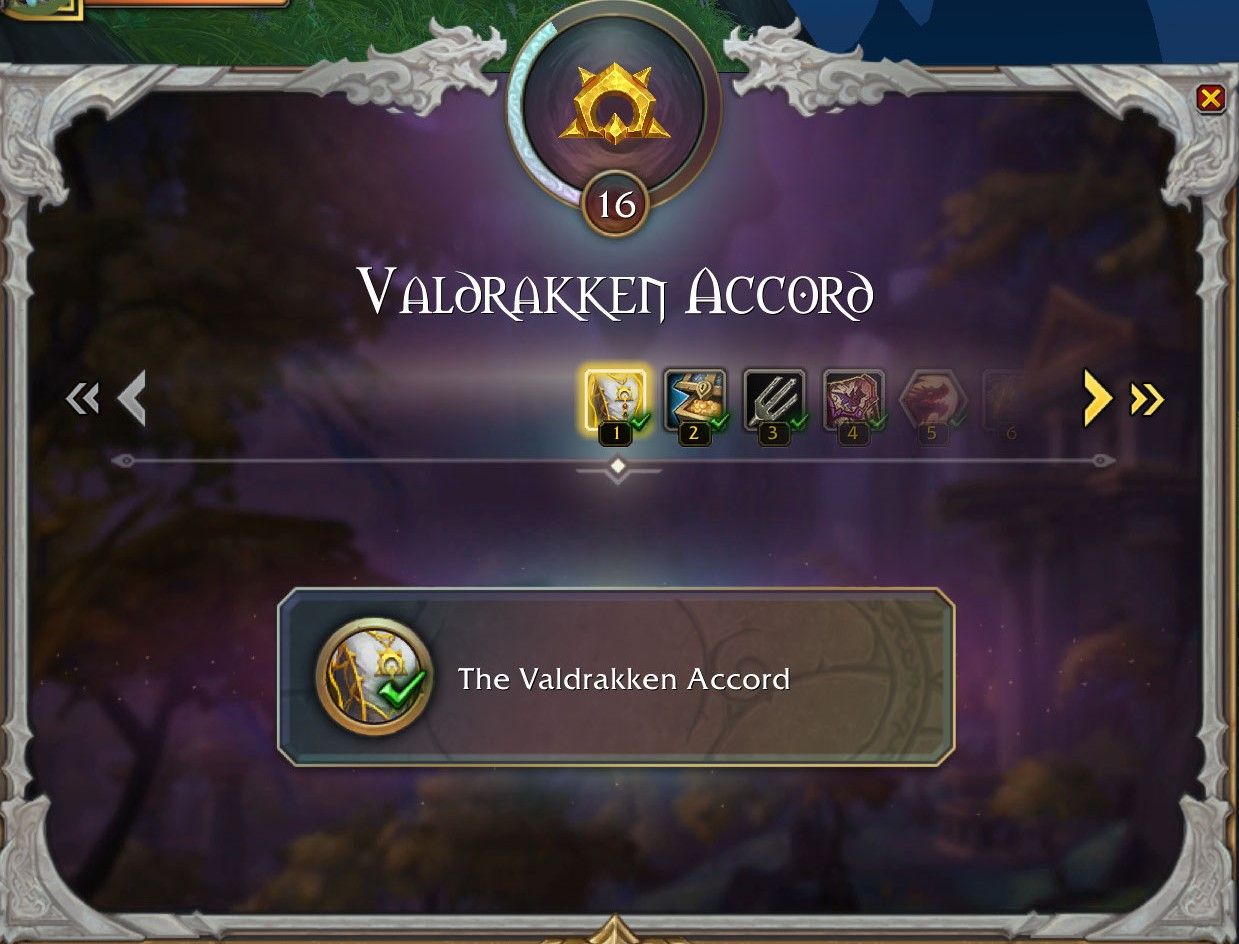 There are three key points to bring up before getting into the full Renown track and its rewards:
A total of 2,500 reputation goes into each level of Renown.
All the Valdrakken Accord Renown reward NPCs are in Valdrakken, their home city in Thaldraszus.
The only profession recipes here that will be buyable are those of your chosen profession. So don't go trying to purchase an Engineering schematic if you're a Tailor because it won't work.
Renown Level

Reward(s)

Reward(s) Explained

Account Wide Unlock?

1

The Valdrakken Accord

The Renown track for the Valdrakken Accord becomes available.

Yes

2

Titan Relic

Allows you to find Titan Relics.

Yes

3

Dragon Cooking

Toy – Dragon Tea Set.

Yes

4

Dragon Isles Supplies

Free Dragon Isles Supplies.

No

5

Siege on Dragonbane Keep

Unlocks the community event Siege on Dragonbane Keep.

Yes

6

Gardening Tools

Weapon cosmetics can be bought from Gryrmpech.

Yes

7

Aerial Challenges

Unlocks Dragonriding world quests.

Yes

8

Dragon Isles Supplies

Free Dragon Isles Supplies.

No

9

Drakewatcher Manuscripts I

Three Drakewatcher Manuscripts can be bought from Kaestrasz.

Yes

10

Basic Dragonspawn Shoulders

Shoulder cosmetics can be bought from Armorsmith Terisk.

Yes

Word of a Worthy Ally I

Alts get their reputation earnings buffed by 100 percent up until Renown 10.

Yes

11

Bonus Supplies I

Your Dragon Isles Supplies drop rate is increased by 25 percent on Supply-Laden humanoids in the Dragon Isles.

Yes

Dragon Isles Supplies

Free Dragon Isles Supplies.

No

Draconic Enchating I

Two enchanting formulas can be bought from Dothenos.

No

Draconic Engineering I

One engineering schematic can be bought from Dothenos.

No

12

Questline: The Silver Purpose

Unlocks a new questline.

No

13

Titan Weaponry

Weapon cosmetics can be bought from Sorotis.

Yes

14

Dragon Isles Supplies

Free Dragon Isles Supplies.

No

Draconic Alchemy I

One alchemy recipe can be bought from Dothenos.

No

Draconic Blacksmithing I

Two blacksmithing plans can be bought from Dothenos.

No

Draconic Tailoring I

Two tailoring patterns can be bought from Dothenos.

No

15

Drakewatcher Manuscripts II

Three Drakewatcher Manuscripts can be bought from Kaestrasz.

Yes

Draconic Inscription I

One inscription technique can be bought from Dothenos.

No

16

Valdrakken Equipment I

Provisioner Thom now offers item level 376 belts.

No

17

Drakonid Helms

Helm cosmetics can be bought from Armorsmith Terisk.

Yes

18

Whelp Rescue

Two pets from Groundskeeper Kama.

Yes

19

Questline: Garden of Secrets

Unlocks a new questline.

No

Draconic Blacksmithing II

Three blacksmithing plans can be bought from Dothenos.

No

Draconic Engineering II

Two engineering schematics can be bought from Dothenos.

No

Draconic Tailoring II

Three tailoring patterns can be bought from Dothenos.

No

20

Valdrakken Fashion

Unlocks ensemble cosmetics to be bought from Giera.

Yes

Word of a Worthy Ally II

Alts get their reputation earnings buffed by 100 percent up until Renown 20.

Yes

21

Drakewatcher Manuscripts III

Three Drakewatcher Manuscripts can be bought from Kaestrasz.

Yes

22

Valdrakken Equipment II

Provisioner Thom now offers item level 389 helms.

No

23

Valdrakken Accord Tabard

Valdrakken Accord Tabard can be bought from Unatos.

Yes

Draconic Inscription II

One inscription technique can be bought from Dothenos.

No

Draconic Tailoring III

One tailoring pattern can be bought from Dothenos.

No

24

Bonus Supplies II

Your Dragon Isles Supplies drop rate is increased by 25 percent on Supply-Laden humanoids in the Dragon Isles (50 percent total).

Yes

Dragon Isles Supplies

Free Dragon Isles Supplies.

No

25

Torch, Tomes and Bottles

Weapon cosmetics can be bought from Giera.

Yes

26

Drakewatcher Manuscripts IV

Four Drakewatcher Manuscripts can be bought from Kaestrasz.

Yes

27

Dragon Banners

Five toys can be bought from Unatos.

Yes

28

Elaborate Dragon Shoulders

Shoulder cosmetics are can be bought from Armorsmith Terisk.

Yes

Draconic Inscription III

One inscription technique can be bought from Dothenos.

No

Draconic Tailoring IV

One tailoring pattern can be bought from Dothenos.

No

29

Dragon Weaponry

Weapon cosmetics can be bought from Weaponsmith Koref.

Yes

30

Part of the Accord

Title – Ally of Dragons.

Yes

A Heroic Reward

To upgrade a crafted gear's item level to 395, you can get a Primal Infusion.

No
Source: Read Full Article