Cyberpunk 2077 has been the subject of much controversy of late, primarily because of the fact that it reportedly bricks last-gen consoles. After a less-than-stellar launch, the game has been removed from the PS Store at the behest of CD Projekt Red. While it's still available to purchase on Xbox, its Microsoft Store listing now includes a warning, too.
Obviously this has led to some very normal behaviour by very normal people on the very normal internet. While some fans have become frustrated to the point of ridicule – like the people who think they shouldn't have to return the game after asking for a full refund – others have approached the situation more lightheartedly. One fan even but together an updated trailer designed to show off what to expect from Night City, which you can check out for yourself below.
I'm not sure about you, but I reckon this updated trailer is pure genius. Having Keanu Reeves say, "Welcome to Night City" and immediately following it up with some aul lad banging two beer cans against one another is spectacular, I think. "The only limit to what you can do is what you're willing to become," Reeves says as some bloke jumps out of a window onto a car roof. Parkour!
"So dream big." Someone gets smacked with a shovel on the side of the road as three lads with no tops on clink shot glasses. "If you can hack it, the future's yours for the taking." A car spirals out of control, looking as if it's approximately 0.5 seconds away from exploding.
"In 2077, what makes someone a criminal?" A man kicks a car – it is a very weak kick – and the car literally poos its pants.
"Getting caught," Reeves says. A woman shoots a machine gun from her kitchen door as loads of eejits jump on the back of a car like it's a bouncy castle. The rest of the video becomes even more absurd – it even has Dimitri in it, who is my favourite meme character of all time.
"Because before they put a bullet in you," Reeves says. "You'll make this whole city burn." A mixture of a tricycle and a tractor comes up off the side of the road and does a massive wheelie. Now that's cyberpunk.
Next: Game Devs Are Real People – You Can't Send Them Death Threats Just Because You're An Overgrown Toddler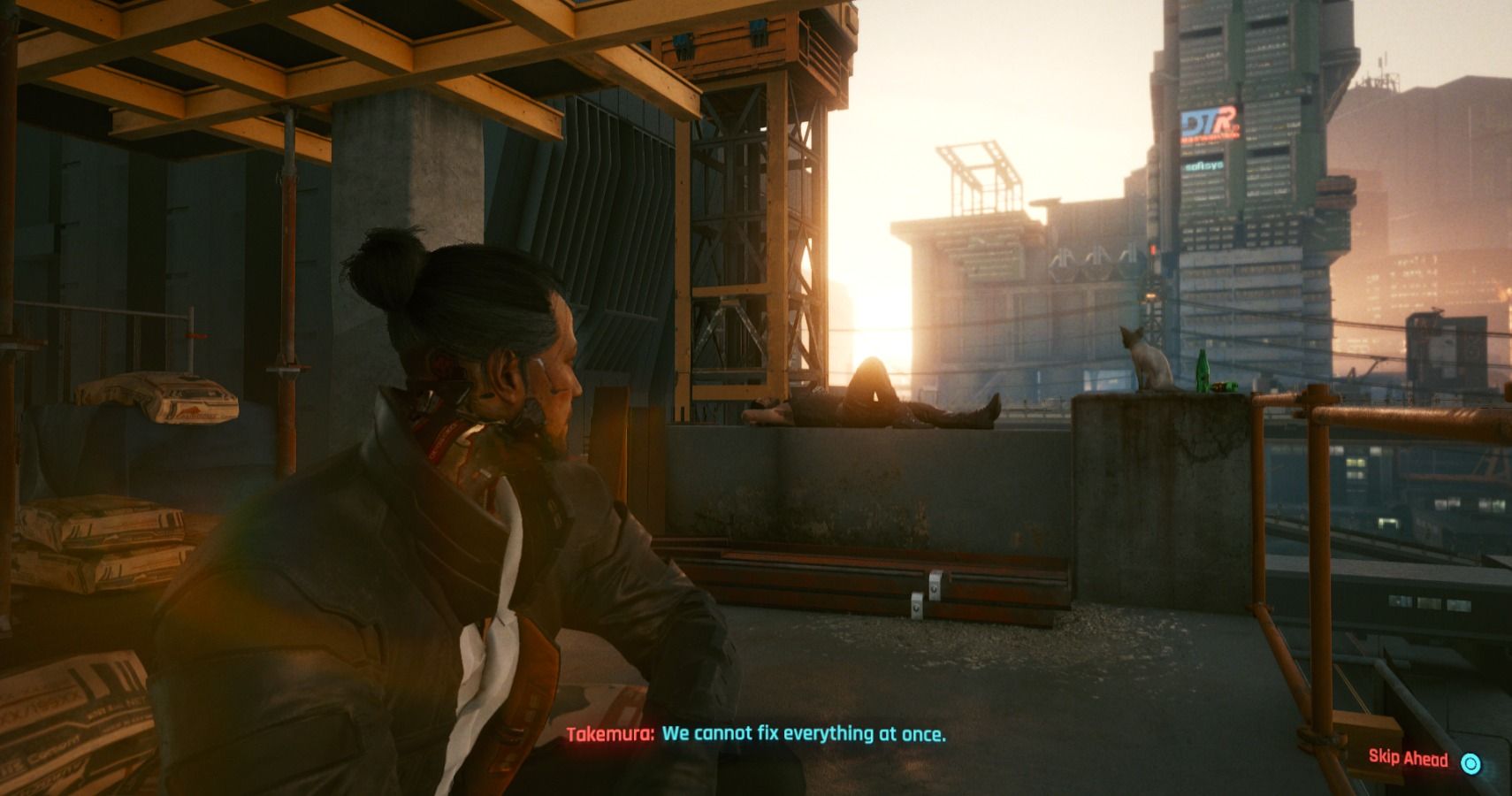 Game News
PC
Cyberpunk 2077
Xbox One
Ps5
ps4
Xbox Series X
CD Projekt
Cian Maher is the Lead Features Editor at TheGamer. He's also had work published in The Guardian, The Washington Post, The Verge, Vice, Wired, and more. You can find him on Twitter @cianmaher0.
Source: Read Full Article