If you've ever fantasised about owning basically every console that has ever existed, but thought that possessing such a vast collection was beyond your reach, well now is your chance. That's provided you have nearly a million dollars to spare, of course. Because one seller is putting up for auction a huge collection of consoles from throughout over the decades that might well represent every console that's ever been made.
As spotted by Consolevariations via Kotaku, the listing comes from a French collector who has somehow amassed a hoard of some 2,400 consoles "from the first to the very last" according to the translated listing. These consoles range from your standard editions to special limited runs to variations that have never been officially sold so there are some definite rarities and curios among the hundreds of models available in the collection.
The listing is on Ebay and comes from seller 'kariaur' who happens to have a 100 percent feedback rating on the site for those worried about being scammed (although these things are never entirely guaranteed, just to cover ourselves). At the time of writing, more than 200 people were following the sale, but you can pre-empt them with the 'Buy It Now' purchase button. For that though, you'll need 984,000,00 euros, since it's listed on French eBay, or nearly a million US dollars.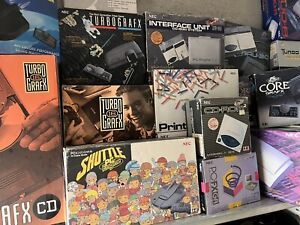 Using Google Translate, we learn from the listing that Kariaur started collecting in the early 1990s, but it hasn't all been hoarding since then as the French collector sold off their whole '90s collection at the turn of the millennium. But the collection started growing again over the 2000s but was stopped in 2011 as the collector didn't have enough time and had growing difficulty in tracking down rare items.
But after visiting Tokyo in 2018, a place that has ensnared many a games collecting hobbyist, they started collecting again and even managed to get almost everything they'd sold off before. And that leads us to the present day, with the current enormous listing. With some of the items listed as one-off commercial partnerships (consoles that were designed to be given away in prizes, for example) some items may not exist outside of this collection so it's a pretty attractive prospect for serious collectors, although Kariaur does say it could also be a good fit for a museum. Just gotta make sure to outbid everyone else, or have enough funds to buy it now.
Source: Read Full Article