You might think you don't need any more maps for your tabletop roleplaying games, but be honest, you really do. But more than that, you want maps with beautiful art, that will last a long time, and that can actually be used, rather than just looked at. Well, The Wanderer's Guide Kickstarter has launched to bring these items and more to you.
The Wanderer's Guide – Fantasy Maps For Your RPG Campaign Kickstarter was fully funded a mere three hours after launch, crossing its $10,000 goal, and currently nestled comfortably in at almost $40,000. As of this writing, there are still 15 days left to go in its Kickstarter adventure, and a couple more stretch goals left to reach for.
The Kickstarter adventure was created by Joseph Wiggins, and lists famed tabletop RPG content creator Hit Point Press (The Deck of Many, Humblewood, Heckna!) among its collaborators. Artist Andrew Bosley (Everdell, Merchants of the Dark Road, Tapestry) is the collaborator responsible for the wonderful art here, which is definitely one of the many inspiration points of The Wanderer's Guide.
As noted in the Kickstarter description and on the official website, The Wanderer's Guide is an "immersive fantasy atlas featuring multiple perspectives" that range from "breathtaking world views, intricate city designs, to detailed building interiors and dungeons." The majority of the TTRPG maps you're probably familiar with are top-down perspectives of realms, regions, individual communities, and down to buildings, dungeons, and such. One of the things that set The Wanderer's Guide's maps apart from the rest is its angled, isometric view of these places. This works especially well for maps of buildings, with cut-away views showing interior details that top-down view maps don't show, such as furniture styles, artwork on the walls, room architecture, and more.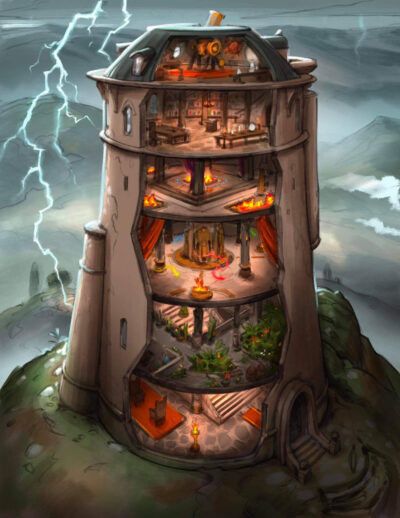 The Wanderer's Guide offers a lot more than some great maps, though. The book itself is hardcover, and with a flat-lay binding, a feature that every TTRPG sourcebook should have. The Guide's pages are dry-erasable, so you can make quick notes right on the map, then remove them later. The Kickstarter is also funding a token pack and sticker sheet set for use with the maps, along with exclusive and Collector's Edition dice sets, a GM screen, a 40-card NPC deck, cloth map, neoprene game mat, and many other gaming goodies.
The Guide has seven pledge tiers available, ranging from $5 to $150, so click over and select one for yourself while there's still time.
Source: Read Full Article