When Bungie announced last week that the Destiny 2 Companion app would be getting new features to coincide with the next-gen update of the game, everyone's major takeaway seemed to be that the app would let you purchase bounties. While I love this feature, I've got to say: that's not even in the top ten list of amazing things this app can do. I don't think I've ever seen a companion app as comprehensive and fully featured as the Destiny 2 app. In fact, I'm struggling to come up with even a single feature it's missing. If you're playing Destiny 2 and you're not using this app, you're really missing out.
I must admit it's been some time since I checked in on the D2 companion app. I suspect that a lot of the cool features available in it are not new, and I regret that I haven't been using it more frequently. The app organizes practically every aspect of the game into easy to navigate categories. At times I find that it's actually easier to use the app than to navigate menus in-game, which is really saying something.
The newest feature, the ability to purchase bounties, makes grinding so much more efficient. You can only buy bounties when offline, in the Tower, or in orbit so that players can't exploit the system by loading a Nightfall and farming lost sectors with unlimited Vanguard bounties, for example. What it does help with is refreshing your bounties in between strikes, gambits, and crucible matches. What's more, all of the vendors are on a single list. There's no reason to hustle up and down the tower and ship out to Variks in on Europa and Crow on the Tangled Shore before you dig into activities. You can scoop up all your daily bounties on your lunch break so you're ready to jump right into the game when work is over. I love this feature because it stops my group from making numerous unnecessary visits to the tower all night just to refresh bounties.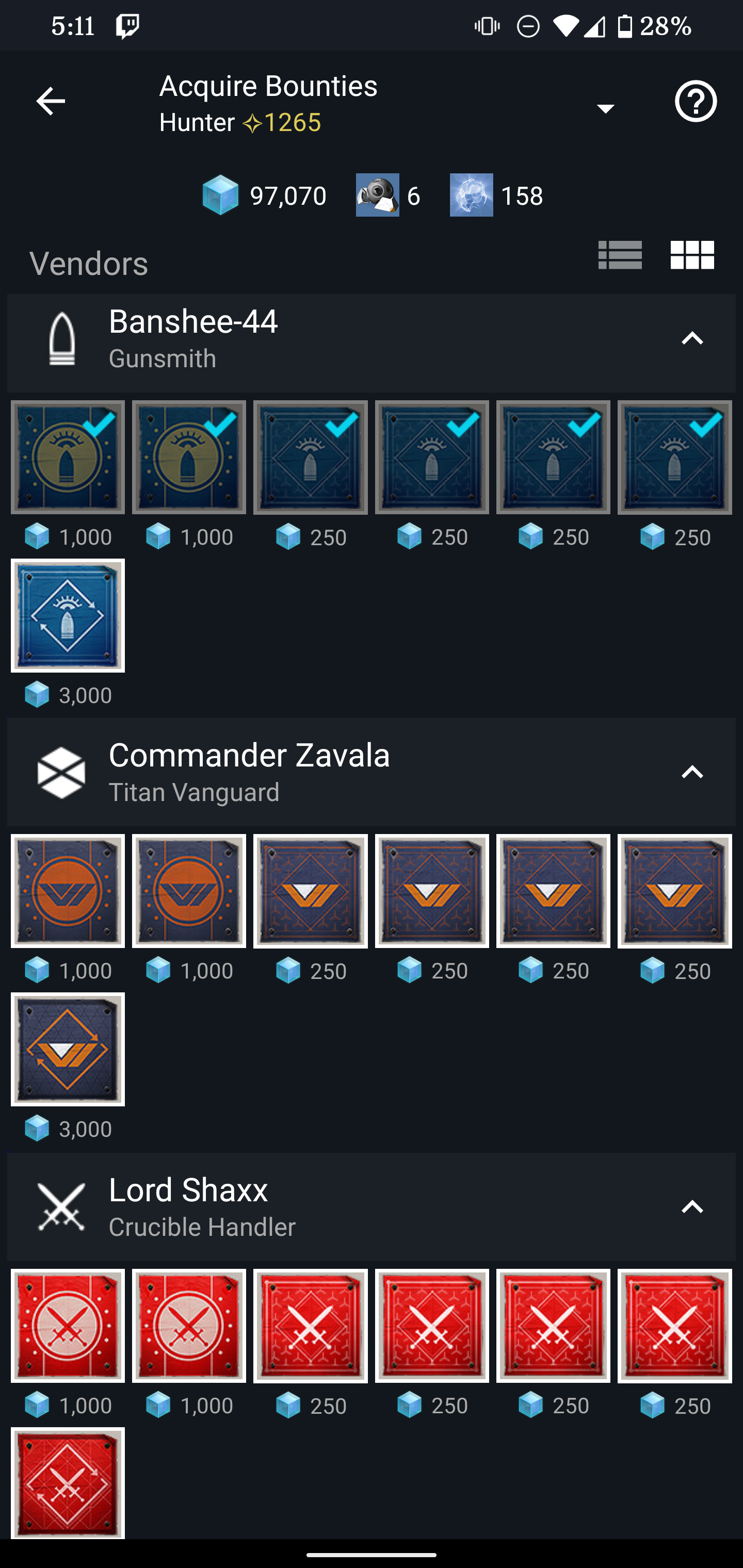 The other efficiency feature in the app the Director. Unlike the in-game director, which has gone through various stages of uselessness over the years, the mobile app Director shows you everything you need to see at a glance. You can see a full list of your current bounties and quests and quickly swap between characters, something that would take lots of menu navigation and multiple load screen in-game. Most importantly, the Challenges list includes all of the available powerful and pinnacle rewards that are still available for each character.
Figuring out which weeklies you still have in-game is pretty unintuitive. On the star map, you can see each patrol zone or playlist activity that still has a reward available, then you can click into that zone and find the activity on the map. You then need to highlight it to find out whether it's a powerful or a pinnacle. Between all the different locations and activities in the game, it can be really hard to keep track of all the rewards, and I have found myself double-checking each pinnacle I still have multiple times a week.
With the app, the totality of your available rewards is all right there in an easy to parse list. I'm actually not sure why the in-game Director doesn't make things this easy, maybe its because there are simply too many Challenges to see every week. The app makes it so easy to keep track of challenges.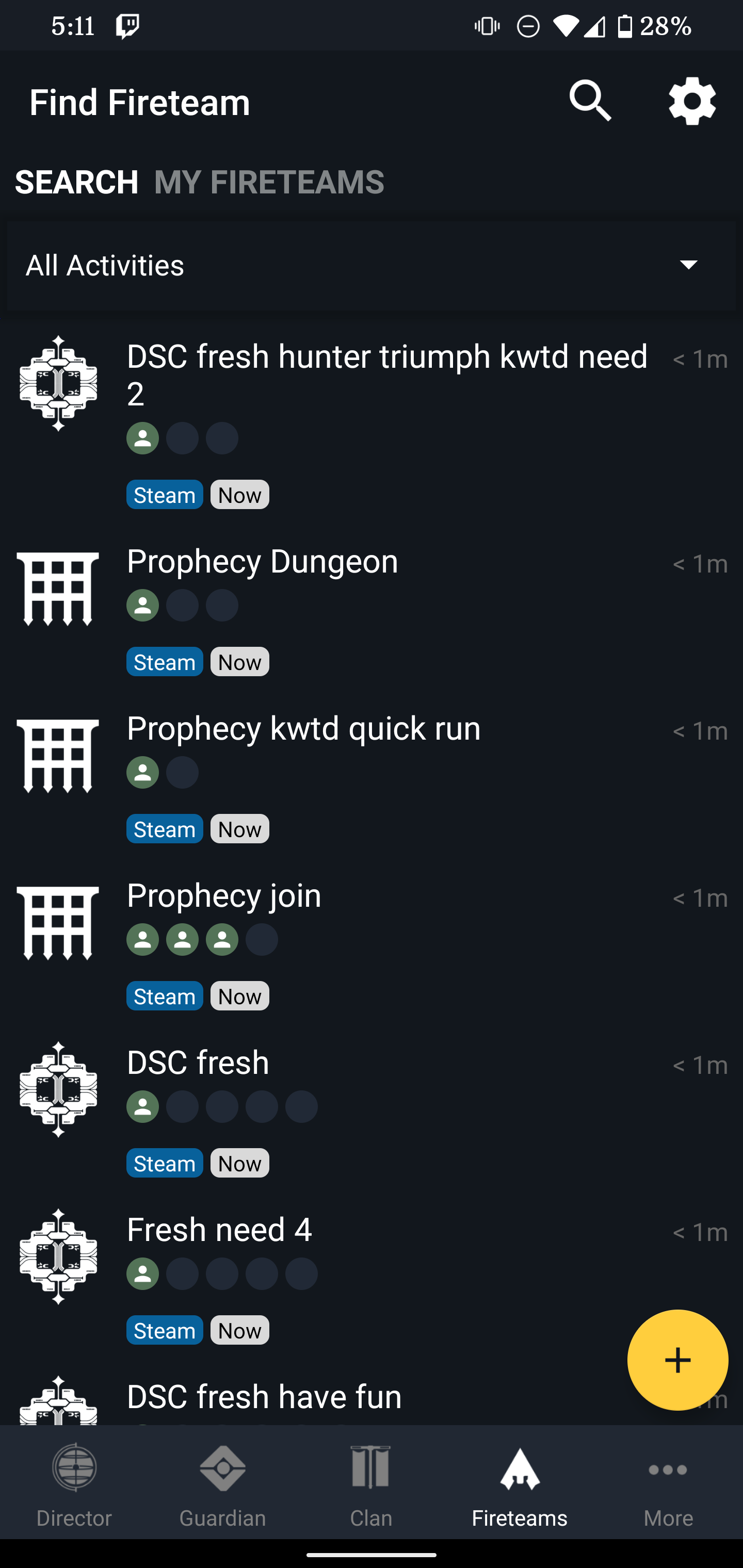 I wanted to start with the most useful features for playing Destiny before I talk about the best thing that the app can do because I recognize I'm probably going to lose some people here. On your character page, there is a lore tab. That lore tab contains the entire collection of lore books you've collected, neatly organized into categories and easy to read.
It's incredible. Destiny lore books are broken up into micro-fiction chapters that are so perfect for bathroom breaks and bedtime reading. As a lore-lover that doesn't particularly enjoy sitting at my desk and reading books on my monitor, this has totally changed the way I engage with Destiny lore.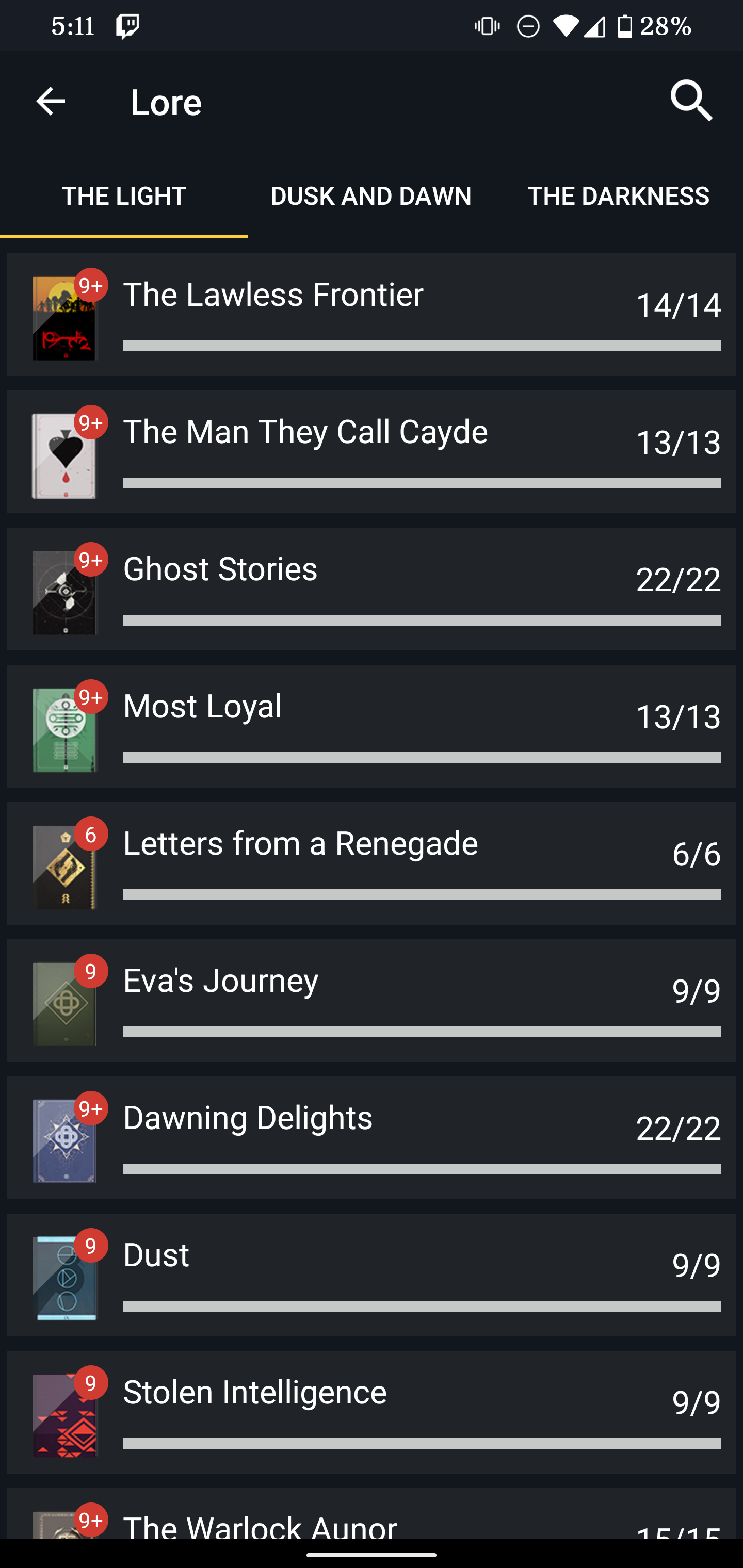 There's way, way more going on in this app. You can track your clan activity, progression, and even chat with your clan from the app to set up raid sessions. The app has a built-in LFG where you can find and create posts for any activity from raids to Crucible. You can find an open group and join in the app, then the group leader can see your ID and invite you to their party. You can manage your inventory between your characters and the vault without ever having to go to the tower by simply selecting the gear you want from a menu and transferring it. You can track triumphs and seals and even filter to specific ones with a search bar, something you can't even do in game.
There aren't a ton of companion apps out there, but even compared to Blizzard's WoW app, the Destiny app completely blows everything else out of the water. If you're a Destiny 2 player I can guarantee you'll find something useful in this app.
READ NEXT: Destiny 2: Beyond Light – Hawkmoon Exotic Quest And Feather Locations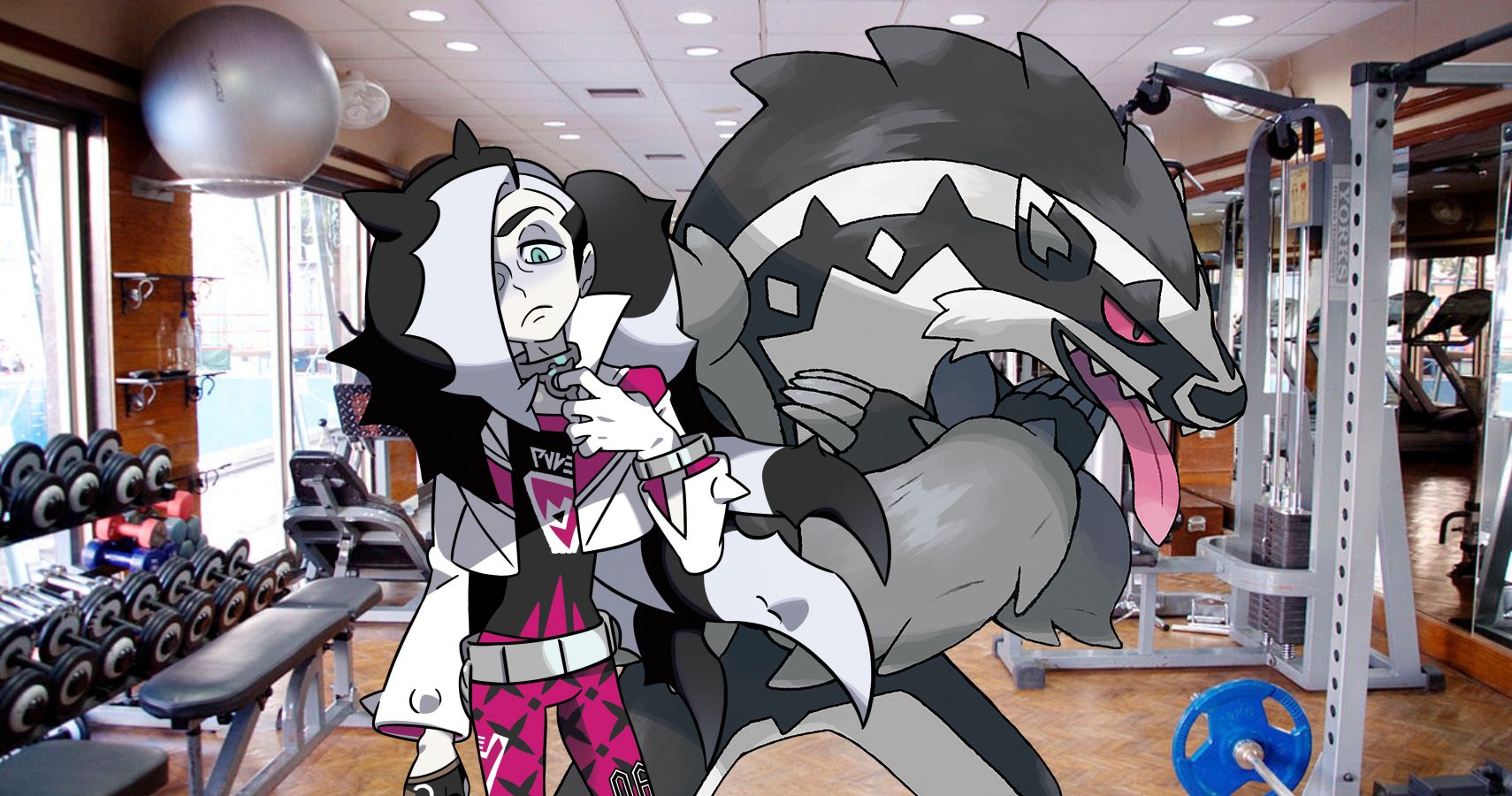 Game News
Destiny 2
Destiny 2: Beyond Light
Eric Switzer is the Livestream News Editor for TheGamer as well as the lead for VR and Tech. He has written about comics and film for Bloody Disgusting and VFXwire. He is a graduate of University of Missouri – Columbia and Vancouver Film School. Eric loves board games, fan conventions, new technology, and his sweet sweet kitties Bruce and Babs. Favorite games include Destiny 2, Kingdom Hearts, Super Metroid, and Prey…but mostly Prey. His favorite Pokémon is Umbreon.
Source: Read Full Article