Pokemon Go Trainers in the United States are getting an exclusive event… sort of. Observant fans found clues last week pointing to an exclusive in-game event for 7-Eleven Mexico. The event marks the first time shiny Ferroseed is available in Pokemon Go, and also gave access to Unown "S" and "E" along with quests for Charizard Mega Energy. Now, it seems like U.S. players are getting a very similar event, but for Grubhub.
The announcement comes from the official Pokemon Go blog. It says that trainer who sign up for a Grubhub+ account will get a special event ticket good for November 8. Those that are in the event will get access to exclusive research quests that include Charizard Mega Energy, shiny Ferroseed's first appearance, and spawns of Unown "G" and "H."
It might seem prohibitive to demand subscription to a premium service in exchange for some rare spawns, but the Grubhub+ is a free two week trial. Users can cancel before the paid portion kicks in and still get the Pokemon Go event ticket. Grubhub+ offers free delivery on orders over $12, VIP perks, and donation matching.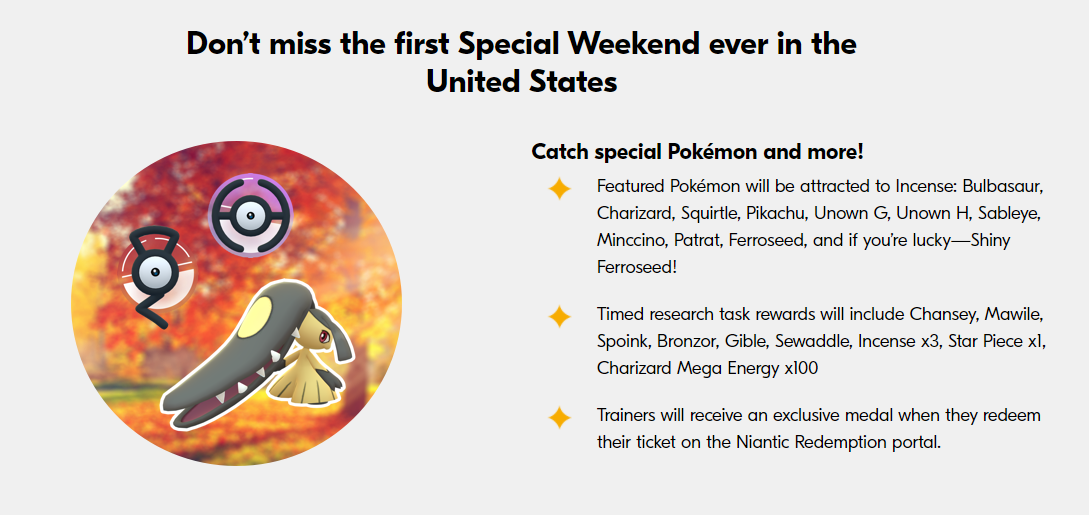 In most ways, this event is pretty much a carbon copy of the 7-Eleven event. There's a day difference, as that event takes place on November 7 (11/7). The Mexican players also get different Unown letters to stand for Seven Eleven, whereas U.S. players get the letters for Grubhub. However, the rest of the spawns and quests are the same, right down to shiny Ferroseed. It's worth noting that for some reason, shiny Unown are not spawning during this event.
You have until October 28 to sign up for Grubhub+ and get the ticket.
As for other big Saturday stories in the gaming world – One of the biggest stores of the day is that 2020 had more female protagonists than ever before. There's also the news that Star Wars fans will be able to buy Cal Kestis' lightsaber at Disney parks. Finally, be sure to keep an eye on Atari's wild plans for a gaming hotel.
Source: Read Full Article