The cult classic Scott Pilgrim beat-em-up is back on gaming systems this month, and Limited Run Games has announced an extra present for fans. There will be a standard and collector's edition for the game. You won't have to fear it getting delisted and being unavailable to play anymore!
Limited Run Games, after many many requests for this release, is going all out for fans of Scott Pilgrim vs. The World: The Game. The standard edition will be $34.99 and comes with a commemorative concert ticket of The Clash at Demonhead and a reversible cover. All of the editions will be available for the Switch and PS4 systems. Limited Run Games says that it plans to release the game physically on Xbox One at a later date.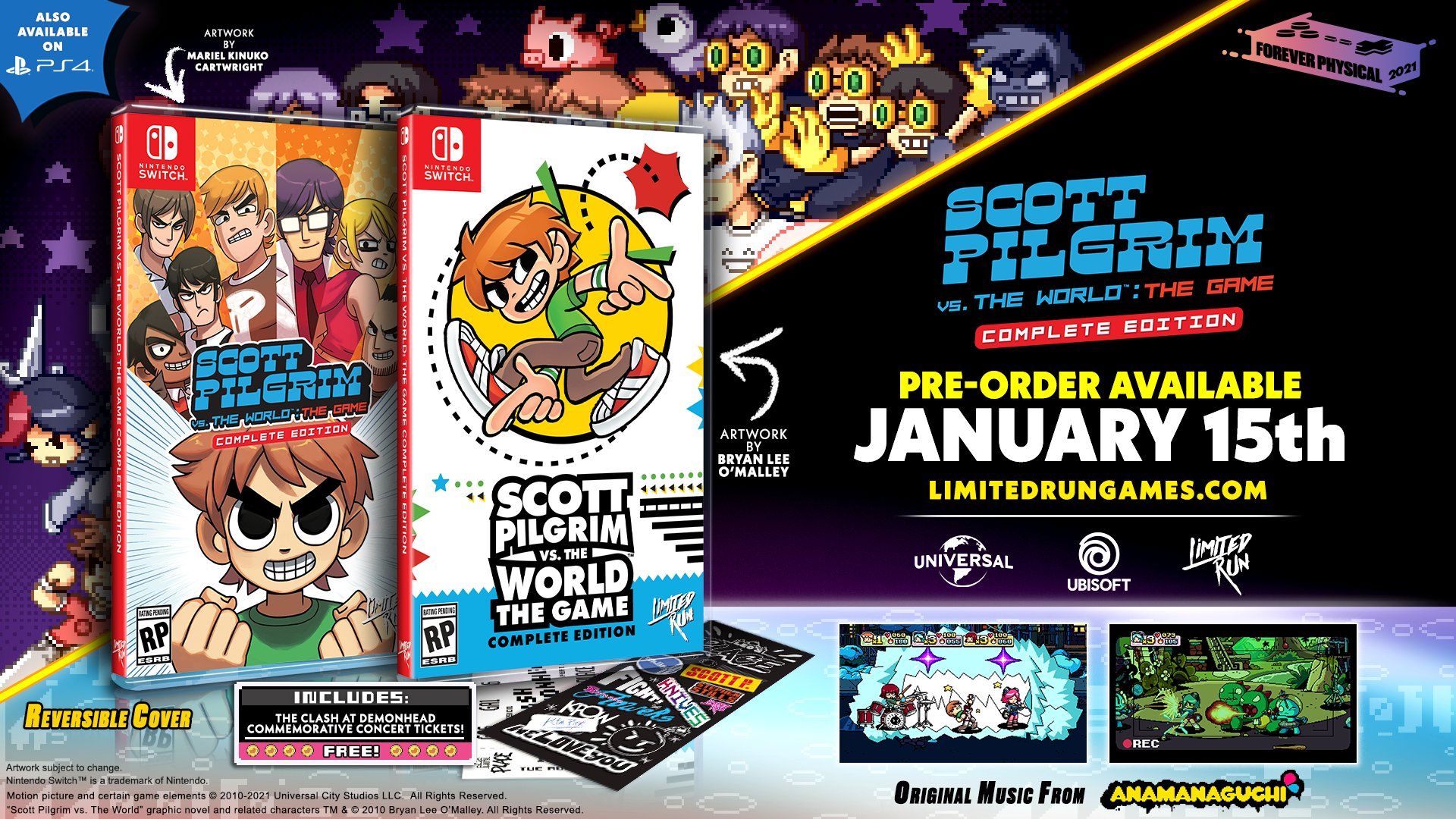 The standard cover is an incredible homage to the iconic Sonic Adventure box with some immaculate artwork and an accurate font that screams throwback. Scott's shoes are even red! As the series is inspired by video games, it only makes sense the cover looks like this. The reversible cover by Mariel Kinuko Cartwright looks epic with all seven evil exes shown prominently above Scott's head.
The classic edition is in a SEGA Genesis style clamshell box with its own two covers (one features Ramona), the concert ticket, a sticker sheet, soundtrack, and an overworld map; this will cost $54.99.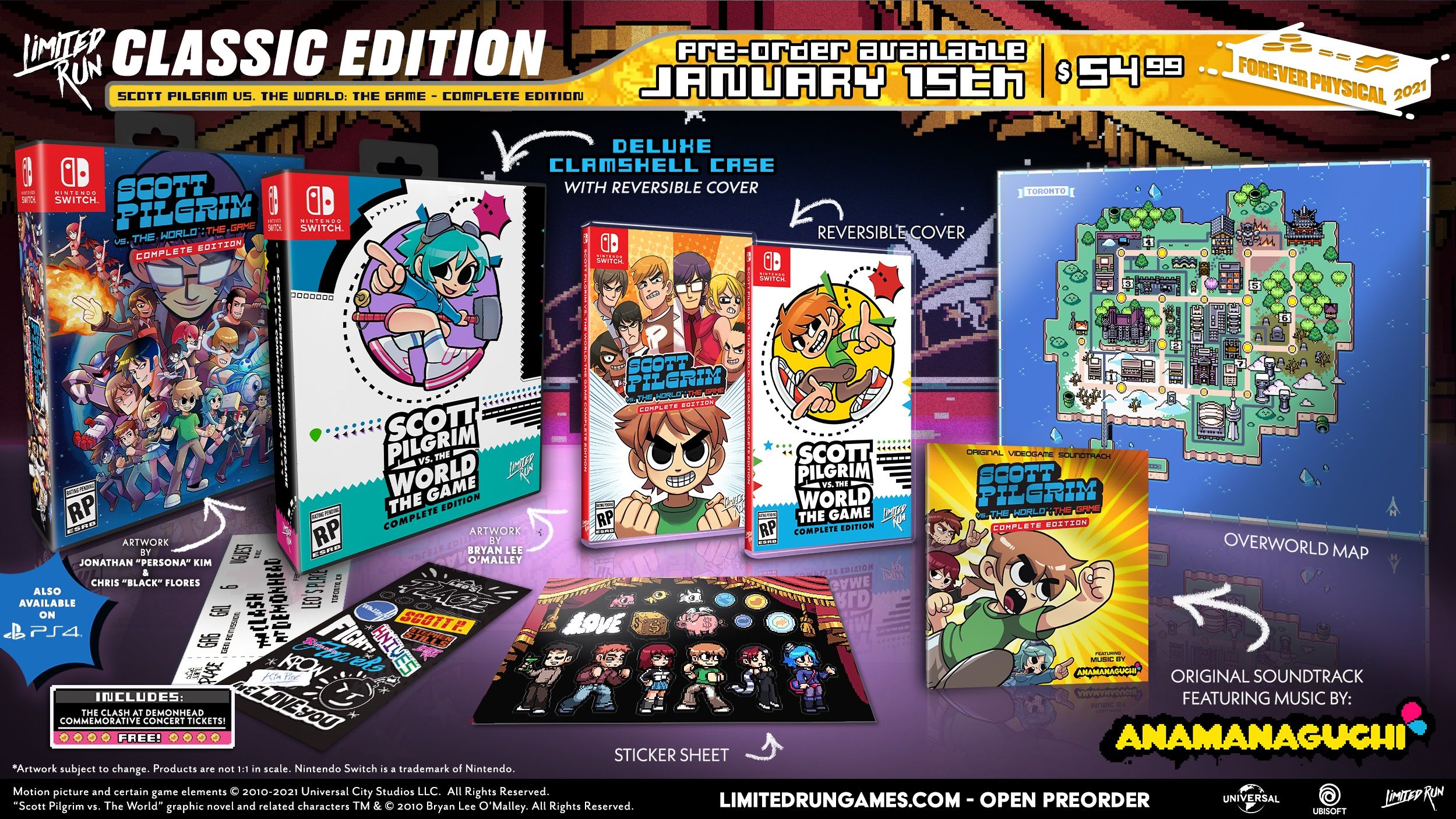 Last but certainly not least is the K.O Edition that comes in a hard-shell roadie collector's case that has working lights and sound. When it opens, Anamanaguchi's soundtrack plays with a pop-up scene of Sex Bob-Omb. Super cool stuff! Included in this $139.99 set is the full-color manual, hard cover guide book, CD and Cassette of the soundtrack, full-size wooden drum sticks, three Sex Bob-omb themed guitar picks, overworld map, concert ticket, Scott Pilgrim loading screen enamel pin, a high-gloss foil 7 Evil-Exes trading card set, and two sticker sheets from the game. It also comes with the clamshell case from the classic edition.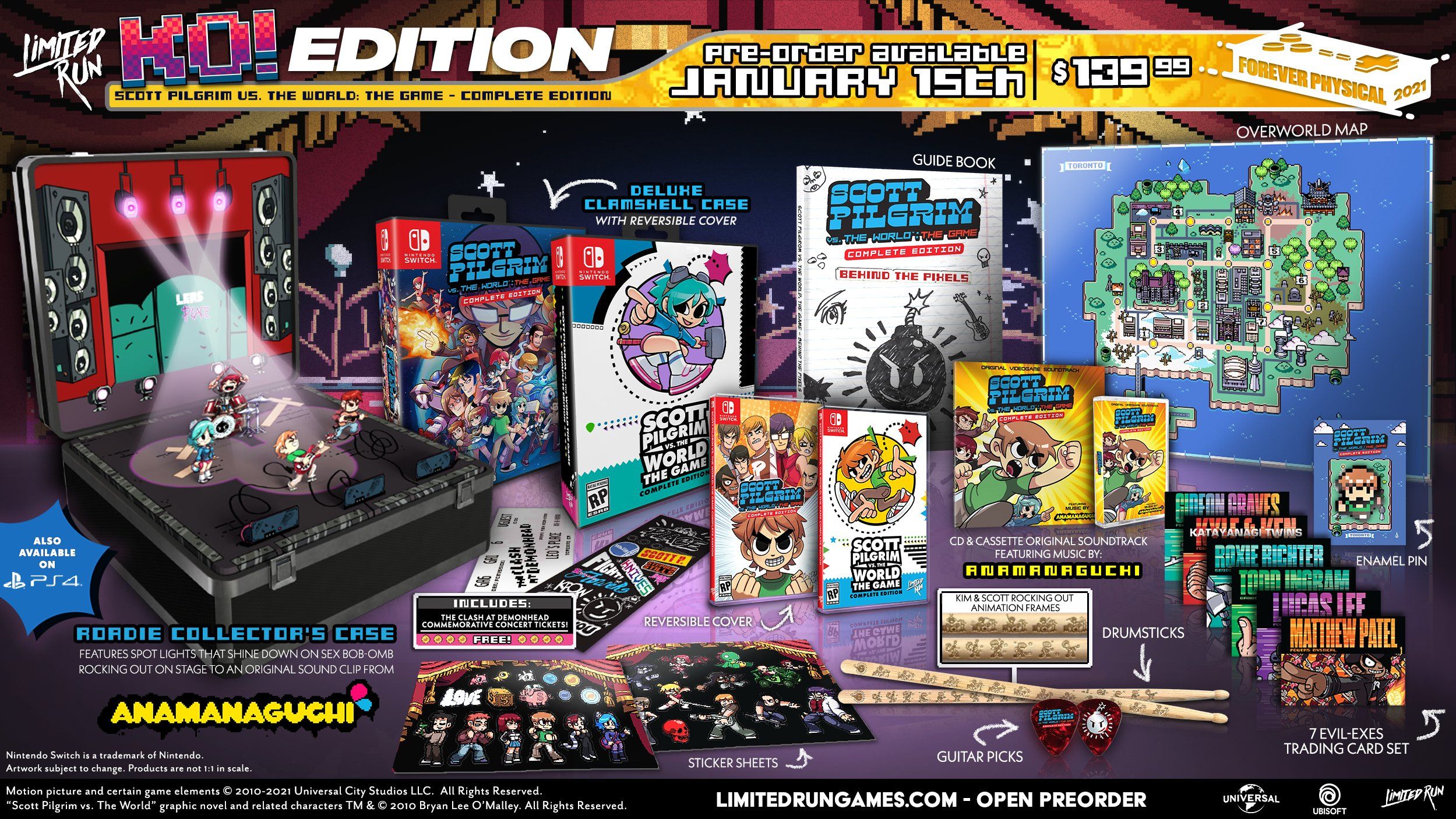 Preorders for these highly anticipated items will be available on January 15 at 10am ET. It will be open for a 6-week period. For those interesting in the enamel pins, they will be sold separately for $14.99 or all together for $99.99 in a Ramona subspace suitcase box. If that's enough, there will be a Scott Pilgrim-themed Switch case available for $14.99 as well.
Ubisoft's upcoming re-release will include all of the DLC for the game (Knives Chou and Wallace Wells) and lets you play with up to three other people online or offline. If you don't want to wait for the physical release, Scott Pilgrim Vs. The World: The Game Complete Edition is arriving on digital platforms January 14. It's cool that smaller releases are getting the love they deserve with collectors' editions like this and Harvest Moon. Let's hope they don't get canceled like Best Buy with Ghost of Tsushima.
Next: Rebooting Lara: A Post-Mortem Of Square Enix's Tomb Raider Reboots – Part One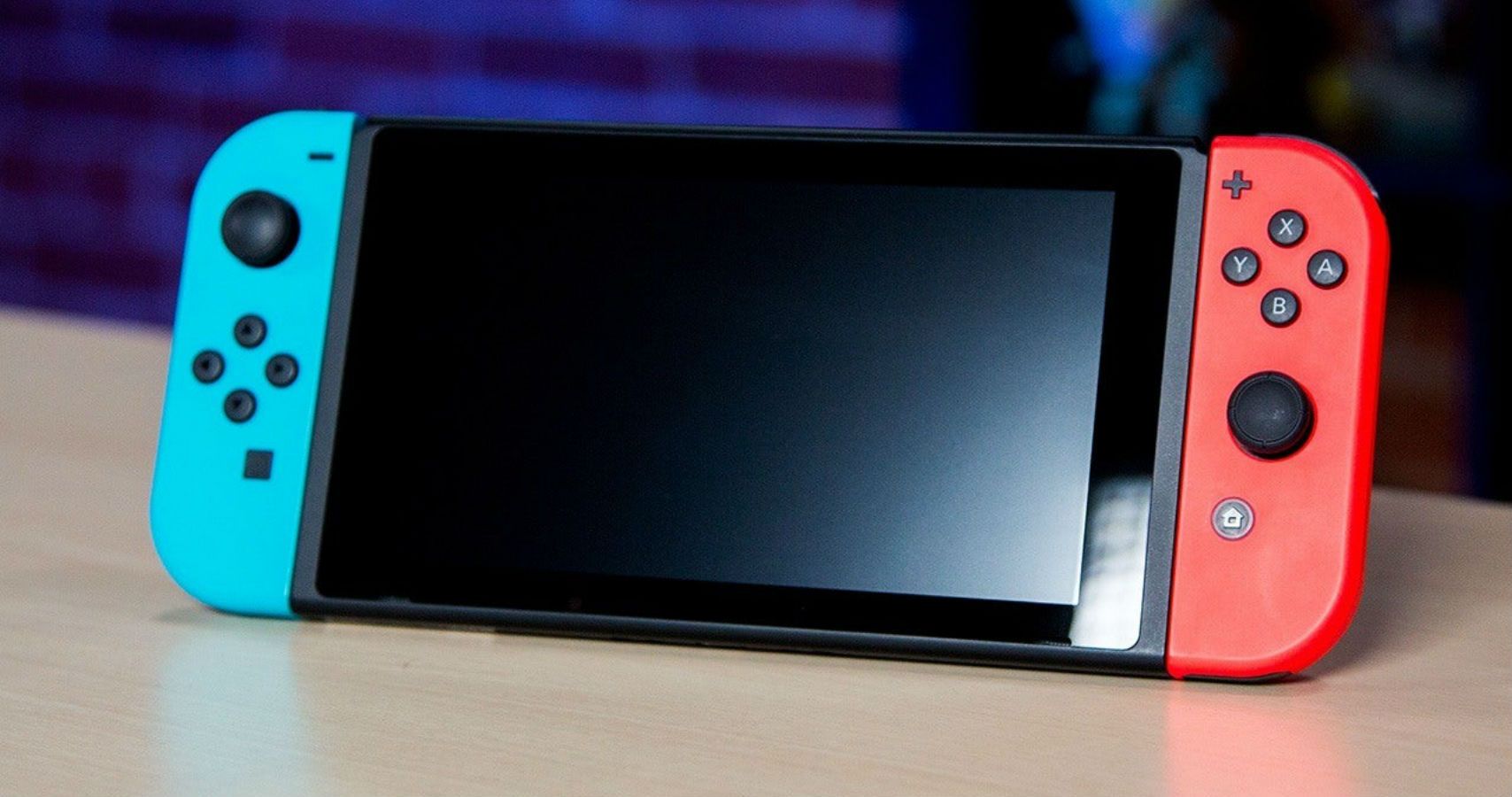 Game News
Ubisoft
Scott Pilgrim
The British "Canadian" Chris Penwell has been a video game journalist since 2013 and now has a Bachelor's degree in Communications from MacEwan University. He loves to play JRPGs and games with a narrative. His dream is to go to E3 and PAX one day and experience the mania of each event!
Source: Read Full Article