It seems like just a few weeks ago that we looked at the Marvel Champions Hero Pack Quicksilver, and we wondered when his sister would show up in the tabletop game. Well, now we have our answer!
Fantasy Flight Games have recently announced the Marvel Champions Hero Pack Scarlet Witch. This will be the tenth Hero Pack and follows the launch of The Once and Future Kang Scenario Pack. Marvel Champions is a deck-building card game based on FFG's Living Card Game system. I released it in time for the Holiday season in 2019 and it became an instant fan favorite. Unlike other Trading Card Games, Marvel Champions has a monthly release schedule with each expansion containing a full set of cards; there are no blind bag packs to buy. There are three types of expansion; Hero Packs focus on one of the Marvel superheroes, Scenario Packs introducing new villains, and Campaign Expansions a combination of the two and featuring a narrative play mechanic.
As usual with previous Hero Packs, the expansion includes a 40 card pre-built deck and Hero Card for Scarlet Witch, and her alter-ego Wanda Maximoff. There are also plenty of other cards that can be used to build out the included deck, and any other decks you may already have created. All the cards draw heavily from the Marvel comics with Scarlet Witch in her classic outfit, rather than the modern MCU interpretation.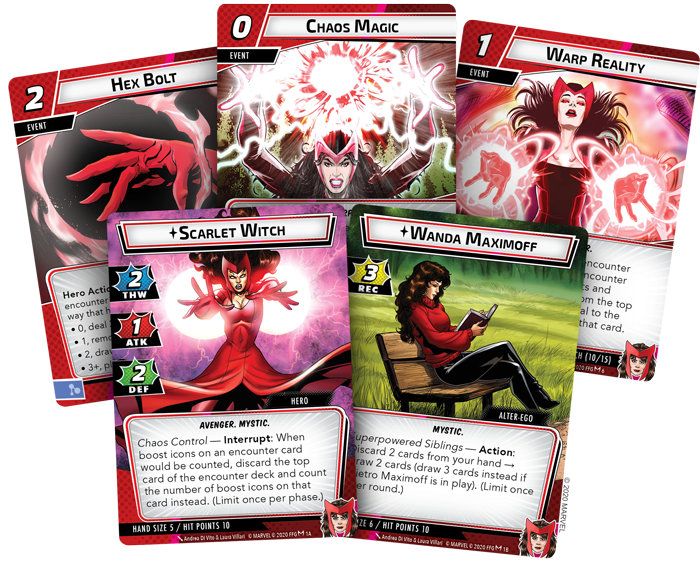 We have seen a lot of firsts with recent Marvel Champions Hero Pack releases. With Quicksilver we saw the first non-unique ally in the form of Multiple Man. And not to be outdone, Ant-Man became the first to feature two hero forms. The introduction of The Wasp not too long after also introduced the team up keyword, which allows her and Ant-Man to work together if both are in play. It's been interesting to see how FFG has incorporated the unique talents of the Marvel heroes and we can't wait to see what else they have in store for us.
To round things off nicely, FFG is also releasing a 24" x 12" gaming mat adorned with artwork from the game. This provides a comfortable and scratch-free surface to layout and play your cards. The gaming mat and Marvel Champions Hero Pack Scarlet Witch are available to pre-order now online from the Fantasy Flight Games website, and from your local independent games store.
NEXT: Critical Role Announces A New Board Game And RPG Publishing Company
Source: Read Full Article