Quick Links
Learning how to cook is a massive part of life in Rune Factory 4 – it provides you with powerful healing items, special gifts for your favorite NPCs, and a lucrative money-making venture. While it's possible to ignore the feature to an extent, indulging in it will be greatly profitable.
The system is quite simple. You use ingredients and Rune Points (RP) to create dishes and learn recipes by eating Recipe Bread (or using a handy guide, hint hint). Eventually, you'll have a fully decked-out kitchen and be a culinary master.
Cooking Basics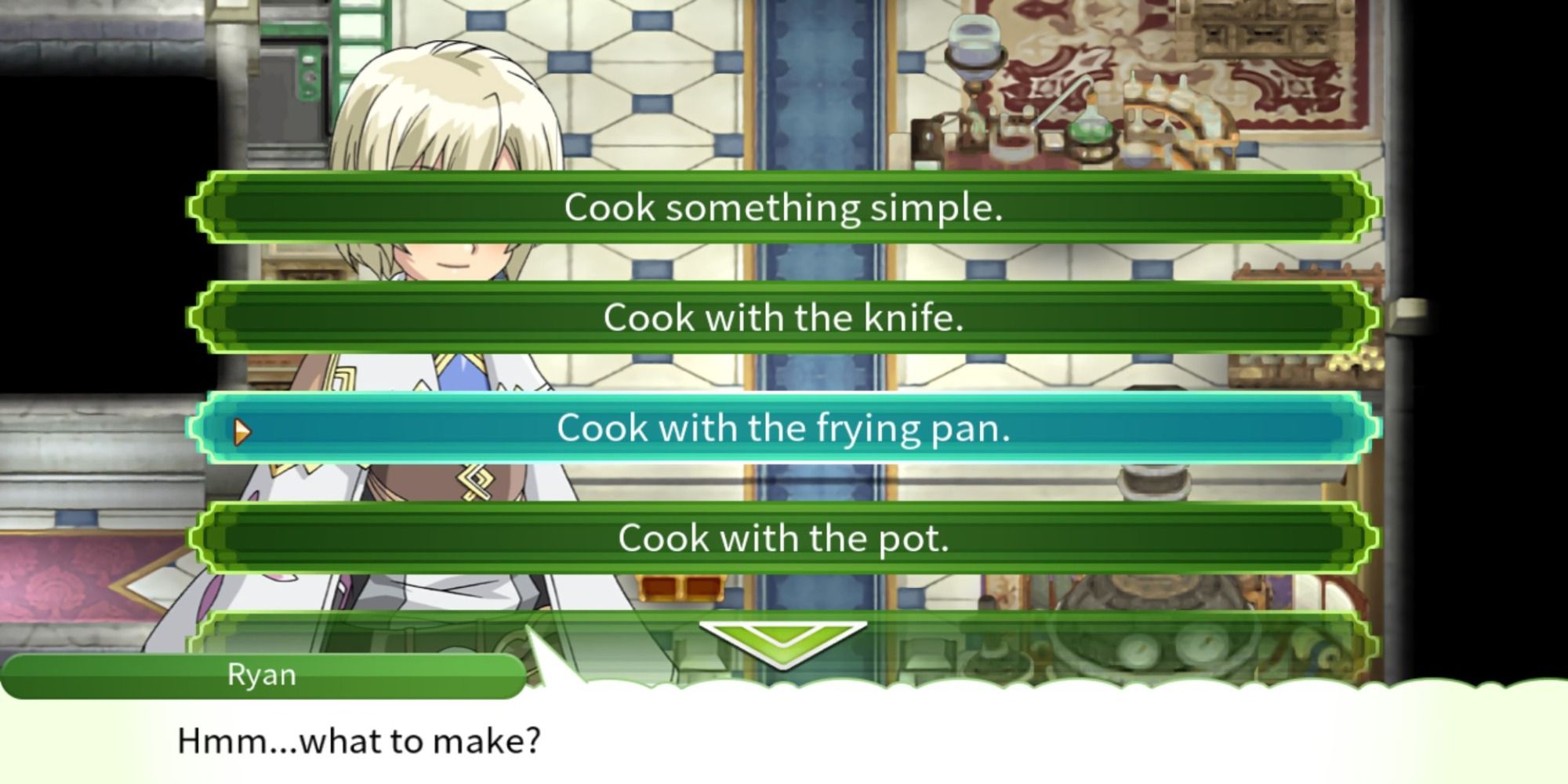 Recipes are learned by consuming Recipe Bread, items you can buy from the staff at Porcoline's restaurant or find elsewhere, for example, as a reward for certain festivals.
This guide will list every cooking recipe in the game and its ingredients. You can cook these dishes without knowing the recipes in-game by using the 'Do not use recipe' option in the cooking menu. Be aware that there are some limits to what you can do with this:
If the recipe level is between one and nine levels higher than your cooking skill level, your recipe might fail.
If the recipe level is more than nine levels higher than your cooking skill level, the recipe will fail.

If the recipe level is equal to or below your cooking skill level, the dish cannot fail.
Failing a dish will still put the dish into your inventory as a failed dish. This dish has adverse effects and will damage both the health and the friendship level of anyone you give it to.

Cooking a dish without knowing the recipe in-game will cost substantially more RP than it would if you knew it.

When cooking, you must use the correct tool for the job. There are multiple cooking tools that you can purchase from Porcoline in exchange for money, lumber, and material stone. They are the Cooking Table, Knife, Mixer, Frying Pan, Oven, Steamer, and Pot.

The Cooking Table is received for free during the game's tutorial section.
To order a Knife, Mixer, and Frying Pan, you will need to acquire an EZ Cooking License.
To order an Oven, Steamer, and Pot, you will need to acquire a Pro Cooking License.

These will usually take up quite a lot of room, but once you have them all, you can spend 5,000 Prince/ss Points on an order that combines the tool into one. This does not combine them into one space-saving tool but allows you to cook any recipe from any tool.

What this does mean is that you could place all but one of your cooking tools in someplace remote such as the corner of a monster barn where they won't be in the way. You will still be able to use all of them from whatever you keep in your room.

When cooking, you can take ingredients from your backpack, your storage box, and any refrigerators that you have. Refrigerators can be purchased from Porcoline just like the cooking tools, and they will hold all food items that cannot be placed inside the storage box.

When it comes to your dishes, you will get a better result by using better ingredients. Not only does this mean using higher-level items, but you'll also get a better dish by using giant versions of crops and larger dairy items (Eggs and Milk).

Simple Recipes

These recipes require the use of the Cooking Table.

| Recipe | Level | Ingredients |
| --- | --- | --- |
| Onigiri | 2 | Rice |
| Pickled Turnip | 4 | Turnip |
| Bamboo Rice | 7 | Rice, Bamboo Sprout |
| Pickles | 10 | Cucumber |
| Pickled Turnip | 12 | Pink Turnip |
| Salmon Onigiri | 20 | Salted Salmon, Rice |
| Cheese | 22 | Sour Drop, Milk |
| Sandwich | 34 | Bread, Egg, Cucumber |
| Fruit Sandwich | 35 | Bread, Strawberry |
| Pickle Mix | 48 | Turnip, Pink Turnip |
| Relax Tea Leaves | 50 | White Grass, Orange Grass, Green Grass, Purple Grass, Yellow Grass, Blue Grass |
| Salad | 67 | Mayonnaise, Cucumber, Tomato, Cabbage |
| Turnip Heaven | 96 | Turnip, Pink Turnip, Golden Turnip |

Knife Recipes

These recipes require the use of a Knife. Every one of them is a sashimi recipe that solely uses a fish you have caught or bought.

| Recipe | Level | Ingredients |
| --- | --- | --- |
| Pike Sashimi | 1 | Pike |
| Trout Sashimi | 2 | Masu Trout |
| Cherry Sashimi | 3 | Cherry Salmon |
| Needlefish Sashimi | 4 | Needlefish |
| Squid Sashimi | 4 | Squid |
| Girella Sashimi | 6 | Girella |
| Sardine Sashimi | 8 | Sardine |
| Salmon Sashimi | 12 | Salmon |
| Shrimp Sashimi | 14 | Shrimp |
| Char Sashimi | 15 | Char |
| Turbot Sashimi | 21 | Turbot |
| Rainbow Sashimi | 26 | Rainbow Trout |
| Flounder Sashimi | 30 | Flounder |
| Skipjack Sashimi | 37 | Skipjack |
| Lobster Sashimi | 40 | Lobster |
| Snapper Sashimi | 50 | Snapper |
| Lamp Squid Sashimi | 53 | Lamp Squid |
| Fall Sashimi | 58 | Fall Flounder |
| Lover Sashimi | 63 | Throbby Snapper |
| Yellowtail Sashimi | 68 | Yellowtail |
| Blowfish Sashimi | 71 | Blowfish |
| Tuna Sashimi | 74 | Tuna |
| Sunsquid Sashimi | 77 | Sunsquid |
| Taimen Sashimi | 79 | Taimen |
| Glitter Sashimi | 92 | Glitter Snapper |

Mixer Recipes

These recipes require the use of a Mixer. Most of these recipes use fruit, though some are used to make ingredients for other recipes.

| Recipe | Level | Ingredients |
| --- | --- | --- |
| Orange Juice | 5 | Orange |
| Grape Juice | 7 | Grapes |
| Apple Juice | 11 | Apple |
| Butter | 15 | Milk |
| Fruit Juice | 18 | Apple, Grapes, Orange |
| Ice Cream | 25 | Sweet Powder, Milk |
| Mayonnaise | 28 | Oil, Egg |
| Strawberry Milk | 33 | Strawberry, Milk |
| Tomato Juice | 35 | Tomato |
| Fruit Smoothie | 37 | Fruit Juice, Milk |
| Ketchup | 38 | Sour Drop, Tomato |
| Vegetable Juice | 59 | Pumpkin, Turnip, Carrot, Spinach |
| Prelude to Love | 61 | Pink Melon, Strawberry |
| Veggie Smoothie | 65 | Vegetable Juice, Milk |
| Hot Juice | 76 | Heavy Spice, Hot-Hot Fruit |
| Pineapple Juice | 81 | Pineapple |
| Mixed Juice | 83 | Apple, Grapes, Orange, Pineapple, Strawberry, Milk |
| Mixed Smoothie | 91 | Mixed Juice, Honey |
| Gold Juice | 99 | Golden Pumpkin, Emery Flower, Golden Potato, Golden Turnip, Golden Cabbage |

Frying Pan Recipes

These recipes use the Frying Pan tool.

| Recipe | Level | Ingredients |
| --- | --- | --- |
| Salted Pond Smelt | 6 | Pond Smelt, Sour Drop |
| Salted Pike | 8 | Pike, Sour Drop |
| Baked Apple | 9 | Apple |
| Salted Masu Trout | 9 | Masu Trout, Sour Drop |
| Salted C. Salmon | 12 | Cherry Salmon, Sour Drop |
| Grilled Needlefish | 12 | Needlefish, Sour Drop |
| Grilled Squid | 13 | Squid, Sour Drop |
| Grilled C. Carp | 14 | Crucian Carp, Sour Drop |
| Grilled S. Flounder | 15 | Sand Flounder, Sour Drop |
| Grilled Girella | 16 | Girella, Sour Drop |
| Grilled Mackerel | 16 | Mackerel, Sour Drop |
| Salted Salmon | 17 | Salmon, Sour Drop |
| Grilled Shrimp | 18 | Shrimp, Sour Drop |
| Salted Char | 19 | Char, Sour Drop |
| Grilled Gibelio | 19 | Gibelio, Sour Drop |
| Fried Eggs | 20 | Egg |
| Grilled Turbot | 21 | Turbot, Sour Drop |
| Salted Chub | 23 | Chub, Sour Drop |
| French Fries | 24 | Oil, Potato |
| Dried Sardines | 24 | Sardine, Sardine, Sardine |
| Salted R. Trout | 27 | Rainbow Trout, Sour Drop |
| Omelet | 28 | Milk, Egg |
| Fried Rice | 30 | Rice, Oil, Egg |
| Miso Eggplant | 31 | Eggplant |
| French Toast | 31 | Bread, Egg |
| Grilled Flounder | 31 | Flounder, Sour Drop |
| Croquettes | 33 | Oil, Potato, Egg |
| Tempura | 36 | Oil, Flour, Shrimp, Egg |
| Grilled Skipjack | 37 | Skipjack, Sour Drop |
| Grilled Lobster | 41 | Lobster, Sour Drop |
| Donut | 46 | Oil, Flour, Butter, Egg¹ |
| Risotto | 48 | Rice, Wine, Butter |
| Pancakes | 49 | Flour, Honey, Milk, Egg |
| Popcorn | 51 | Corn |
| Grilled Snapper | 51 | Snapper, Sour Drop |
| Corn Cereal | 53 | Corn, Milk |
| Grilled Lamp Squid | 54 | Lamp Squid, Sour Drop |
| Grilled F. Flounder | 58 | Fall Flounder, Sour Drop |
| Curry Bread | 59 | Oil, Flour, Curry Rice |
| Curry Bread | 59 | Oil, Flour, Dry Curry |
| Omelet Rice | 60 | Omelet, Rice, Ketchup |
| Fried Veggies | 62 | Cabbage |
| Cabbage Cakes | 64 | Flour, Cabbage, Egg, Leek |
| Grilled L. Snapper | 66 | Throbby Snapper, Sour Drop |
| Grilled Yellowtail | 69 | Yellowtail, Sour Drop |
| Grilled Blowfish | 72 | Blowfish, Sour Drop |
| Tuna Teriyaki | 75 | Tuna, Sour Drop |
| Grilled Sunsquid | 78 | Sunsquid, Sour Drop |
| Salted Taimen | 80 | Taimen, Sour Drop |
| Dry Curry | 86 | Rice, Curry Powder, Carrot, Onion |
| Gyoza | 88 | Flour, Onion, Cabbage |
| Grilled G. Snapper | 93 | Glitter Snapper, Sour Drop |
| Fried Udon | 95 | Flour, Onion, Carrot, Cabbage |

¹ Only Egg (M) will work for the Donut recipe.

Oven Recipes

These recipes require the use of an Oven. This is where the cooking tools become expensive, with the Oven, Steamer, and Pot all requiring lots of material stone.

| Recipe | Level | Ingredients |
| --- | --- | --- |
| Bread | 8 | Flour |
| Baked Onigiri | 10 | Onigiri |
| Sweet Potato | 20 | Yam |
| Toast | 21 | Bread |
| Raisin Bread | 27 | Flour, Grapes |
| Jam Roll | 34 | Flour, Jam, Egg, Milk |
| Apple Pie | 36 | Flour, Apple, Butter, Egg |
| Cookie | 38 | Flour, Sweet Powder, Egg, Butter |
| Seafood Doria | 39 | Rice, Shrimp, Cheese, Squid, Milk |
| Seafood Gratin | 42 | Flour, Shrimp, Cheese, Squid, Milk |
| Butter Roll | 43 | Flour, Butter, Sweet Powder, Chocolate, Egg |
| Choco Cookie | 45 | Flour, Butter, Sweet Powder, Chocolate, Egg |
| Cheese Cake | 46 | Cheese, Egg, Milk, Sweet Powder |
| Yam of the Ages | 47 | Sweet Powder, Butter, Milk, Yam |
| Chocolate Cake | 48 | Flour, Chocolate, Butter, Sweet Powder, Milk, Egg |
| Corn on the Cob | 52 | Corn |
| Cake | 54 | Flour, Butter, Sweet Powder, Strawberry, Milk, Egg |
| Seafood Pizza | 56 | Flour, Cheese, Ketchup, Shrimp, Squid |
| Pizza | 60 | Flour, Cheese, Ketchup, Eggplant, Green Pepper |
| Doria | 84 | Rice, Cheese, Milk, Onion |
| Gratin | 85 | Flour, Cheese, Milk, Onion |

Steamer Recipes

These recipes will require a Steamer.

| Recipe | Level | Ingredients |
| --- | --- | --- |
| Dumplings | 2 | Rice Flour |
| Chinese Manju | 15 | Flour, Bamboo Sprout |
| Pound Cake | 23 | Flour, Egg |
| Flan | 29 | Egg, Milk |
| Steamed Bread | 32 | Flour, Egg, Milk |
| Chocolate Sponge | 35 | Flour, Chocolate, Egg, Milk |
| Cheese Bread | 44 | Flour, Cheese, Egg, Milk |
| Pumpkin Flan | 48 | Egg, Milk, Pumpkin |
| Curry Manju | 57 | Flour, Curry |
| Meat Dumpling | 82 | Flour, Shrimp, Onion |
| Steamed Gyoza | 90 | Flour, Onion, Cabbage |

Pot Recipes

To make these recipes, you will need a Pot cooking tool.

| Recipe | Level | Ingredients |
| --- | --- | --- |
| Rice Porridge | 2 | Rice |
| Marmalade | 5 | Orange |
| Udon | 7 | Flour |
| Grape Jam | 9 | Grapes |
| Apple Jam | 10 | Apple |
| Hot Chocolate | 11 | Chocolate |
| Boiled Spinach | 13 | Spinach |
| Hot Milk | 17 | Milk |
| Boiled Egg | 18 | Egg |
| Yogurt | 19 | Sweet Powder, Milk |
| Milk Porridge | 20 | Rice, Milk |
| Egg Bowl | 21 | Rice, Egg |
| Boiled Pumpkin | 25 | Pumpkin |
| Strawberry Jam | 27 | Strawberry |
| Glazed Yam | 28 | Sweet Powder, Yam |
| Grilled Miso | 29 | Radish |
| Cheese Fondue | 32 | Bread, Cheese |
| Grape Liqueur | 39 | Grapes, Wine |
| Rockfish Stew | 45 | Rockfish |
| Tempura Udon | 54 | Tempura, Udon |
| Curry Rice | 55 | Rice, Curry Powder, Carrot, Potato |
| Curry Udon | 56 | Flour, Curry Rice |
| Curry Udon | 56 | Flour, Dry Curry |
| Tempura Bowl | 70 | Rice, Tempura |
| Relax Tea | 73 | Relax Tea Leaves, Honey, Pink Melon, Leek |
| Stew | 87 | Flour, Milk¹, Potato, Carrot, Onion |
| Boiled Gyoza | 89 | Flour, Onion, Cabbage |
| Union Stew | 94 | Radish, Leek, Bok Choy, Mushroom, Hot-Hot Fruit |
| Ultimate Curry | 97 | Curry Powder, Wine, Devil Blood, Heavy Spice, Onion, Golden Turnip |
| Royal Curry | 98 | Curry Powder, Apple, Honey, Mixed Herbs, Onion, Emery Flower |

¹ Only Milk (M) will work for the Stew recipe.

Source: Read Full Article