After almost a year without any kind of news or update, Resident Evil Re:Verse has just been rated by the ESRB for Google Stadia.
Resident Evil Re:Verse is a PvP multiplayer title that has players controlling various Resident Evil heroes and going up against each other in third-person combat, occasionally getting the chance to turn into one of the series' villains, like Resident Evil 7's Jack Baker. The game was announced around the same time that Village was, and was originally planned to launch in July of last year, before being delayed into an unspecified date in 2022.
The low interest in the game, negative feedback from beta testing, and the lack of any kind of update or new information from Capcom led to many believing that the project had been abandoned or had seen some big reworks. Well, we can definitely rule out the former of those theories, as the Stadia version of the game has been rated by the ESRB, as pointed out by Gematsu.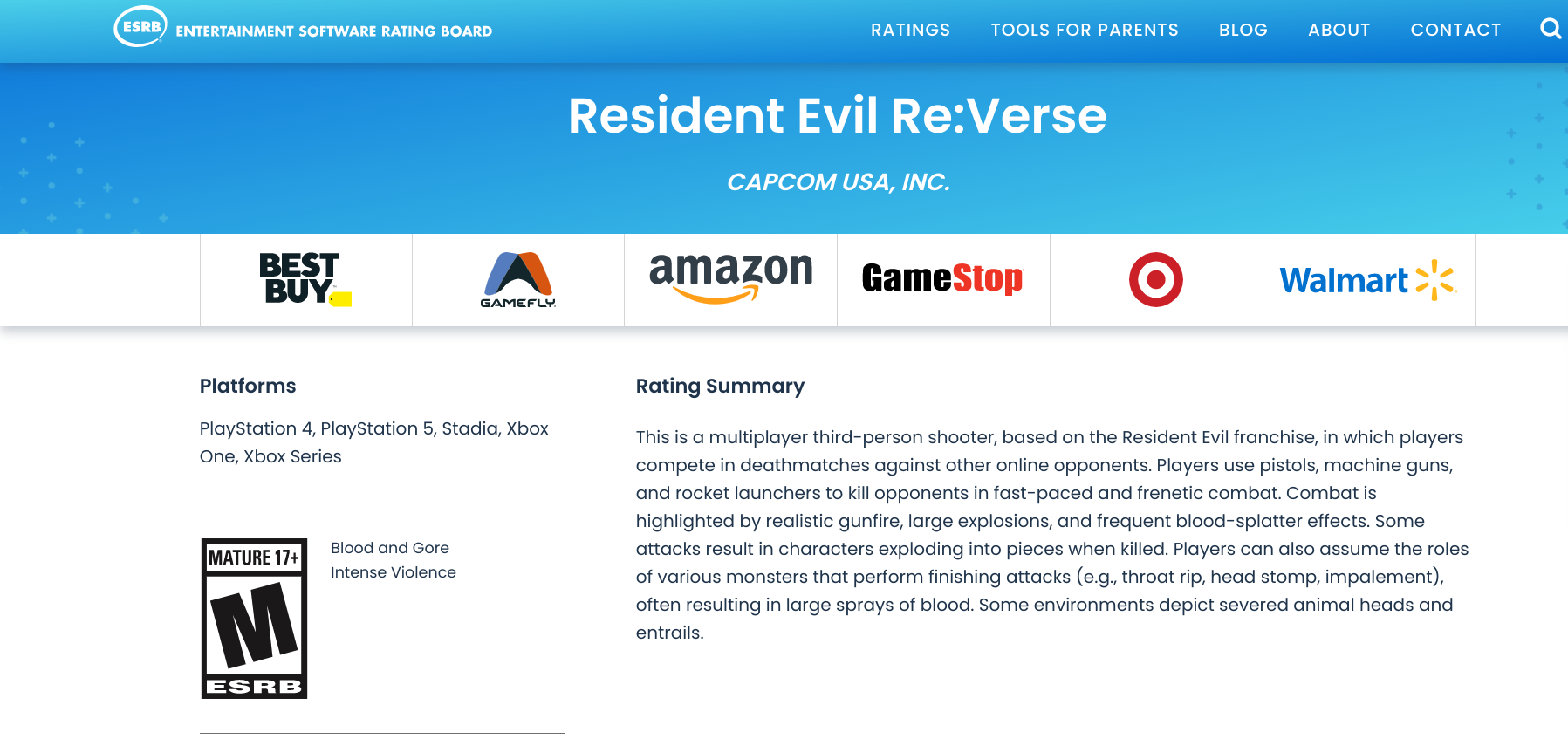 Re:Verse was rated for PS4, PS5, Xbox One, and Xbox Series back when it was originally announced, so the information within the rating isn't new, but the fact that it's just been rated for another console implies that development is still progressing and that information might be on the way soon. It's worth noting that the ESRB page for Re:Verse lists the Stadia version of the game as releasing on May 7 2022, which would be today.
The ESRB description says this about Re:Verse, "This is a multiplayer third-person shooter, based on the Resident Evil franchise, in which players compete in deathmatches against other online opponents. Players use pistols, machine guns, and rocket launchers to kill opponents in fast-paced and frenetic combat. Combat is highlighted by realistic gunfire, large explosions, and frequent blood-splatter effects. Some attacks result in characters exploding into pieces when killed."
The Stadia listing also confirms that the game will have "In-Game Purchases", which is a bit of a shame considering it's a full-priced release for anyone who didn't buy Village at launch, although it's possible that might have changed in the year since the game's release.
Source: Read Full Article