Quick Links
Comfey: Floral Healing Build
Creativity grows with each new addition to Pokemon Unite's playable roster, giving unique experiences with the different Pokemon that are currently available to play as. This remains true with, Comfey, an addition that falls into the game's supporter class.
Comfey fits this role to perfection, possessing a kit that is entirely centered around healing and supporting its allies, making a crucial difference in a match when played effectively. That being said, the mechanics behind this Pokemon are extremely unique compared to any others currently in the game, so we've put together a complete guide to help you master this supporter.
When To Pick Comfey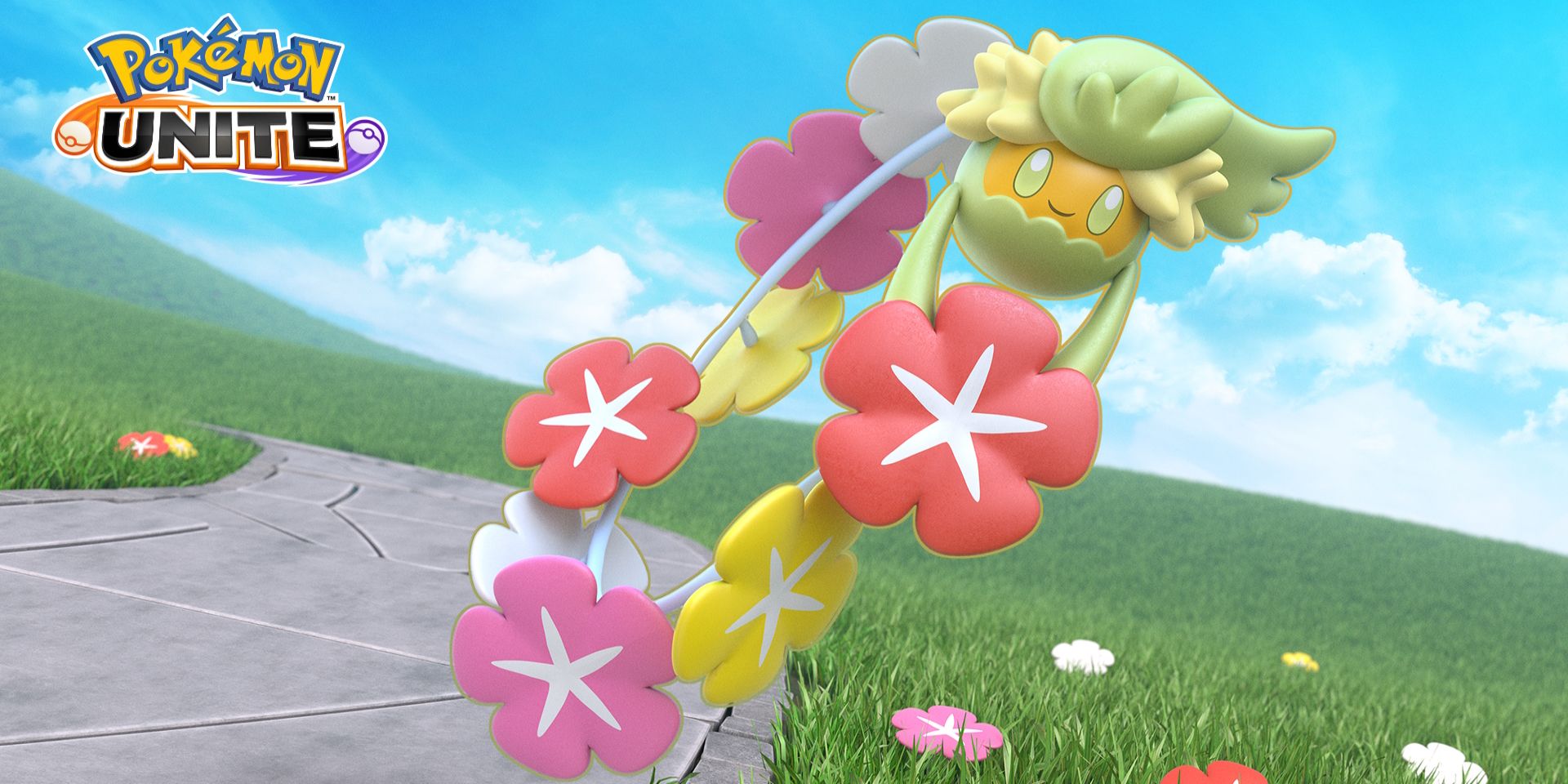 As mentioned previously, Comfey is exactly what you expect from a supporter, possessing different abilities that mainly focus on assisting other players on your team. With this in mind, only choose to play as this Pokemon if you wish to completely center your gameplay around supporting others, as you will not find much success if you attempt to fill a more offensive-minded role.
Comfey takes the supporter role and brings it to a whole new level, possessing the ability to attach itself to ally players to heal and apply buffs to them. With this ability, it is essential that you are always near your teammates, ensuring that you're taking full advantage Comfey's powerful supporting abilities.
Comfey's attacks and abilities are heavily influenced by the number of Flowers that they have at a given time, a new mechanic introduced with this Pokemon. When playing as this Pokemon, you can acquire a maximum of eight flowers, obtained slowly over time or rapidly by entering areas of tall grass. Simply, the more Flowers that Comfey has, the more effective its abilities will be, consuming all Flowers when using the majority of its moves.
For all of these reasons, it is crucial that you are playing this Pokemon either in the Top lane or the Bottom lane of the map. This will put you in proximity to your allies at all times, allowing you to maximize this Pokemon's overall effectiveness. Additionally, this will place you closer to major map objectives, ensuring that you are present for these larger team fights.
Comfey: Floral Healing Build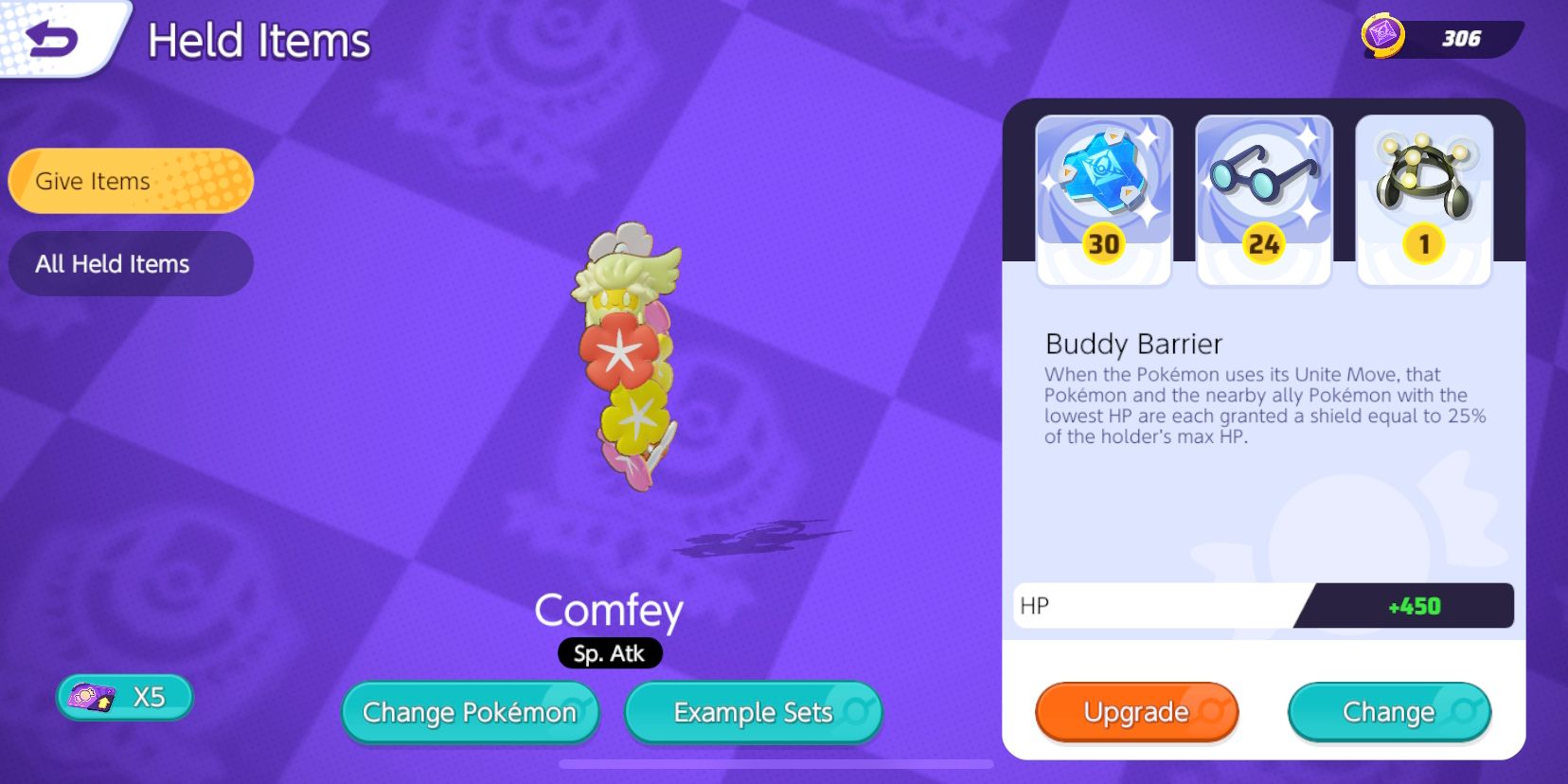 This build turns Comfey into a complete team healer, combining its different moves and abilities to constantly regenerate the health of both yourself and your allies. With this play style, make sure that you are constantly playing with strong attacking Pokemon, constantly supporting them and maximizing their effectiveness throughout the match.
Move Selection
Select the move Floral Healing for this build, allowing you to attach yourself to a nearby teammate, providing them HP regeneration and shield once you are attached. The more Flowers that you have, the more effective this healing will be, so make sure that you are entering tall grass areas whenever it is possible, rapidly regenerating this resource and boosting the effectiveness of this move.
Pair this with the move Magical Leaf, a more offensive-minded move in comparison. This attack will damage nearby opposing Pokemon with leaves for a set amount of time, targeting both players and wild Pokemon. Additionally, any Pokemon hit by six leaves will be stunned for a short duration of time.
Held Items
For this Pokemon the use of the Exp. Share Held Item is essential, providing nearby allies with more experience when defeating wild Pokemon. Constantly being nearby your teammates, there proves to be no better Held Item for Comfey.
Pair this Held Item with Buddy Barrier to assist you and your allies when using your Unite Move, providing you with shields to help you outlast your opponents in larger team fights. For your third Held Item, use one that boosts the power of your attacks, like either the Choice Specs or Wise Glasses.
Battle Item
This Pokemon benefits greatly from the Slow Smoke Battle Item, regardless of its move selection. This Battle Item can be used to slow down opponents, either to assist your allies in chasing down vulnerable enemies, or to easily retreat from dangerous situations.
Comfey: Sweet Kiss Build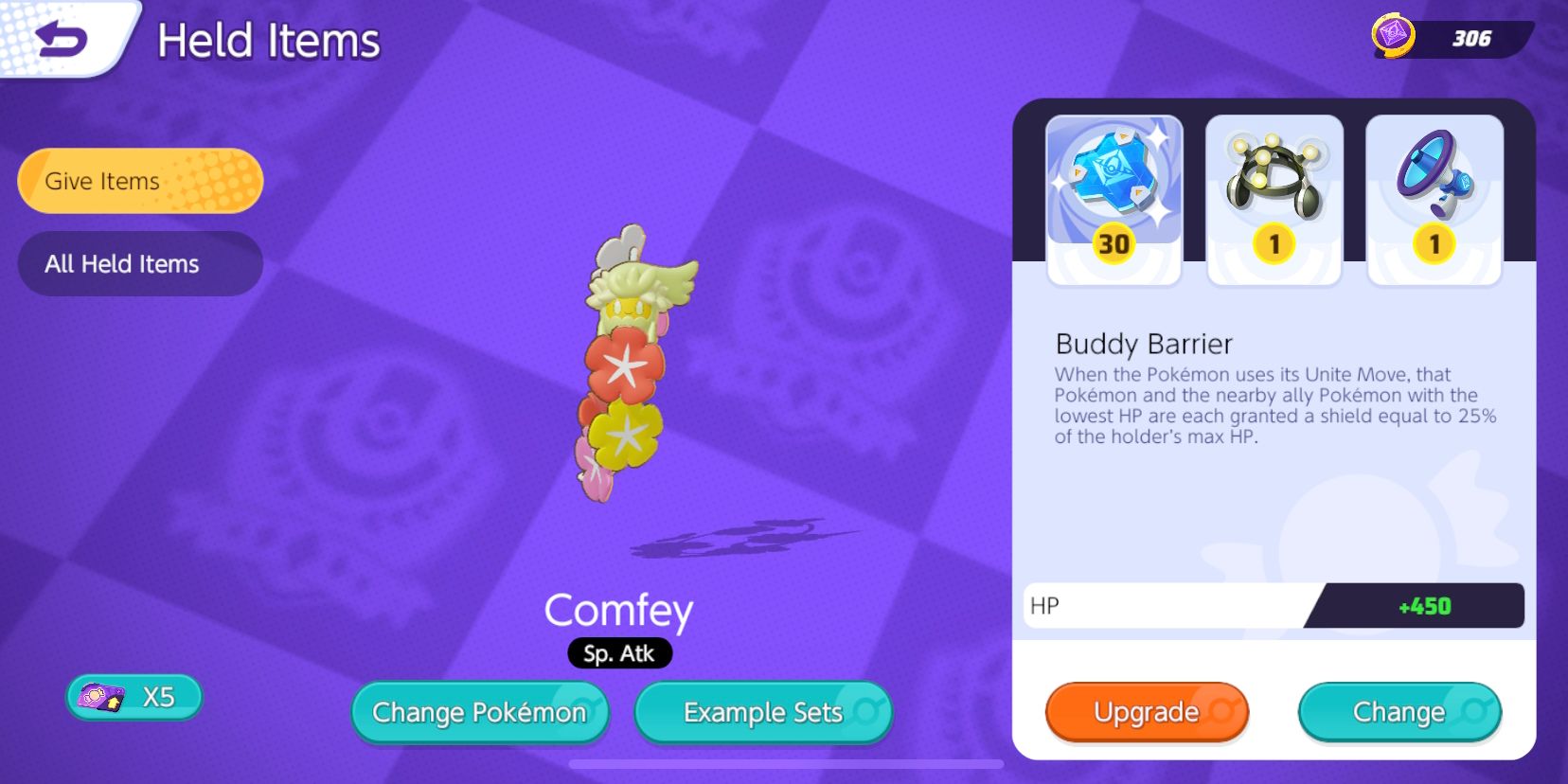 This build still places Comfey in the supporter role, but instead focuses more on hindering your opponents rather than buffing your teammates. Use this build to put your enemies in vulnerable positions, giving your allies the opportunity to easily knock them out.
Move Selection
For this build, opt for Sweet Kiss, allowing you to attach yourself to an ally, providing them with shield when you do so. Additionally, once you are attached to an ally, you can use this move to infatuate nearby enemies, forcing them to move toward you uncontrollably. The more Flowers that you have when this move is used, the larger your area of influence will be, allowing you to infatuate further away opponents.
Pair this move with Grass Knot, damaging and briefly stunning those that are hit by this attack. Additionally, if two opposing Pokemon are hit by this move, it will pull the further one back to the location of the closer opponent, dealing additional damage to both of them.
This combination of moves can be used to easily stun and draw in your opponents, providing your teammates with the opportunity to deal significant damage and potentially knock them out. That being said, this build works best when used with a coordinated team, allowing you to communicate and plan when you draw in vulnerable opponents.
Held Items
Again, make sure that you are equipping the Exp. Share Held Item with this Pokemon, increasing the overall experience that you and your allies are gaining throughout the course of a match.
With the importance of using your moves to stun and displace the opponent, it is beneficial to use the Energy Amplifier Held Item. This will reduce the cool downs of both your standard moves and your Unite Move.
Like with the previous build, this Pokemon benefits greatly from the use of the Buddy Barrier Held Item. With the already supporting nature of Comfey's Unite Move, this will enhance its effect, making it even more difficult for opponents to knock out you and your allies while it is in use.
Battle Item
Like with the previous build, the Slow Smoke Battle Item proves to be extremely effective when used by Comfey. This is especially useful for this build, further hindering your opponents, leaving them trapped in unfavorable positions and situations.
Comfey: Stats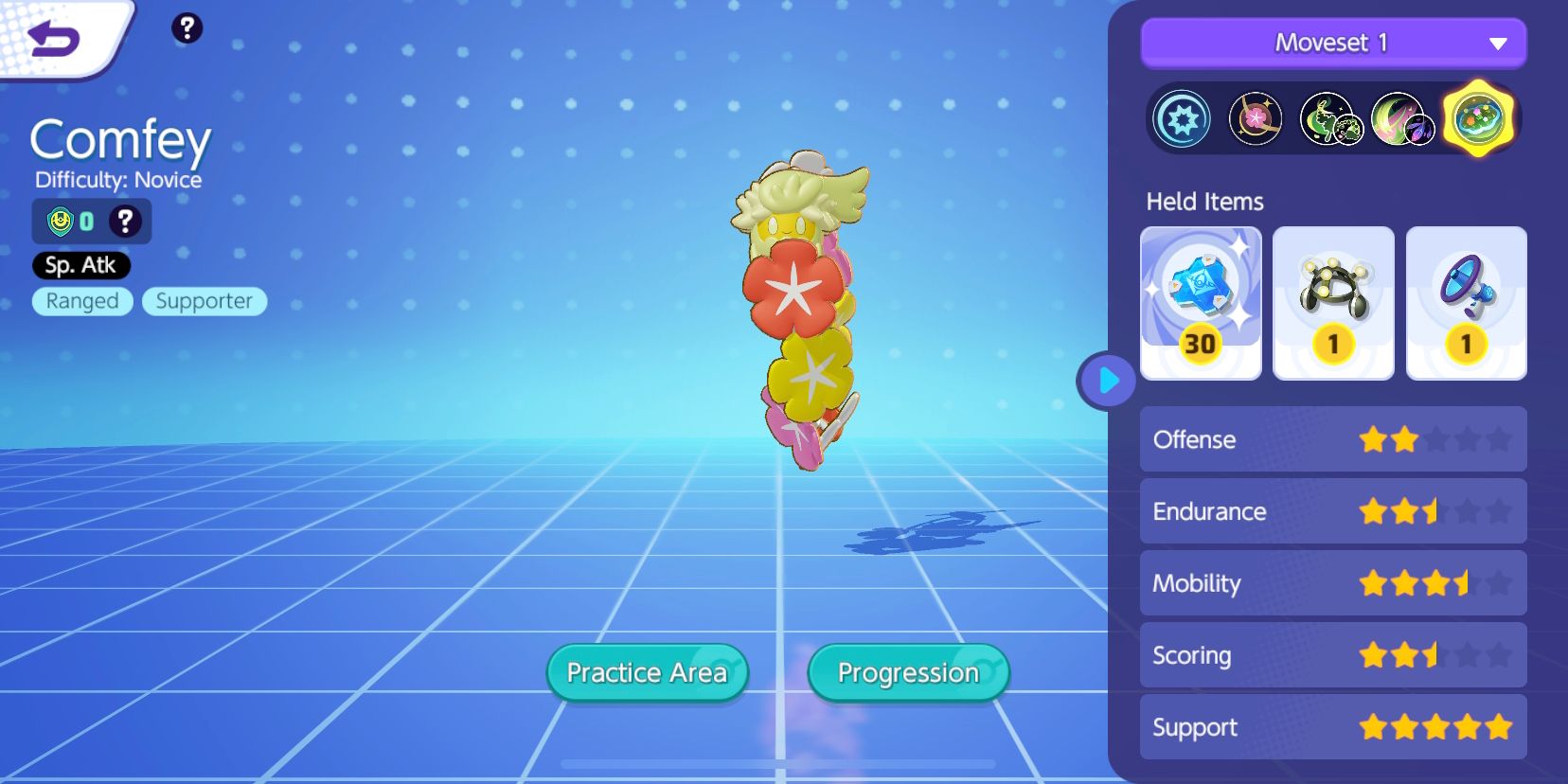 | Level | HP | Attack | Defense | Sp. Attack | Sp. Defense |
| --- | --- | --- | --- | --- | --- |
| Level 1 | 3100 | 120 | 40 | 50 | 30 |
| Level 2 | 3189 | 126 | 45 | 71 | 35 |
| Level 3 | 3287 | 133 | 51 | 95 | 40 |
| Level 4 | 3395 | 140 | 57 | 121 | 46 |
| Level 5 | 3513 | 148 | 64 | 149 | 52 |
| Level 6 | 3643 | 157 | 72 | 180 | 59 |
| Level 7 | 3786 | 167 | 81 | 214 | 66 |
| Level 8 | 3944 | 178 | 90 | 252 | 74 |
| Level 9 | 4118 | 190 | 100 | 294 | 83 |
| Level 10 | 4310 | 203 | 112 | 340 | 93 |
| Level 11 | 4521 | 217 | 125 | 391 | 104 |
| Level 12 | 4753 | 233 | 139 | 447 | 116 |
| Level 13 | 5009 | 250 | 154 | 508 | 129 |
| Level 14 | 5290 | 269 | 171 | 576 | 144 |
| Level 15 | 5600 | 290 | 190 | 650 | 160 |
Source: Read Full Article