Quick Links
How To Unlock All The Tera Raids
Pokemon Scarlet & Violet is finally here, and it introduces a new mechanic called Terastallization, a crystalline phenomenon that powers up your pokemon of choice during battle, giving them a single different Tera Type. But while it can be beneficial, you could also find enemy pokemon capable of harness this power.
You can find wild pokemon that can use Terastallization in combat during Tera Raids, the new multiplayer mode introduced in this game. Partner up with three more friends and their pokemon of choice, and you will obtain useful rewards!
What Are Tera Raids?
Tera Raids are 4v1 fights where four trainers and their pokemon must defeat the Raid Boss, a powerful Terastallized pokemon before the timer runs out, making use of their moves and some special mechanics. You can only choose one pokemon for this fight, and no matter how many times your pokemon faints, it will revive after three seconds.
However, the Raid Boss will possess special mechanics as well, and if the timer runs out, he will defeat the whole group in one final move. But if you successfully defeat it, you will receive numerous rewards and the opportunity to catch the raid boss pokemon.
To enter a Tera Raid, you must find one of the Raid Dens scattered across the map of Paldea, or you can alternatively join another player's raid from the Poke Portal menu, where raids of different difficulty levels can be found.
Combat Mechanics
During the battle, pokemon trainers can use the following commands up to three times per battle:
Go all out! – A buff to the other pokemon's Attack damage.
Hang tough! – A buff to the other pokemon's defenses.
Heal up! – Heals the Pokemon HP and removes any Status Condition.
Likewise, high-level Raid Bosses can use up to six different commands that entail different effects:
A powerful shield that will reduce incoming damage and prevent status moves entirely. However, it also boosts Terastallized pokemon damage.
An extra move per turn for the Raid Boss.
A complete debuff removal off the Raid Boss.
A complete Stat Boost and Ability removal off the players' pokemon.
How To Unlock All The Tera Raids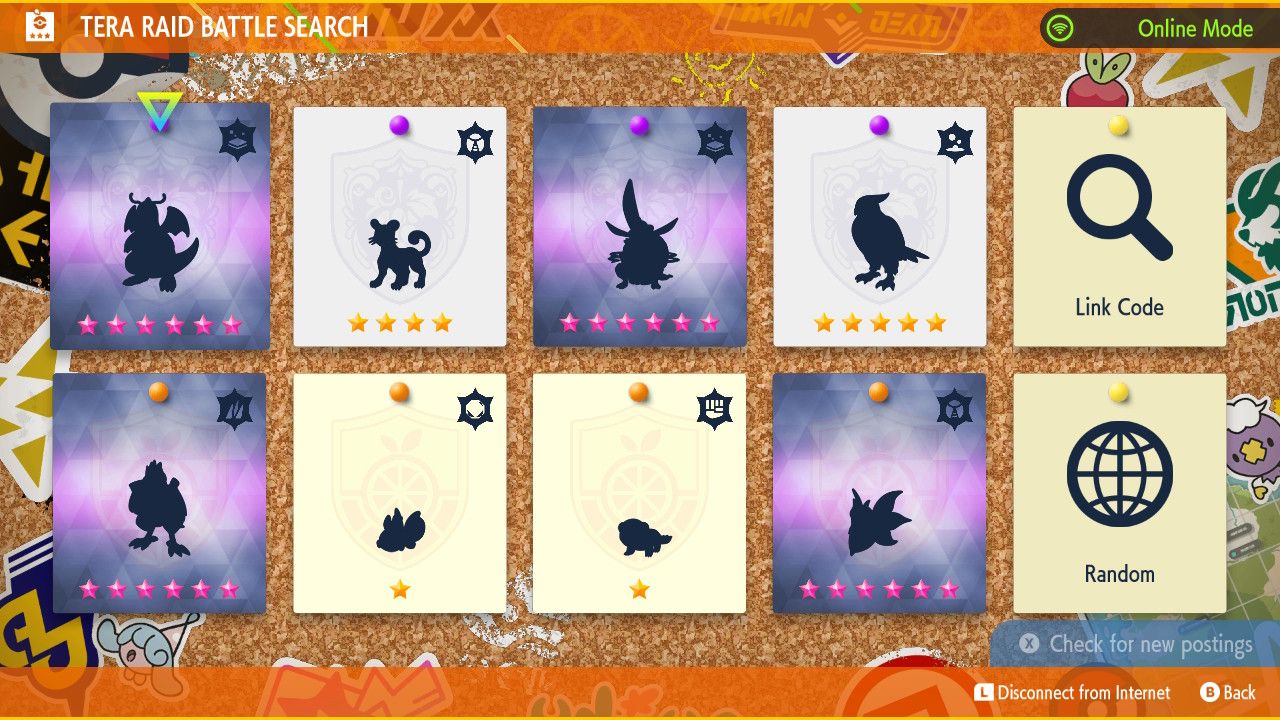 To unlock further difficulty levels of Tera Raids, you must fulfill different conditions tied to your overall progression throughout the game.
| Raid Difficulty | How To Unlock |
| --- | --- |
| 1-Star Raids | Unlocked from the very beginning, with the rate of appearance dropping the more Badges you get. After you hit the game credits, these can no longer spawn in your game. |
| 2-Star Raids | Unlocked from the very beginning, with the rate of appearance dropping the more Badges you get. After you hit the game credits, these can no longer spawn in your game. |
| 3-Star Raids | Unlocked after you obtain your third Badge, with the rate of appearance dropping the more Badges you get, up to a spawn chance of 30% in your game. |
| 4-Star Raids | Unlocked after you obtain your sixth Badge, with the rate of appearance dropping the more Badges you get, up to a spawn chance of 40% in your game. |
| 5-Star Raids | Unlocked after the credits roll, with a 30% chance of spawning. |
| 6-Star Raids | After unlocking the 5-Star Raids, Jacq will ask you to fight on 15 of them. Once you hit that number of completed raids you will unlock these, which can only spawn once in your game per day. |
| 7-Star Raids | These will only show up as Tera Raid Battle Events. |
Source: Read Full Article