If Pokemon GO players thought the last month of 2020 was full of events and new Pokemon, get ready for January. It will be jam-packed full of goodies to kick off the new year right when it comes to catching Pokemon. Trainers will have new Research Breakthrough Encounters, challenging Pokemon to catch in both five-star and Mega-Raids, Pokemon Spotlight Hours, a New Year's themed event and more. We break it down for you all right here.
The monthly Research Breakthrough encounter will be none other than Chansey. Beginning on January 1, 2021 at 1 PM and until 1 PM PST February 1, 2021, you can earn a chance at catching this cute Pokemon by simply completing basic research tasks. New collection challenges are set to launch this month, which aim to help both new and experience players. More details on that will follow soon.
Pokemon GO's New Year Themed event will feature none other than a costumed Slowpoke sporting 2020 glasses. New avatar items will also be available and various Pokemon will be wearing party hats. Check this event out from December 31, 2020 10 PM until January 4, 2021 10 PM local time.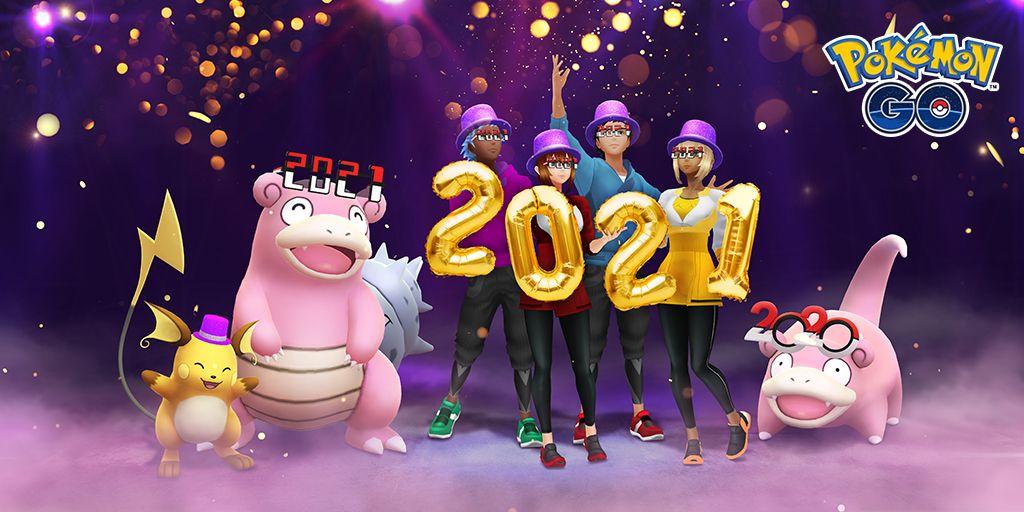 The following Legendary and Mythical Pokemon will be appearing on select days during five-star raids:
Ho-Oh starts off January appearing in raids from January 1 at 1 PM PST until January 5 ending at 10 AM local time. Trainers can of course encounter a shiny version as well.
Genesect equipped with a Burn Drive is up next right after Ho-Oh. You can catch this unique Pokemon from January 5 at 10 AM until January 12 at 10 AM local time.
Heatran will be available from January 12 at 10 AM to January 19 at 10 AM local time. A shiny Heatran is also up for grabs if you are lucky enough to get one.
Both Kyogre and Groudon begin their appearance in raids from January 19 at 10 AM to January 26 at 10 AM local time. Shiny Kyogre and Groudon can appear also.
Pokemon GO announced that a surprise unrevealed Pokemon will appear in raids starting on January 26 at 10 AM local time.
The Mega Raid Pokemon are as follows:
Mega Charizard Y, Mega Blastoise, Mega Abomasnow on January 5 at 10 AM, ending January 12 at 10 AM local time Note that Mega Charizard Y will become more powerful during those dates. Players are advised to grab more Blastoise Mega Energy to assist them in these raids with their Mega Blastoise.
A Mystery Mega-Evolved Pokemon will be making its' Pokemon GO debut on January 19,2021.
Keep an eye out beginning at 6 PM local time every Tuesday in January for the following Spotlight Pokemon:
 January 5: Lilipup
January 12: Drifloon
January 19: Shroomish
January 26: Phanpy
Pokemon GO will be celebrating the weeks leading up to the Pokemon GO: Kanto Tour with various themed celebration events that will feature a different region from the Pokemon world Unova,Sinnoh, Hoenn and Johto Pokemon will be featured weekly, beginning with Unova on January 5,2021 at 10 AM local time. There will be plenty to keep trainers busy as we celebrate the new year.
Next: Mario's Creator's Kids Played Sega
Source: Read Full Article