As usual, the leak has turned out to be true. Sony has just confirmed April's PlayStation Plus games will be Hood: Outlaws & Legends, SpongeBob SquarePants: Battle for Bikini Bottom – Rehydrated, and Slay the Spire.
The newest game on this list Hood: Outlaws & Legends, which just came out last year. A third-person action stealth game from Sumo Newcastle, Hood: Outlaws & Legends plays on the legend of Robin Hood, tasking players with performing daring heists against the State. The first phase of each game involves stealing the key from the Sheriff of Nottingham, followed by finding the vault to steal the State's vast riches. Then the team of up to four thieves must extract before being caught by the town guards.
As you might expect, players can control characters from the Robin Hood legend with each receiving their own special weapon and abilities. Maid Marion has a crossbow and a smoke grenade, for example, while Little John can use his bulk to bust open locked doors. We've got some beginner tips for you here if Hood sounds like a game worth trying.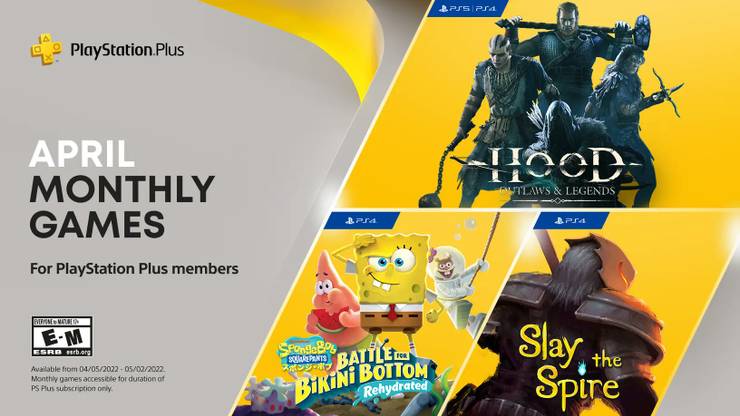 SpongeBob SquarePants: Battle for Bikini Bottom – Rehydrated is the 2020 remake of the original platformer from 2003. Play as three SpongeBob characters, including SpongeBob, Patrick, and Sandy as they fend off attacks from invading robots. The remake was generally well-received for its graphical updates, although the gameplay might feel a bit dated.
Finally, Slay the Spire is the critically acclaimed 2019 roguelike deckbuilder from MegaCrit. If you're a fan of either genre, then Slay the Spire is likely to become a new favorite. We've also got some tips to get you started in Slay the Spire, too.
March's games, including Ark: Survival Evolved, Team Sonic Racing, Ghostrunner (PS5 only), and Ghost of Tsushima: Legends are all leaving on April 4. Check out the PlayStation Blog for more details.
In other PlayStation news, Sony recently unveiled the combined PlayStation Now and PlayStation Plus service, codenamed Project Spartacus, which arrives in June. It'll have all major publishers on board, apparently, and it'll offer "free" demos so long as you buy the most expensive of the three subscription tiers. And, unlike Game Pass, Spartacus will have no day-one exclusives.
Source: Read Full Article