At the end of each year, we at TheGamer take a look ahead at all of the games coming out next year and think about the ones we're most looking forward to. It's not a particularly novel idea – most gaming websites do it. There's always something new in gaming, and it can help both to have things to look forward to and to give a shout out to your games that aren't on everybody's radar yet. Readers see these write ups and sure, they're probably excited for the new Zelda too, but they might end up finding out about another title that's so much their jam it might as well be strawberries. This doesn't always work out though – last year, I wrote about how Goodbye Volcano High was my most anticipated game for 2022, and here we are on the brink of 2023, and the game still isn't here. In fact, it doesn't even have a release date firmer than '2023' right now. That's why I'm hedging my bets. My most anticipated game in 2023 is telling everyone to play Earthblade in 2024.
Earthblade made its major debut at The Game Awards earlier this month. Though not technically a reveal, as the game had been announced several months prior, this was its introduction to the world. Unless you were a superfan who followed the dev on Twitter, you likely weren't aware of this game prior to the 'world premiere' of its new trailer, and as an indie game with a new IP still two years out from launch, it understandably hadn't made much of a splash before Keighley showed it off. It's still an indie game with a new IP up to two years out from launch, so it's unlikely to be the talk of the town soon, but that's why I'm looking forward to making it my business to keep everyone in the loop.
Earthblade is made by Extremely OK Games, the team that brought you Celeste. I'd put Celeste in the all-time indie top ten, alongside the likes of Hades, Undertale, and Stardew Valley, so I'm obviously keen on the follow up. If you don't recognise the name Extremely OK Games, that's because the studio changed it. Many players saw Celeste as a trans allegory, and the game's lead, Maddy Thorson, came out as trans in the aftermath of the game. To underline this fresh start, the studio had a name change too. It's fitting – the same on the inside, different on the outside.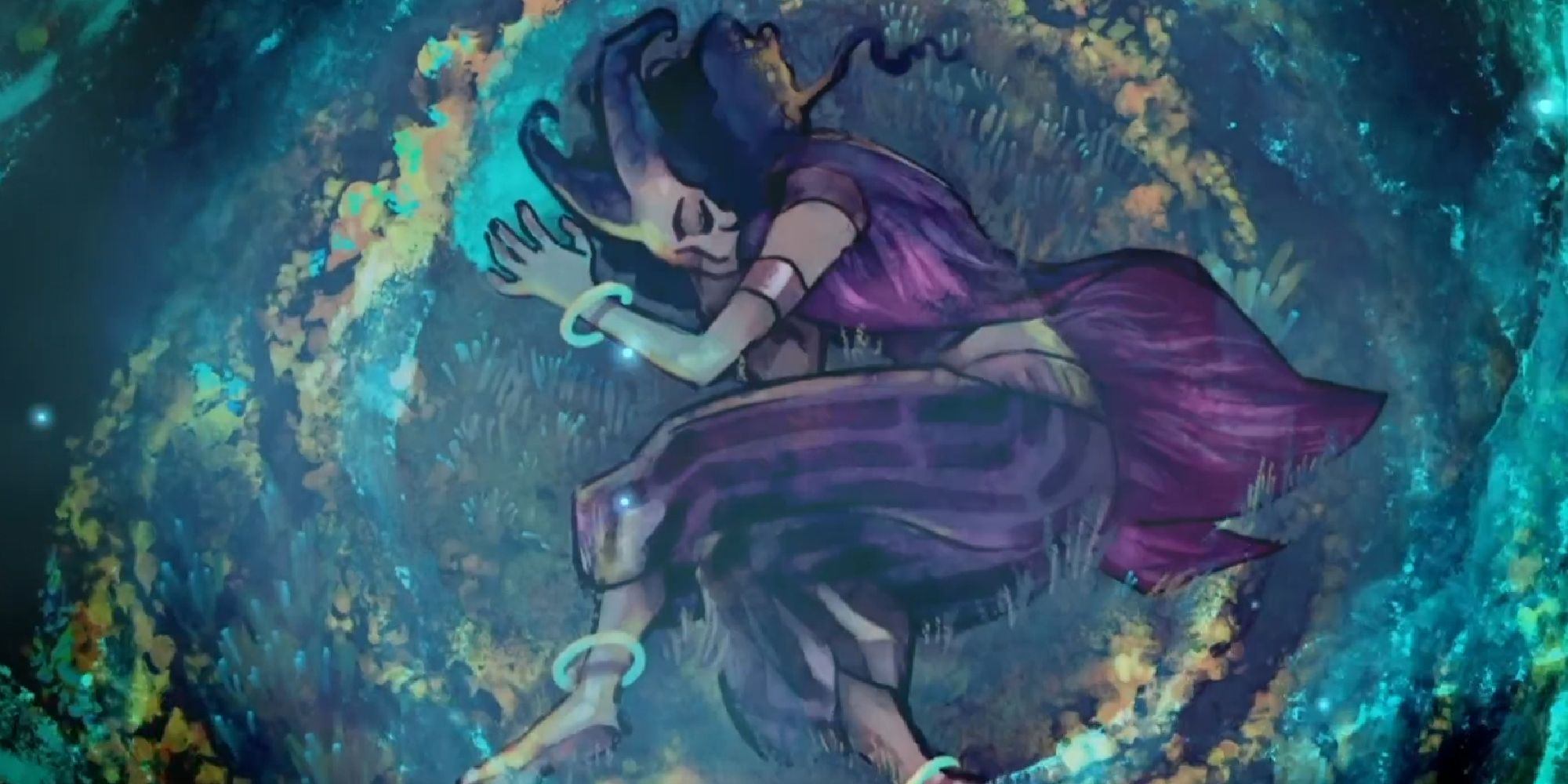 The general makeup of Earthblade and Celeste appear similar. Celeste was an incredibly difficult platformer that relied on precise timing, lateral thinking, and the appliance of creativity in order to master each fiendish jump. However, to level the playing field, there was no way to fail. Each square of the map locked you in – if ever you failed, you just went back to the first ledge of your current screen, meaning doing it once was enough. By the same token, the Earthblade trailer takes us across the sweeping map filled with swamps, traps, chains, and ledges, so it seems to be moving to a similar beat.
However, the major difference is we see more combat here. Earthblade's horned protagonist has throwing daggers and a sword, and has far more enemies they must defeat rather than simply avoid and flee from. In Celeste, the biggest challenge was yourself. Can you do it? Can you push yourself? Can you make that one brave leap? It was you against nature, you against your own limitations. Earthblade puts you on more of a front foot and tasks you with taking the fight to an enemy, and it will be fascinating to see how this changes the Celeste formula.
Earthblade may not be here until 2024, but it's a game I'll be thinking about all across 2023. I hope it stays on track and that we learn more about how the game differs from Celeste across the year. The way games release these days, I'll probably end up having to wait for 2026 to play it. At least I'll have Goodbye Volcano High until then, right?
Source: Read Full Article