In this day and age, it pays to be a Minecraft expert. While this statement is unsurprising, it is surprising to see a British shed company hiring virtual landscapers to help Minecraft players improve their creations.
The UK company WhatShed posted an ad that'll sound perfect for any die-hard Minecraft players. WhatShed, a UK garden company focused on buyer's guides for garden buildings,  advertised for virtual landscapers to help newer Minecraft players expand their in-game creations. Another job listing was also created to bring in clients who are interested in working with landscape professionals.
The company wanted to hear from virtual landscapers who have a passion for gardening in the virtual world. Candidates would also be required to "provide professional advice to players looking to improve their in-game outdoor space". Due to the pandemic, all work with WhatShed can be completed remotely, and hours and rates are being kept flexible.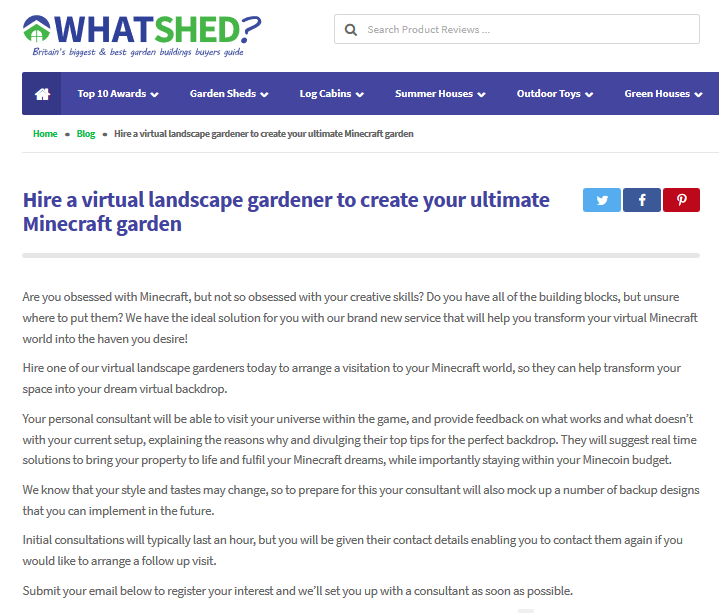 The listing mentions that applicants will be expected to make mock-ups of backup designs, visit your Minecraft world for consultations, provide feedback on what does and doesn't work in your world, and more. The wording within the listing also seems to imply that it'll be more advice than action, and that the player will still have their own input on their world.
WhatShed is one of many companies now looking for ways to incorporate lockdown behaviours into working. Minecraft can be quite overwhelming for newer players due to all of the systems in place, but opportunities like this allow for more people to get into the swing of things. The appearance of listings like this show some movement towards gaming being taken more seriously outside of the community, and shows how the popularity of titles like Minecraft are starting to spill out into the real world.
If you're as serious about Minecraft as this job listing suggests, then you'll want to make sure you know how to get every type of wool and craft every dye. Our recent guide covers everything you need to know about the Life In The Woods Renaissance mod, which is one of the most immersive mods to experience in the sandbox game.
Source: Read Full Article