Want to build an authentic looking flight simulation rig to use with Microsoft Flight Simulator? Grab your wallet, according to Jon Peddie Research (JPR), an organization that specializes in tracking hardware spending for gamers. According to JPR, players will spend an estimated $2.6 billion on hardware for the PC over the next three years, which includes PC builds, processor upgrades, flight sticks, throttles, rudder pedals, and more relating to simulation pit components like seats and VR peripherals.
JPR estimated the amount by analyzing three levels of Economically Active PC gamers categorized as Entry-Lever, Mid-Range, and High-End, with the most active considered a group likely to rebuild, buy, and upgrade components and accessories more often than others. Based on a presumed sale of 2.27 million copies of Microsoft Flight Simulator over the next three years, JPR arrives at the figure for hardware purchased specifically to improve the experience of this one game.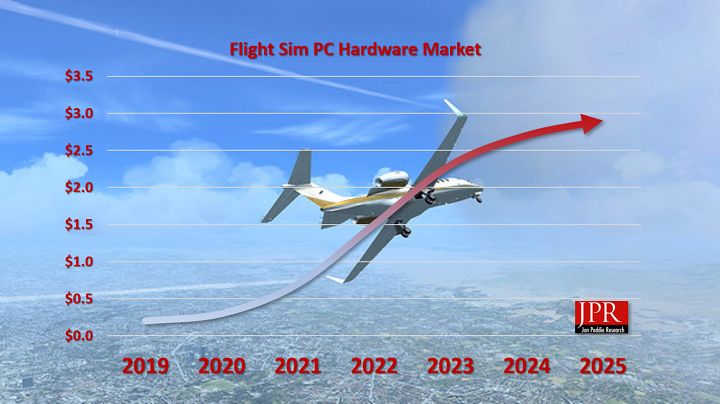 JPR also went on to state the over the lifespan of Microsoft Flight Simulator that figure should grow to be much higher until the next game in the series is released. Given that there is a long gap between releases, this could easily be five to ten years, depending on both how well this game performs and how active the modding community is, which is now encouraged to keep producing high-quality content that can be sold directly to players in game.
Speaking about the move to purchase hardware specifically to meet the needs of or enhance the experience of playing Microsoft Flight Simulator was senior analyst Ted Pollak, who states, "Flight simulators are incredibly demanding on processing capability and reward high resolution, large displays, and VR use. When new flight simulators are released, the hardware to run them at max settings and performance does not even exist yet… A significant number of flight sim fans only play flight sim."
The statement describes a shared experience by many users right now, because while it is a wonderful experience to fly around the world with such breathtaking detail, a common complaint relates to performance issues in certain places, most often in high-density urban areas. Over the coming years, however, this issue will be negated by more powerful hardware and is likely not a concern for the type of consumers who exclusively play this game.
When done properly, peripherals combined specifically for Microsoft Flight Simulator can result in some truly incredible setups. The video below features a home setup that makes one feel like they are really piloting a plane in the simulator X-Plane 11.
Euro Truck Simulator 2 is another simulator with a massive following, and the same effort goes into creating setups to feel as though one were really on the road.
In the end, it may be a niche target audience spending at the higher end for these kinds of simulator experiences, but they seem poised to fuel big spending in the years to come.
Source: Read Full Article