The heroes in Mondo's Unmatched board game are about to get a whole lot tougher as several Marvel characters join the roster. The creators of Unmatched have announced that four new packs will be introduced to the tabletop game in 2021 that introduce several Marvel heroes into the fray. This is exciting news for fans, as they can soon have Marvel favorites like Luke Cage and Daredevil face off against a Velociraptor from Jurassic Park… what more can you want from a game?
Mondo, who produces Unmatched in partnership with Restoration Games, has announced four new sets to be released in the summer of 2021. The new sets will include three Marvel superheroes to utilize in the game. The new sets include;
Redemption Row – features Luke Cage, Ghost Rider, and Moon Knight
Hell's Kitchen – features Daredevil, Elektra, and Bullseye
Teen Spirit – features Ms. Marvel, Squirrel Girl, and Cloak and Dagger
For King and Country – features Black Widow, Black Panther, and Winter Soldier
These new sets can be used as standalone games, combined together for a super-Marvel battle royale, or combined with other Unmatched sets for a unique battle experience.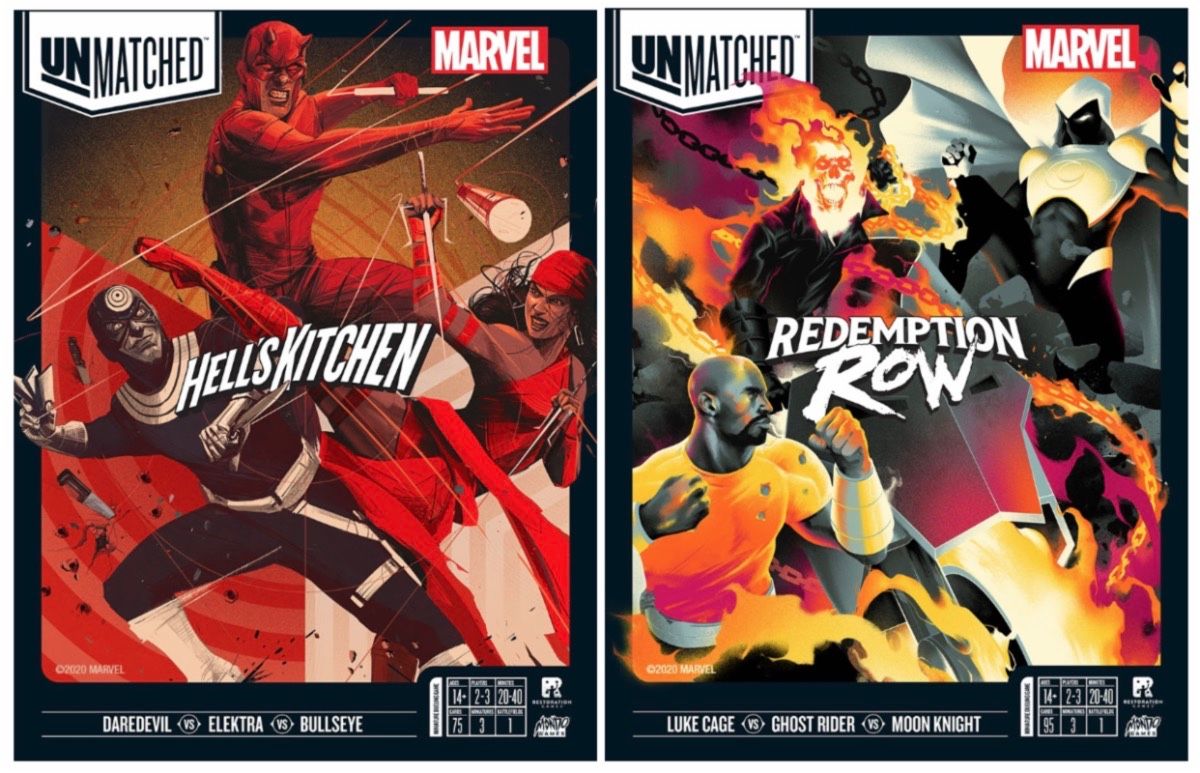 Not only are these games a fun and unique way to control your favorite characters from a ton of different mediums, but they are gorgeous to look at. Each box and card within the packs is gorgeously illustrated, and the new Marvel sets look to continue that. Previous Unmatched artists Heather Vaughn, Oliver Barrett, and Ian O'Toole are set to return for the Marvel sets along with newcomers Matt Taylor and Sanford Greene.
These new Marvel sets are also the first in the series to include three characters in each pack. Previous sets have included four, two, or a single character. With Unmatched working best as either a four-player or two-player game, it seems that Mondo has something up its sleeve with this new three-character release.
Of the new sets, Jayme Boucher, Director of Games at Mondo, had this to say, "Unmatched is more than a fighting game. It's an invitation to cast yourself as the hero in an epic story, something Marvel has absolutely no shortage of…we can't wait to share it with fans." Seems the people at Mondo are just fans as much as they are creators and it shows in the level of detail and quality within the game.
2021 is shaping up to be a big year for Marvel. With a slew of new movies set for release next year, and a few rumored games to be released, this announcement is just another reason for Marvel fans to look forward to the New Year!
Source: Read Full Article