The official Kingdom Hearts: Melody of Memory website has been updated, and surprisingly enough "Circle of Life," "A Whole New World," and "Beauty and the Beast" will be included in the rhythm action game.
Yes, the original tracks from the Disney films are going to be in the setlist. While "Beauty and the Beast" was briefly alluded to Kingdom Hearts 2, the former two have not appeared. Alongside the track "Let It Go" from Frozen, it seems like Melody of Memory will be a celebration of some classic Disney tunes, as well as others from Yoko Shimomura's outstanding soundtracks over the years.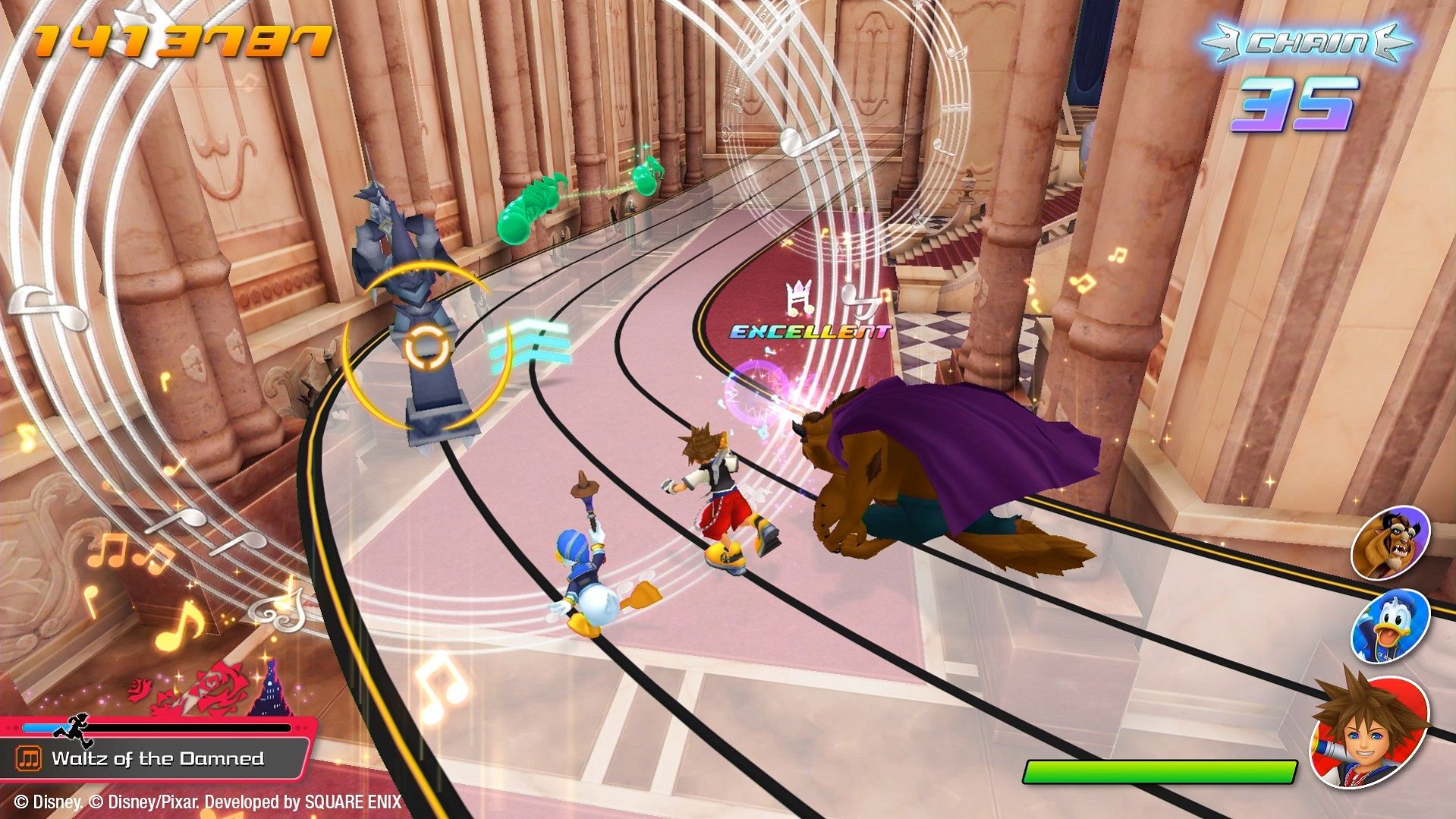 KHInsider reported on all the new songs that have been confirmed to be in the game. They include:
KINGDOM HEARTS
An Adventure in AtlanticaEnd of the WorldPirate's GigueCaptain Hook's Pirate ShipFragments of SorrowGuardando nel buioHollow BastionMonstrous MonstroSpooks of Halloween Town
KINGDOM HEARTS II
Dance of the DaringFields of HonorOld Friends, Old RivalsRowdy RumbleSacred MoonByte BashingDesire for All That Is LostMonochrome DreamsWhat Lies Beneath
KINGDOM HEARTS II Final Mix
What A Surprise?!Happy Holidays!
358/2 Days
Crossing to Neverland
Birth by Sleep
Black GardenCastle EscapadeMakaukau?Neverland's ScherzoThe Secret WhispersThe TumblingDaydream upon NeverlandRadiant GardenRisky Romp
Dream Drop Distance
Access the GridDigital DominationLa ClochePrankster's PartyLe SanctuaireSacred Distance
Piano Collections KINGDOM HEARTS
Sora – Allegro con brio
Piano Collections KINGDOM HEARTS FIELD & BATTLE
Medley of Conflict
Other Titles
Circle of LifeA Whole New WorldBeauty and the Beast
Some standouts among this list include the Hollow Bastion/Radiant Garden themes from KH1 and Birth By Sleep, the charming "Happy Holidays!" from Kingdom Hearts 2's Christmas Town, and the epic "Guardando nel buio" which plays during the last stages of Ansem's fight in KH1.
The lack of Kingdom Hearts 3 songs, however, is disappointing. If you don't count "Let It Go," there are currently seven entries from the game, and most don't represent the quality of that game's soundtrack. While we thankfully have Utada Hikaru's main theme "Don't Think Twice," Melody of Memory currently does not include "Face My Fears," "Yozora's Theme," "Forza Finale," "Scala Ad Caelum," or "Toy Box Jam." Hopefully, more updates will be coming down the pipeline. Perhaps, some of these could be story-related and Square Enix is keeping them to the chest, especially if Yozora is involved in the events of Melody of Memory.
KHInsider has the total up to 143 so far – and the amount of songs Square Enix has promised is over 140 – so we'll have our fingers crossed for more. Regardless, it has a staggering amount of content with 47 worlds being represented in the game. We do know there won't be anything new, so don't expect a random world like Treasure Planet showing up (despite the idea of it being awesome).
Kingdom Hearts: Melody of Memory releases on November 13 for the PS4, Xbox One, and Nintendo Switch. A free demo is available right now to try.
Source: Read Full Article