Double Fine recently teased that its Christmas card will get fans speculating about its future projects, which might mean that its next title focuses on birds.
Since releasing 2021's best game, Psychonauts 2, Double Fine has been pretty quiet about its upcoming projects, only confirming that it's working on something. In fact, when TheGamer asked Tim Schafer last year what the team might be working on in the future, his response was pretty vague, "We're just prototyping stuff and we've got some brand new ideas and none of it is anything anyone's ever heard about before".
As purposefully cryptic as that answer was, it seems like Double Fine is getting ready to tease what's next, as a few recent hints and a bird-focused Christmas card might give us a clue as to what the team is working on. Our quest for clues began thanks to an email from Fig that was sent out to Psychonauts 2 backers.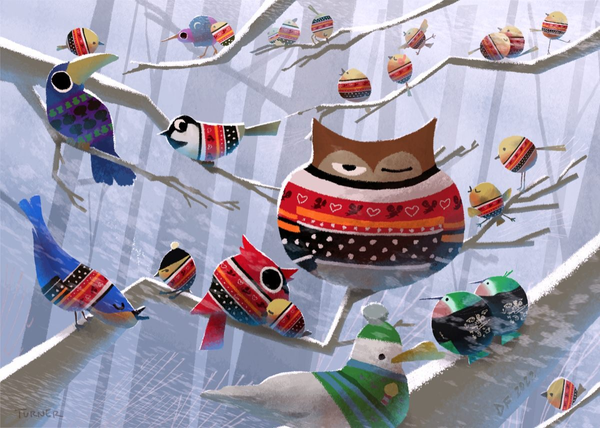 Towards the end of the email, Double Fine says this, "In the future, look forward to the book, the lovely foreword, some plushies, a documentary, and maybe even a little Christmas card to fill you mind with happy cheer and speculation". Whether it's just Double Fine having a bit of fun and knowing nerds like me are going to dive into whatever they say, or a legitimate hint isn't clear but let's take it at face value and look at the card that was sent out yesterday.
The Christmas card shows a bunch of different birds all sitting in a snowy tree and wearing sweaters that have the Double Fine logo on them. There are various different types of birds, like what appears to be a robin in the middle, and a seagull at the bottom. There's also one bird on the upper left that has a unique sweater, one with what looks like a tree and baubles. I'm taking this bird's unique sweater as a hint, whether you like it or not.
Alongside the card, Double Fine said this, "It's been a quiet end of year, at least by appearance and updates, but that's because we've been heads down in a variety of projects that we're eager to share with you… this year's holiday card is packed with roly-poly birds and a couple of additional friends. Let these pals fill your imagination with cheer". The bottom of the email contains yet another image with birds on it, this time gathering around a pot filled with water.
The way these emails are worded and the focus on birds in the Christmas card makes it seem as if Double Fine is working on some kind of bird-related project right now, at least as one of the games that it has in development. We know that it has multiple (as it has done in the past), so let's put some birdseed on one of them being all about, well, birds.
On the flip side, it's also possible that Double Fine just likes birds and is lightly teasing its fans by telling them to speculate. Birds are also pretty commonly associated with Christmas and winter, so it could just be something as simple as that while I parade around trying to predict the future and read between the lines. The power I'll have if I end up being right, however, is second to none, so let's bet it all on bird, baby!
Source: Read Full Article