Yubi! Yubi! One of the world's most adorable streamers, Inugami Korone, is getting her own figure by Spiritale. Some official art work was released, but no prototype has been shown as of yet.
According to Siliconera, her figure will be at a 1/7 scale and was announced at the Wonder Festival 2021. Not many details were released about Korone's first figure, but we all know it will be an adorable addition to your shelves when she finally releases.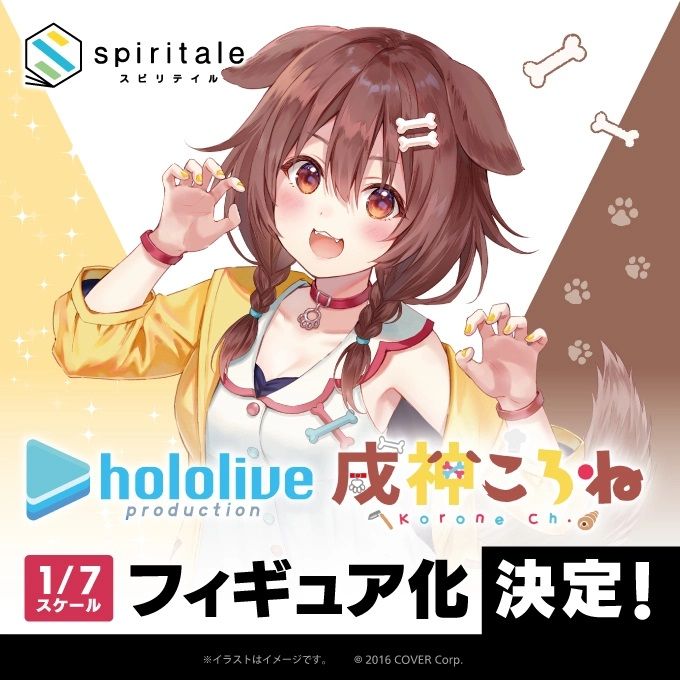 For those unaware, Korone is a virtual YouTuber (V-Tuber) who live streams games in Japanese. Despite English not being her native language, she has gained a lot of attention overseas through translated videos. Her unique sense of humor, unpredictability, and rash tendencies keep viewers coming back. She has made several attempts at English-only live streams but she stumbles with her words in an adorable fashion. We don't blame her; English is a hard language to grasp.
Inugami Korone has almost 1.5 million subscribers and close to 100 million views on YouTube, and it hasn't even been a year since she debuted on the platform.
Fascinatingly, Korone will be a guest character in Idea Factory's upcoming Neptunia Virtual Stars in a support role. She'll be able to be summoned for a special attack during a chaotic hack-and-slash adventure. The publisher gave its fans a full list of every V-Tuber who appears in the game, including Tokino Sora, Sakura Miko, Yuzuki Choco, Shirogane Noel, and many more.
Hololive since last summer has also expanded to English characters such as Gawr Gura, who now has over two million subscribers in a matter of seven months. The charismatic personalities of these V-Tubers bring positive energy in a currently COVID-19 ridden world.
Anime is more popular than ever in the West. For a time, a Shonen Jump show called My Hero Academia was the 2nd most wanted series in the United States, beating out giants like Game of Thrones, Stranger Things, and Rick & Morty. Anime has become big business with Funimation buying popular streaming network Crunchyroll for over $1 billion in 2020. You can now watch shows like Dragon Ball Z, Naruto, and My Hero Academia on the Funimation app; they just released a version for the Nintendo Switch.
Source: Read Full Article