Boardgame studio Thundergryph Games has launched the Kickstarter adventure for Darwin's Journey, an innovative new game that combines worker placement with exploration and a healthy dose of biology and evolution. With a goal of $36,522, the game funded in just 12 minutes, and as of this writing, has evolved to over $600,000 with 17 days remaining.
The Darwin's Journey Kickstarter drive has only two reward tiers priced at €45 (about $55) and €70 (about $86), which may be at least partially responsible for the game's outstanding current funding amount. The Darwin's Journey Base Game tier will earn you a copy of the game and all the stretch goals (that will not be available in the retail edition), while the Darwin's Journey Collector's Edition will get you the base game, the Collector's exclusive goals, as well as "special items and a complete expansion."
Then again, another reason for the game's high funding could very well be because it looks absolutely stunning, in both art and the style of the many components. Honestly, it easily looks like a $100+ game, and you can get both versions here for less, not counting shipping. Thanks to the excellent layout and included info on the project notes, you can get a much closer look at the game art and components in the embedded Darwin's Journey – Game Components video, as well as the totally cool 'Explore the game in 360°' mode. There is also a two-minute (and 30 seconds) intro video, a tutorial and playthrough video by YouTuber JonGetsGames, a free-to-download rulebook, and more gameplay videos from various other YouTubers.
Darwin's Journey is based on the actual scientific exploration of the Galápagos Islands by Charles Darwin in September 1835. During their five-weeks on the islands, Darwin and team expertly and in great detail cataloged the island's animal inhabitants, which lead Darwin to eventually develop the crucial Theory of Evolution.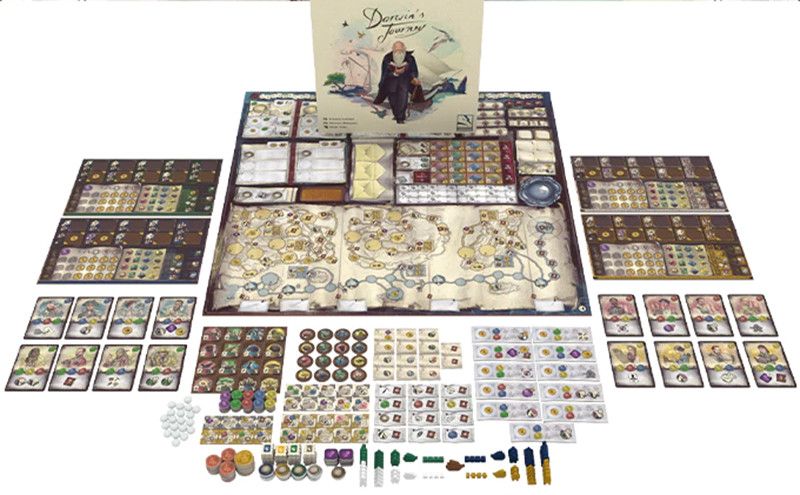 Darwin's Journey allows you and up to three other players to simulate Darwin's Galápagos Islands expedition and scientific study, by tasking you with exploring the islands, discovering the animal specimens living on each one, documenting them, and sending your findings back to museums as your contributions to the greater knowledge of biology. You have personal and scientific objectives to aim for, and achieving those goals earns you victory points. At the end of the game's five rounds of play, the player with the most victory points wins the game.
Of course, there is a lot more than that to this most excellent-looking game, and you can find more of those details on the Kickstarter page, as well as Thundergryph Games' Facebook, Twitter, YouTube, Instagram, Discord, and Twitch channels.
Source: Read Full Article