Developer Arc System Works has finally cleared up what is going on with Guilty Gear -Strive- and its cross-generation release strategy. Much like other games that will be available on PS4 and PS5, users that buy the last-generation version will receive an upgrade to the next-generation version at no additional cost. That's really great if you still aren't convinced to jump on the PS5 come next April.
In another nice move, there will be cross-generational multiplayer support for online battles. If you're on PS4, you won't have a limited pool for players to battle against as the PS5 will be seamlessly matched against you. The main difference between the two versions will be down to their output resolution, with the next-gen version running in native 4K.
As you likely extrapolated from the crossplay feature, that means the season pass for -Strive- will also be cross-generational. Arc System Works even confirmed as such, stating in a new FAQ, "It [DLC] can be shared when using the same Sony Entertainment Network account (PlayStation Network account)." That's awesome if you intend on grabbing the physical collector's edition but can't find the PS5 version.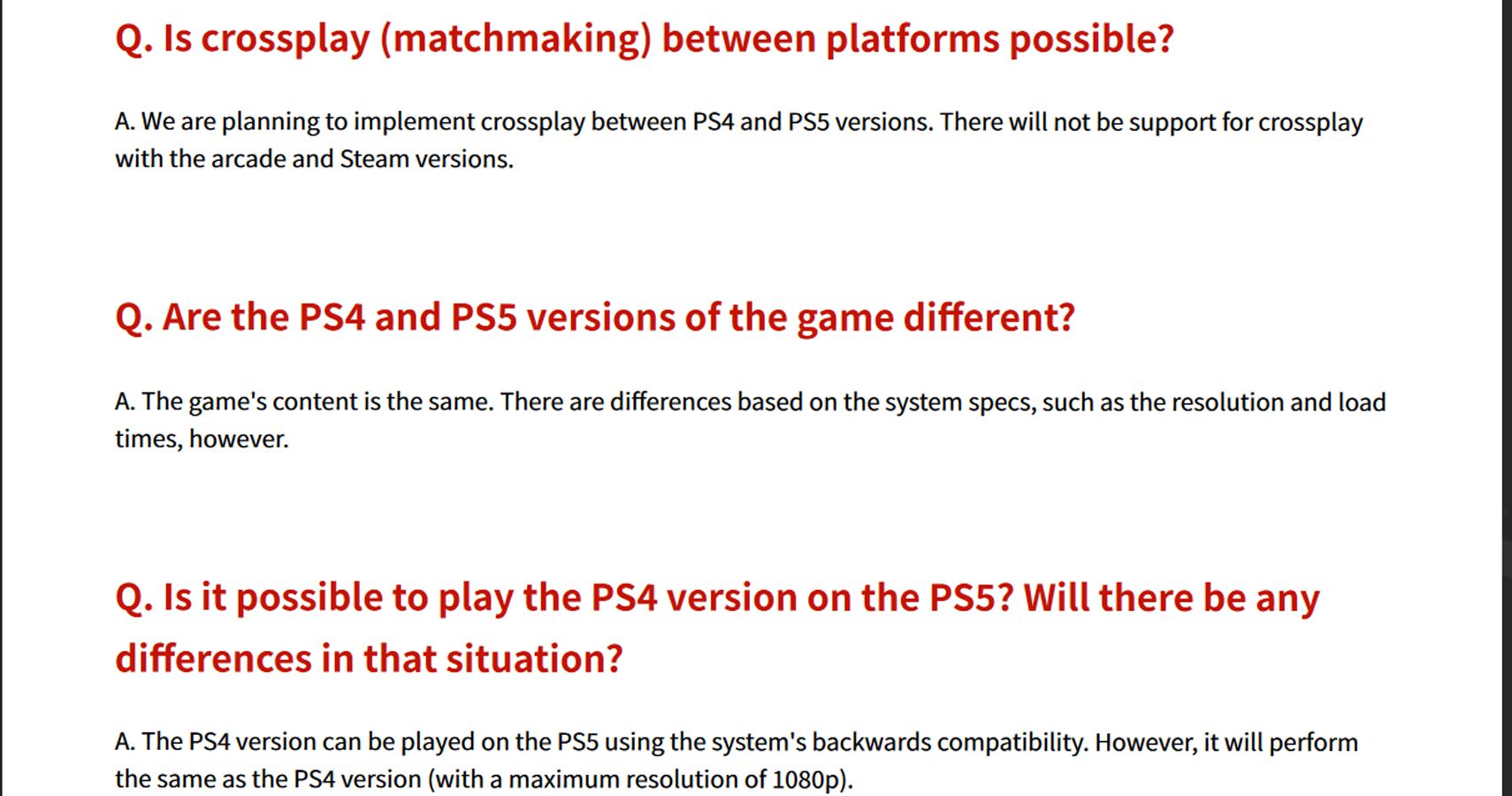 There are a few downsides to all of this. For one, Arc System Works can't confirm if PS4 fightsticks will be functional on the PS5. For whatever reason, you can boot up the PS4 version of the game on PS5 through backward compatibility, but you may need to leave your joystick in the past. Another negative is that the PC version will not see crossplay support, limiting its player base to Steam.
As much of a bummer as that might be, at least players on Sony's platform won't be segmented. Considering that the only improvement will be related to visual appearance, there's no reason why PS4 and PS5 would need to be separated. It's great to see Arc figure this out ahead of launch, making the decision to purchase on your platform of choice much easier.
If you do happen to pre-order the Ultimate Edition (which won't be available on PC), you'll receive early access to the game starting April 6, 2021. With this version, you'll be able to experience the prologue of the story mode and play with 13 of the game's 15 characters. All offline modes will be present, however.
It's strange, but at least some of our lingering questions about upgrades and next-gen have finally been put to rest.
Source: Read Full Article