Final Fantasy 14 is packed with pretty places, and the game actively encourages players to explore them by offering up aether currents as incentives. Collect every current that any given zone has to offer, and voila, you've unlocked flight.
These come in two mandatory varieties: field-based and quest-based. The former are found throughout the map with your handy Aether Compass, while the latter is tied to quests. The Sea of Clouds is no exception, and with so many floating islands out of your reach the first time the main scenario sends you here, you won't be able to access any field aether currents at that time. Later on, Heavensward will direct you here again, and that's when things finally open up.
Please note that with the launch of Endwalker, every zone from Heavensward through Shadowbringers has had its field-based aether current count reduced from ten to four.
The Sea of Clouds Aether Current Locations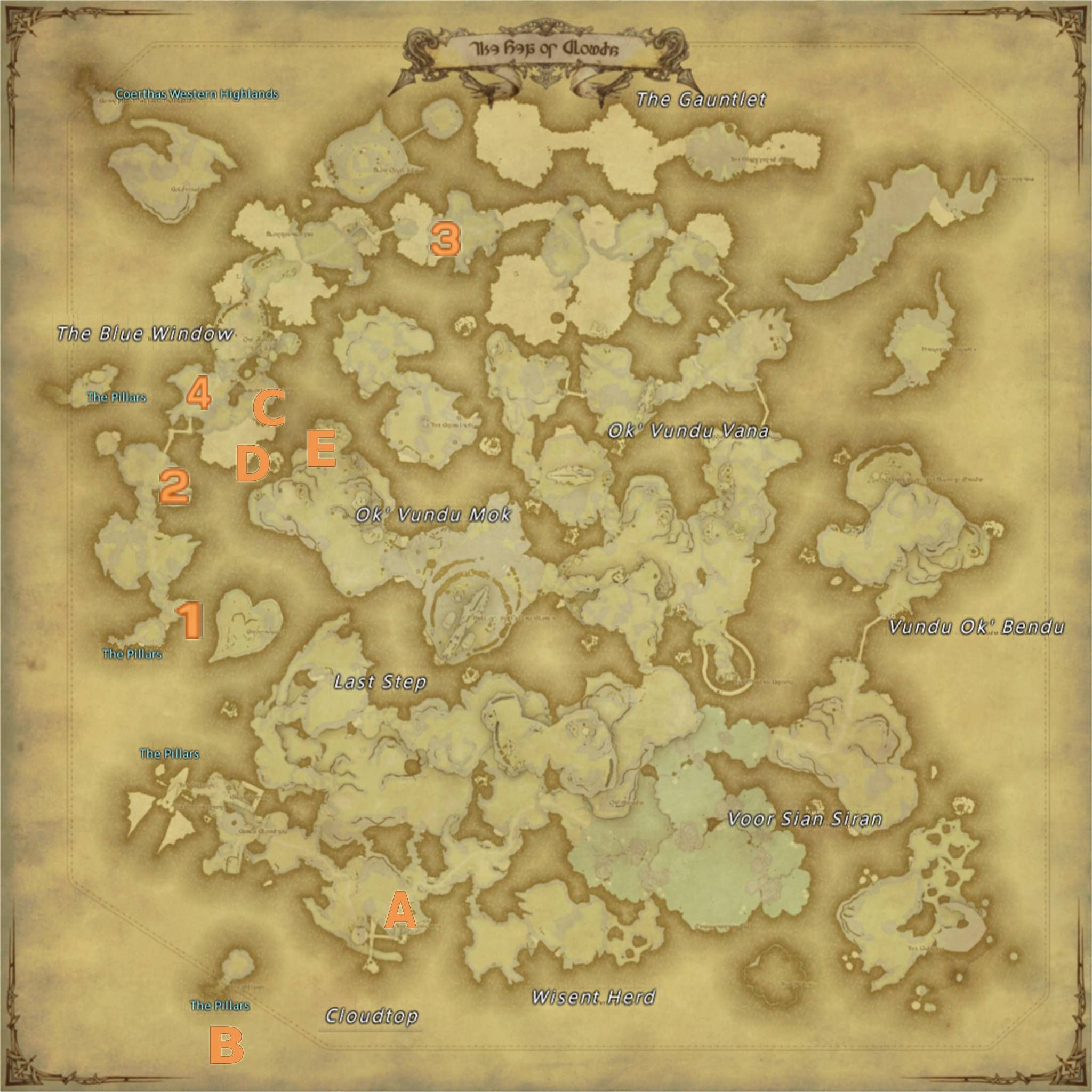 None of The Sea of Clouds' aether currents can be reached until after you've completed the main scenario quest 'Familiar Faces'.
Aether Currents Found On the Map
| | Aether Current Co-ordinates | Notes |
| --- | --- | --- |
| 1 | (X:7.6, Y:25.8) | Immediately upon landing during the main story. |
| 2 | (X:7.3, Y:20.3) | — |
| 3 | (X:18.9, Y:11) | Beside Cid's airship. |
| 4 | (X:11.2, Y:15.2) | — |
Aether Currents Obtained Via Quests
| | Quest Name | Quest Level | Quest Location | Notes |
| --- | --- | --- | --- | --- |
| A | Clipped Wings | 50 | (X:17, Y:37) | Becomes available upon completing the main scenario quest 'Disclosure'. |
| B | Honoring the Past | 56 | Ishgard – The Pillars (X:11.5, Y:10.9) | Becomes available upon completing the main scenario quest 'He Who Would Not Be Denied'. Starts in Ishgard. |
| C | Sleepless in Ok' Zundu | 57 | (X:9.6, Y:14.2) | Becomes available upon completing the main scenario quest 'Black and White'. |
| D | Flying the Nest | 57 | (X:10.6, Y:14.8) | Becomes available upon completing the main scenario quest 'Black and White'. |
| E | Bolt, Chain, and Island | 57 | (X:11, Y:14) | Becomes available upon completing the main scenario quest 'Black and White'. |
Source: Read Full Article