When it comes to Final Fantasy 14's Endwalker expansion, you'll find yourself having to explore brand new areas and hunt down various aether currents in each one before you can take to the skies. However, despite visiting Labyrinthos fairly early on, some of the aether currents on the map cannot be reached before progressing considerably further through the main scenario quests.
Here are all of the locations of the aether currents in Labyrinthos, including a map marked with all locations and any relevant quests you'll need to complete to unlock additional currents also. Don't forget that the Aether Compass has moved to a new menu since the launch of Endwalker — it is now found in the 'Collections' menu.
Labyrinthos Aether Current Locations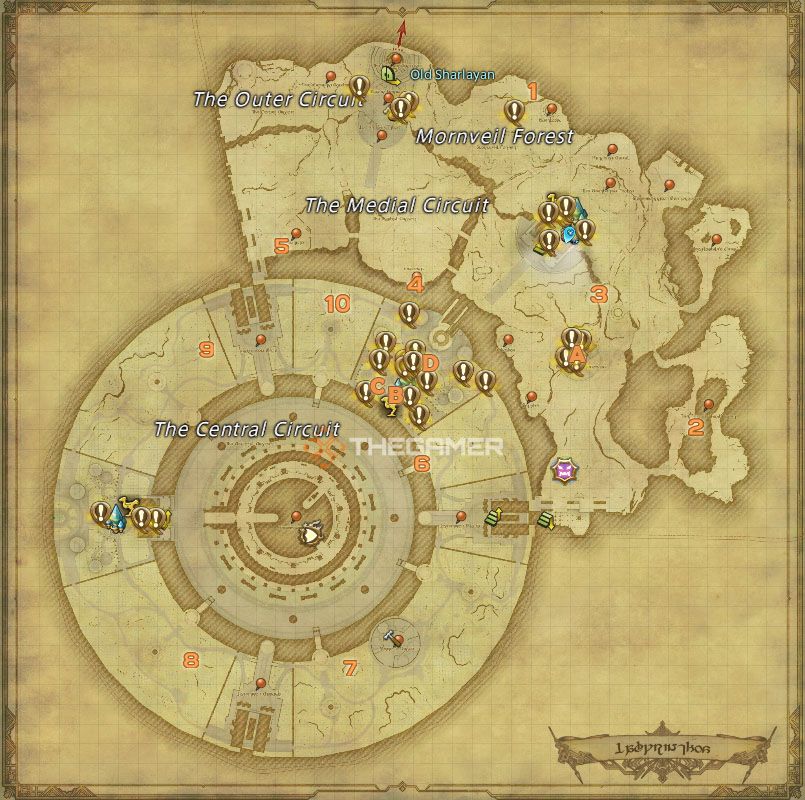 Please note that you will not be able to collect all of the aether currents in this area until you have progressed enough to have started the main scenario quest 'Going Underground' to open the map further. Naturally, you then still have to progress the main scenario further to collect all currents from quests.
Aether Currents Found On the Map
| | Aether Current Co-ordinates | Notes |
| --- | --- | --- |
| 1 | (X:28.3, Y:6.0) | — |
| 2 | (X:36.4, Y:22.7) | — |
| 3 | (X:31.3, Y:16.1) | — |
| 4 | (X:22.1, Y:15.7) | — |
| 5 | (X;15.1, Y:13.5) | — |
| 6 | (X:22.3, Y:25.0) | — |
| 7 | (X:18.9, Y:35.0) | On top of the rocks. |
| 8 | (X:10.5, Y:34.7) | On top of the rocky outcrop. |
| 9 | (X:11.3, Y:19.0) | At the base of the rocky outcrop, in a small gap. |
| 10 | (X:17.9, Y:16.6) | At the top of the rocky outcrop. |
Aether Currents Obtained Via Quests
| | Quest Name | Quest Level | Quest Location | Notes |
| --- | --- | --- | --- | --- |
| A | Lost Little Troll | 80 | (X:30.3,Y:19.3) | Becomes available upon completing the main scenario quest 'The Full Report, Warts and All'. |
| B | Let the Good Times Troll | 80 | (X:20.9,Y:21.5) | Becomes available upon the progression of the 'No Job Too Small' main scenario quest. |
| C | The Lad in Labyrinthos | 80 | (X:20.8,Y:20.9) | Becomes available upon starting the 'Hither and Yams' main scenario quest. |
| D | Gleaner's Wish | 80 | (X:23.2,Y:19.9) | Becomes available upon starting the 'Hither and Yams' main scenario quest. |
| E | Bonds of Adamant(ite) | 88 | (X:21.6,Y:33.8) | Main scenario quest. Becomes available upon completion of 'Once Forged'. |
Source: Read Full Article