FIFA 21 is a simple game at heart. You score more goals than your opponent, you win the game. Sometimes though, it doesn't feel so simple. You need to balance attack with defence, watch your stamina bars, make the most of your chances, and get your selections down to perfection. FIFA 21 is the ultimate bragging rights game, and that just dials the pressure up on all these little details even more. If you're looking for help getting started or ways to take your game to the next level, these FIFA 21 tips are exactly what you need.
Know Your Players
Every player in FIFA 21 is different, and if you're going to be using a squad regularly – either for Ultimate Team, Career Mode, or Online – you'll want to know your first XI. For most people, this just means knowing their overall rating and position, but to get the best out of your players, it takes a bit more depth. Check which players are right-footed and left-footed, and try not to play right footers on the left if you plan on going down the wing. However, if you plan on cutting inside like Arjen Robben did his whole career, then you definitely do want right footers on the left.
You should also check their skill rating so you don't try and use fancy stepovers with someone who can't perform them, their speed (Sprint Speed for long runs, Acceleration for short bursts) to know if they can rush past people, and anything else that suits your style of play. If you love crosses, pick players with good crossing and good heading, for example. It sounds simple, but the overall rating doesn't tell the full story.
Prioritise Speed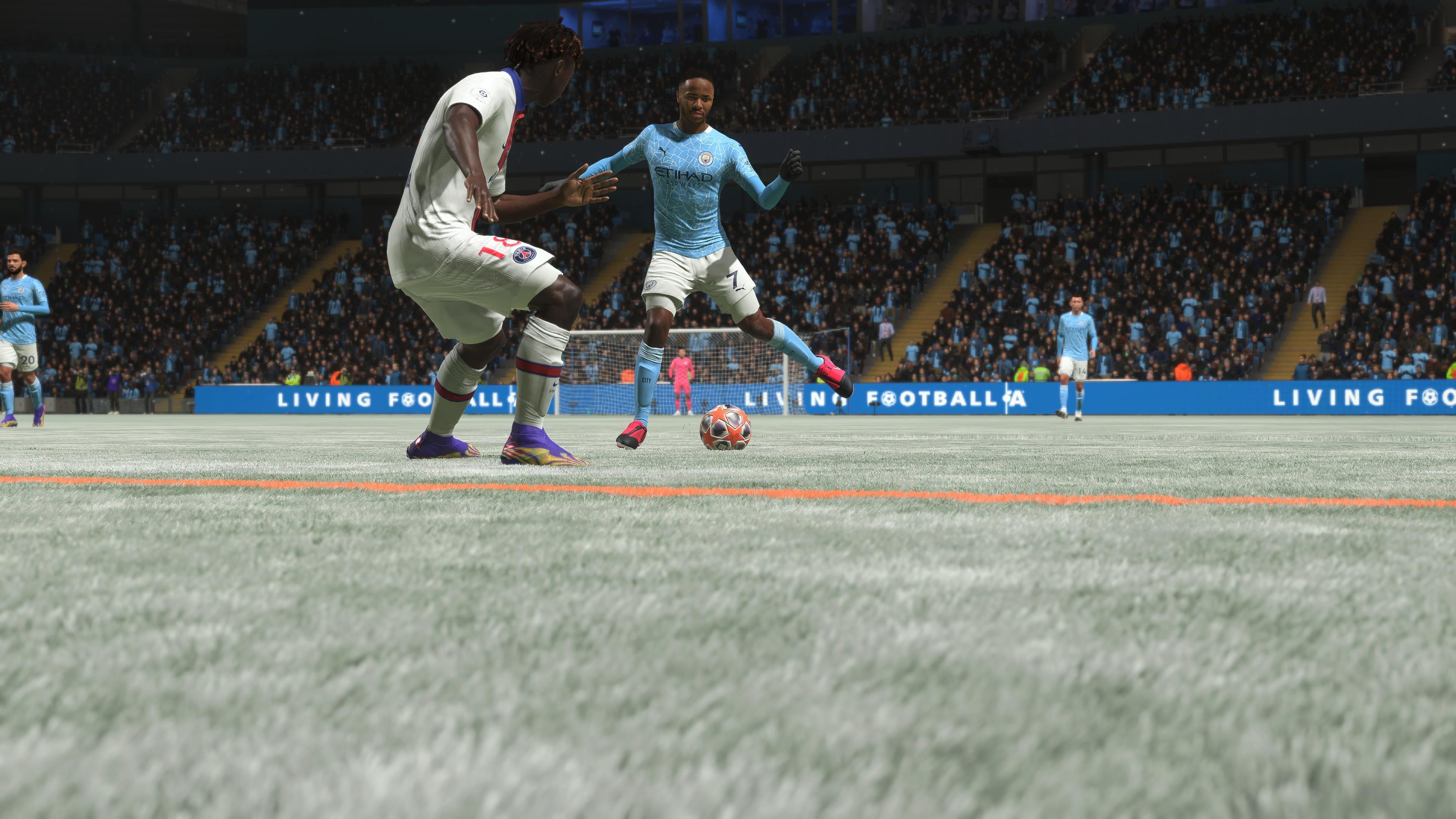 Now that you know your players, try to pick players with the best speed stats. This isn't a hard rule – Aymeric Laporte's low speed stats shouldn't rule him out of your Man City XI – but especially in the attacking positions, you want players who can tear it up. That might even mean dropping favourites; Liverpool are a better FIFA team with Jota upfront instead of Firmino, for example.
Because so much of FIFA is played at hyperspeed, having fast players isn't even about getting an advantage, it's necessary to keep up with everyone else.
Hit Them On The Counter
The best thing speedy players can be used for is counter attacks. This is one of the most common tactics in FIFA, but that's because it's so effective. When you get the chance to run at an opponent, take it. When you see a teammate making a run into space, fire the ball into the space. Slow, methodical build up play can work in FIFA, but it's much more difficult, and requires a much tighter grip on tactics. Counter attacking football just needs you to be bold enough to let your fastest players do their thing.
Don't Always Sprint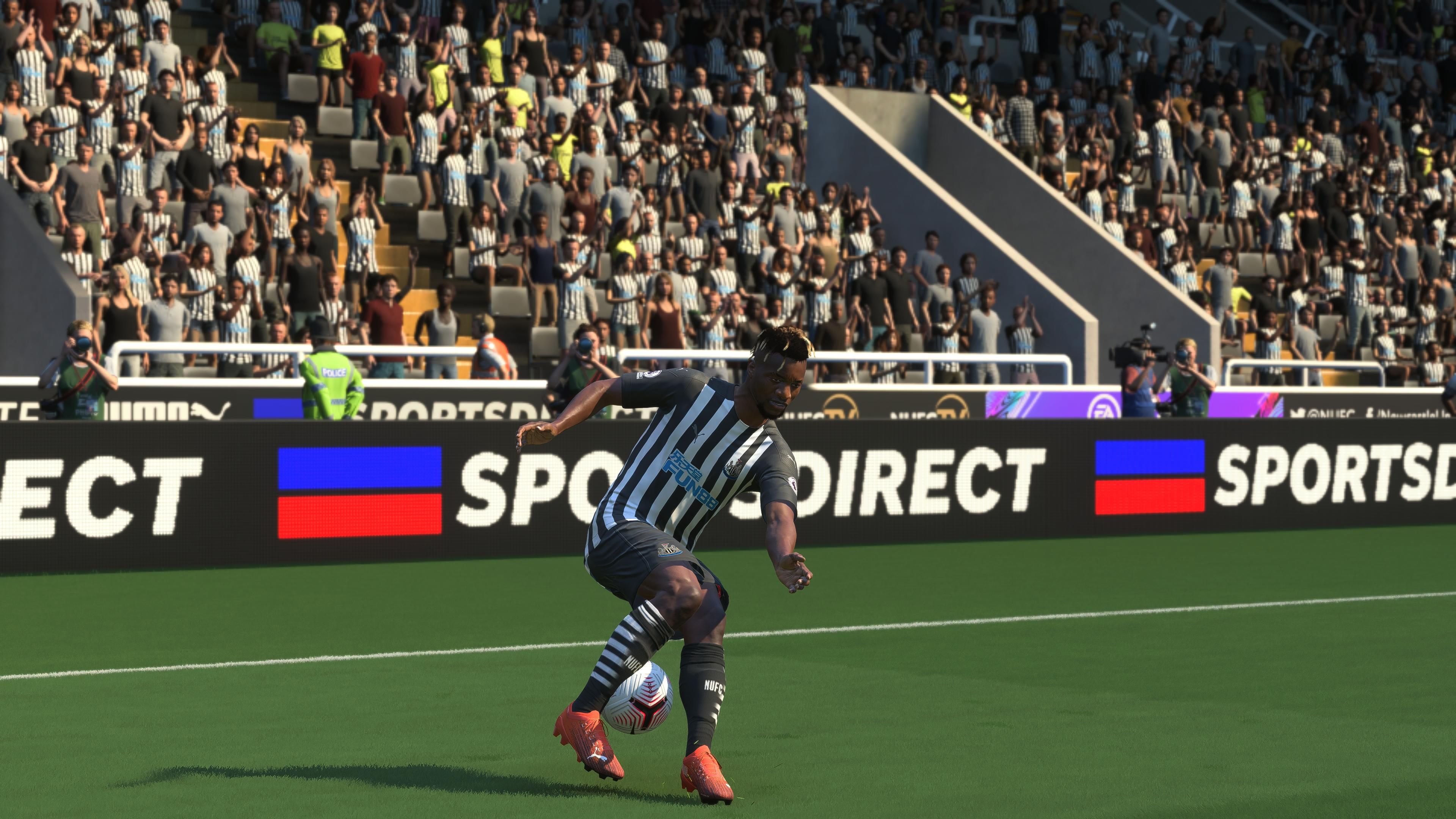 Because of the huge focus on speed, many players will sprint absolutely everywhere. This gegenpress style of play is very effective, but only for around two-thirds of the game. After that, the players get too tired, which not only means they can't sprint as much, it damages the rest of their game. Tired players make more reckless tackles, misjudge their passes, and miss more shots. Sprinting also makes it harder to turn and pass quickly. Only sprint when you're chasing back, or when you're bursting into space. When the ball is rocketing around the middle of the park, don't worry about chasing it.
Jockey
Since everyone sprints everywhere, jockeying is an underrated skill. You jockey when defending, by pressing LT/L2, which makes the player take a low centre of gravity position, side stepping with the opponent, making them tougher to get past. This will help counteract anyone trying to dart past you, and makes it easier to intercept. It is much slower though, so only jockey once you're close to the opponent, otherwise you're leaving yourself exposed.
Use The Radar
The radar can be turned on in the menu, and it lets you know where all 22 players are on the pitch. If you use a zoomed in camera, you often can't see if there's a teammate free out wide, or if the opponent has over committed from the back, or… anything, really. The popular close in camera angle is great from dribbling and finishing, but it sacrifices pitch awareness. If you fancy yourself as a Pirlo-esque figure, surveying every blade of grass before playing a pass, get that radar on.
Whip Your Crosses In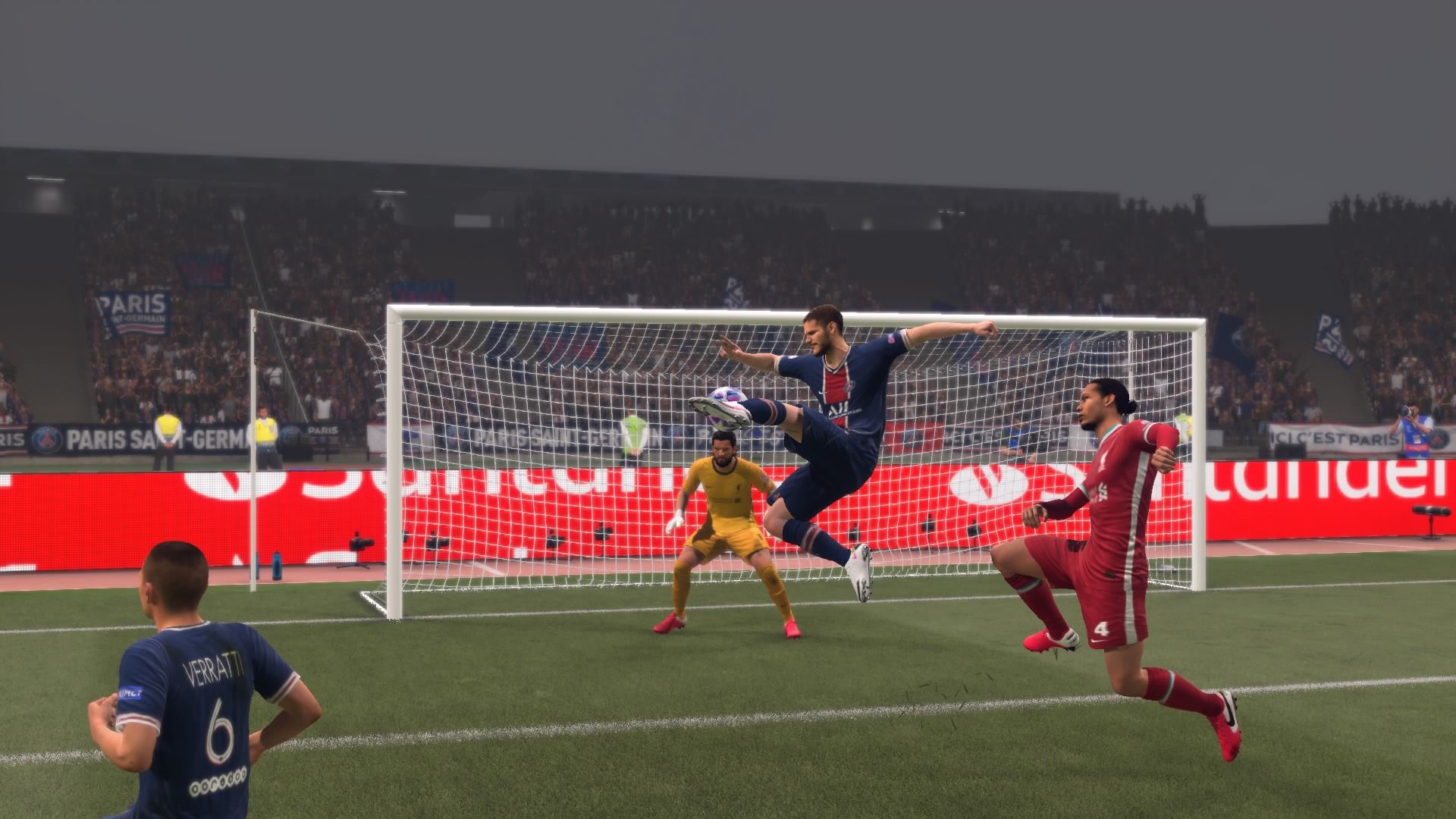 If you've played FIFA 20, this might seem like very stupid advice. Crosses were completely broken in the last version of the game, and virtually impossible to score from. In FIFA 21, they've been reworked, and are now easier to score from, as well as being much more accurate. Driven crosses and floated crosses are still trickier though, so stick to the standard whipped cross unless the situation is crying out for a low ball.
Just like Trent Alexander-Arnold, you're best off getting in diagonal crosses in from the edge of the box, rather than cutting back from the byline. Far post crosses do better from deep, but if you are chipping the ball back, aim for the front post and hope your striker nips in first.
Practise Free Kicks
The FIFA series plays around with free kicks every couple of years, adding new elements or changing the formula. This usually comes as a result of players complaining that they're too difficult, but in real life, free kicks are pretty tough to score directly from. Cristiano Ronaldo took 43 attempts to score his first free kick goal for Juventus.
This realism can be a bit annoying though, especially as getting fouled just outside the box when you're through on goal drastically reduces your chances of scoring. When you play online, you'll probably be fouled a lot, as opponents know free kicks are tough. To counter this, practise them often to get the timing right. Depending on your distance from the goal, you probably want to aim about a person's width away from the post, then use the right stick as you kick the ball to pull in back into the corner with some curve. The further away from the goal you are, the longer you'll need to hold down the shoot button; from 20 yards, not much more than a tap is needed.
Next: 10 Best Teams To Start A Career Mode With In FIFA 21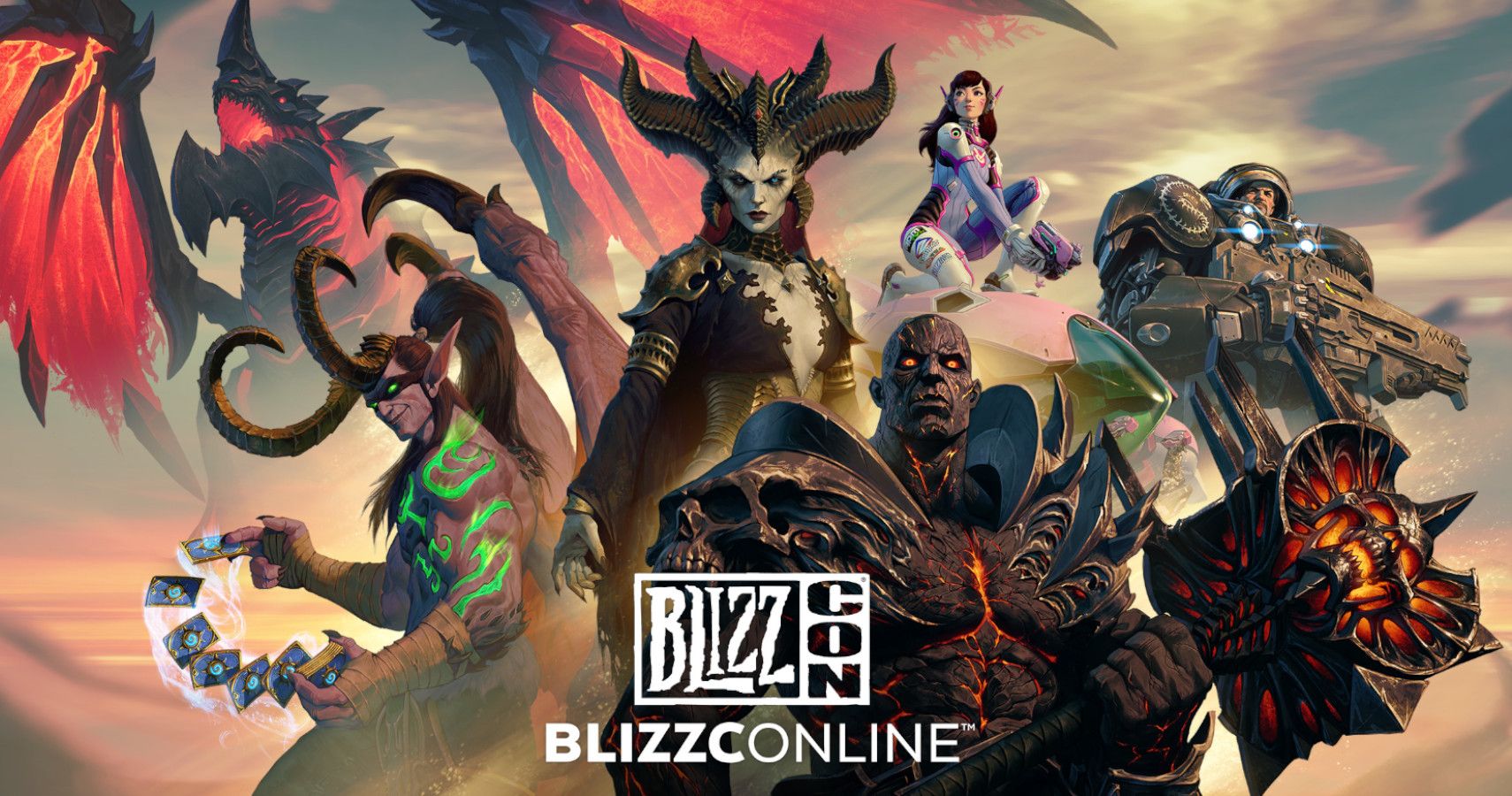 Guides
FIFA
PC
Xbox One
Ps5
ps4
EA Sports
Fifa 21
Xbox Series
Stacey Henley is an editor for TheGamer, and can often be found journeying to the edge of the Earth, but only in video games. Find her on Twitter @FiveTacey
Source: Read Full Article