Humble Bundle's February Humble Choice is now available for Humble Choice Premium or Classic customers. This Bundle comes courtesy of a subscription to Humble Choice, which gets you access to a hand-picked list of games each month, discounts in the Humble store, and a bunch more.
The games available to subscribers are chosen by the Humble team according to a number of factors, including user ratings and reviews. Subscribers are promised the best of the best from a wide range of genres. This month the bundle is made up of 12 action and RPG titles, all of which add up to a good $330 which subscribers won't have to fork out.
The games featured in February's Humble Choice bundle are as follows:
Outward (including the Soroboreans and Outward Soundtrack)
Valkyria Chronicles 4 Complete Edition
Endless Space 2 – Digital Deluxe Edition
Moving Out
Trine 4: The Nightmare Prince
The Wild Eight
Train Station Renovation
Valfaris
Werewolf: The Apocalypse – Heart of the Forest
Lovecraft's Untold Stories
Iris and the Giant
Boomerang Fu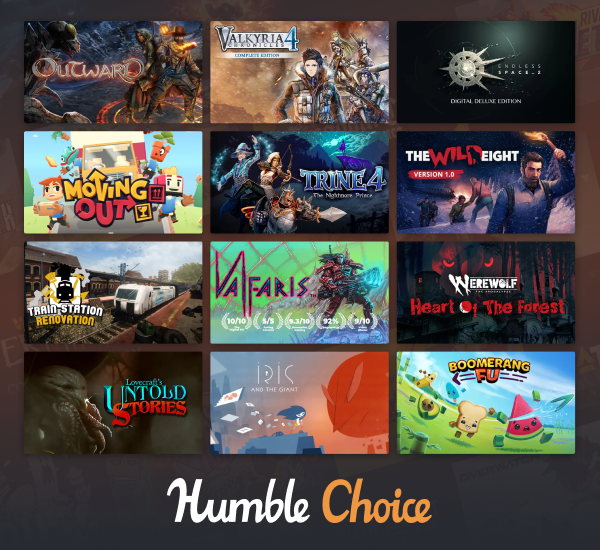 In usual Humble spirit, a percentage of all sales associated with this bundle will be given to Humble's charity of the month. Said charity is Gameheads – a tech training program aimed at fostering diverse talent amongst low-income youth and youth of color via video game design, development, and DevOps training.
Signing up to Humble Choice means every month you'll be able to choose any games (to keep forever) from a list curated by the Humble team, which all together add up to more than $250. There will always be a charity of the month which you'll be supporting via your subscription too, plus you'll have access to exclusive perks. Such perks include 20% discounts in the Humble Store and access to over 90 games in the Humble Trove.
There's also a promotion currently running until March 2, which lets new customers sign up for Choice Premium and gain access to all Choice Games for 12 months, at $12 a month.
Source: Read Full Article