UK retailer Currys has started drawing names for its PS5 lottery, so now is the time to check your email if you signed up.
More than four months on from the launch of next-gen consoles, the process of actually buying one remains stressful and chaotic. Retailers have been trying to come up with ways to ease the strain on their sites when stock drops and to keep bots and scalpers out of the running. Electronics retailer Currys recently decided to switch to a lottery system when allocating its PS5 stock.
That system is now in place and the first batch of customers have been randomly selected. If you made the cut, you will have received an email informing you what to do next. You will have 72 hours to respond to the email, purchase your allocated PS5, and select the store from which you would like to collect it. If you don't respond within the given timeframe, your console will presumably be offered to someone else.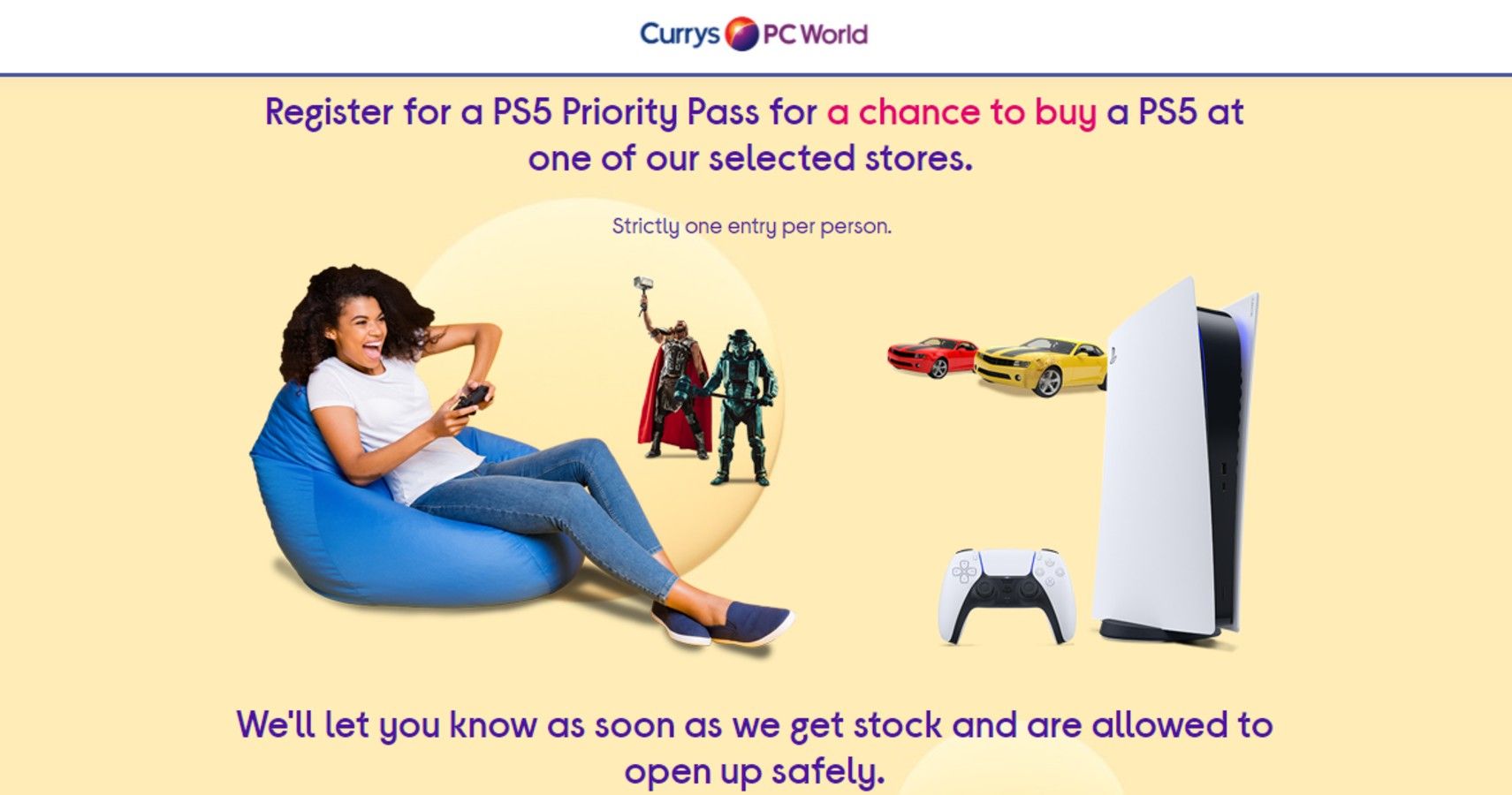 Currys announced its decision to switch to a lottery system a couple of weeks ago. The retailer has been heavily criticized during previous stock drops due to its site's inability to cope with the sudden influx of traffic. Customers need to register for a priority pass to be a part of the lottery and then wait to be notified. Currys has clarified that even if you were not selected during this round of picks, anyone who has registered will be eligible for selection during the next round.
On the surface, going to lengths like these might seem ludicrous. However, they have become almost necessary due to the lack of consoles available to customers. That is largely due to scalpers who have frequently been bragging about the thousands of consoles they have managed to buy and then sell for inflated prices. It's estimated scalpers of next-gen consoles have made $58 million in the US alone since the PS5 and Xbox Series X/S launched in November 2020.
Even though the increased sales of PS5 games in the UK appear to signal more genuine customers are getting the console they desire, the issues could go on for a while yet. AMD predicts shortages will continue until the second half of 2021 at the very least. By that point, those who have been attempting to buy a console the entire time will have holiday shoppers to contend with.
Source: Read Full Article