In contrast to some of the negative attention surrounding the GameStop debacle, one profiteer from the stock scandal is bringing some positivity to the ordeal. A college student has used his powers for good by turning his profits into video game donations for a children's hospital.
20-year-old Hunter Kahn is a mechanical engineering student at Cornell University in New York, and he hit a jackpot thanks to GameStop. The student made a small fortune after cashing out almost $30,000, and he's turned those riches into generous donations. The Children's Minnesota Hospital In Minneapolis was thrilled to receive multiple Nintendo Switch consoles and games for the children – including six Nintendo Switch Lites – demonstrating the good that still graces the world during these troubling times.
Residing in Stillwater, Minnesota, Kahn told CNN that he took part in the GameStop fiasco to "prove the big boys on Wall Street wrong". He stated that donating was more satisfying than sitting on his financial gain, wanting to use his fortune to help the kids at the hospital. Following up his good deed in an Instagram post, the student mentioned the importance of "[paying] forward our good fortune". Khan concluded by highlighting the corruption that had been unveiled during the GameStop scandal and emphasized how important it was that profiteers of the movement didn't become "men in suits" themselves.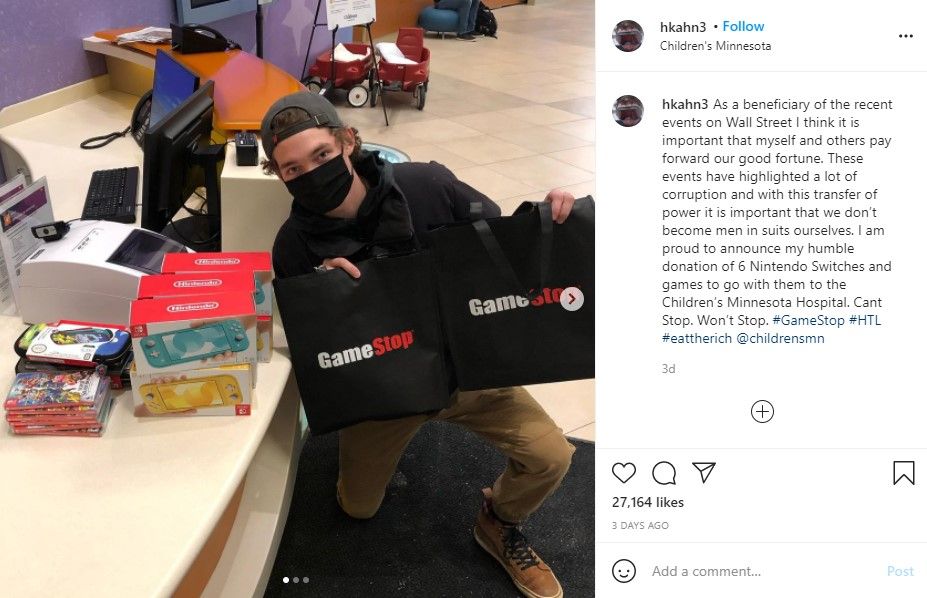 Khan spent over $2,000 on his donations, and the hospital has reported that the kids are already enjoying them. President of the Children's Minnesota Foundation Jennifer Soderholm commented on how grateful the staff were, which has helped to "bring joy to kids at our hospitals". Soderholm also added how inspiring it was to witness the younger generation giving back. In addition, members of the WallStreetBets subreddit praised Kahn for his efforts, and dubbed him "The real Robin Hood."
Khan's profit was a result of an unprecedented war between Wall Street and Reddit. The aforementioned subreddit WallStreetBets caused GameStop stock to skyrocket after members found out about Wall Street short-sellers taking advantage of the company's overvalued stock. GameStop's stock price became 3000% higher than its price this time last year after the subreddit decided to weaponize its members and teach the high rollers a lesson.
Source: Read Full Article