2022 is finally here, so we can finally put the last year behind us and try to move on. But for a quick moment, one Reddit user decided to look back to last month to find out what killer was most popular in Dead by Daylight. Turns out it was Carmina Mora, also known as "The Artist", a completely original character.
JCanales7, along with various other Reddit users, surveyed 2,000 matches. Carmina Mora was played in 159. That's around eight percent, edging out The Huntress who came in second with 6.9 percent. That edge comes from her abilities that let you find players remotely through her army of crows. She can send them out to scan the map, revealing and even attacking Survivors – that's handy if you don't want to trudge about looking.
She can also play with her victims while they're hooked and interrupt Survivors as they try to fix generators – she's gruelling, brutal, and terrifying, the perfect recipe for a fun Dead by Daylight match. But she's a DLC character so if you wanna give her a shot, it'll set you back £5.49.
The full list is as follows:
The Artist
The Huntress
The Cannibal
The Nemesis
The Blight
The Wraith
The Trapper
The Trickster
The Legion
The Nurse
The Shape
The Doctor
The Ghost Face
The Demogorgon
The Executioner
The Clown
The Cenobite
The Oni
The Spirit
The Plague
The Deathslinger
The Hillbilly
The Hag
The Nightmare
The Pig
The Twins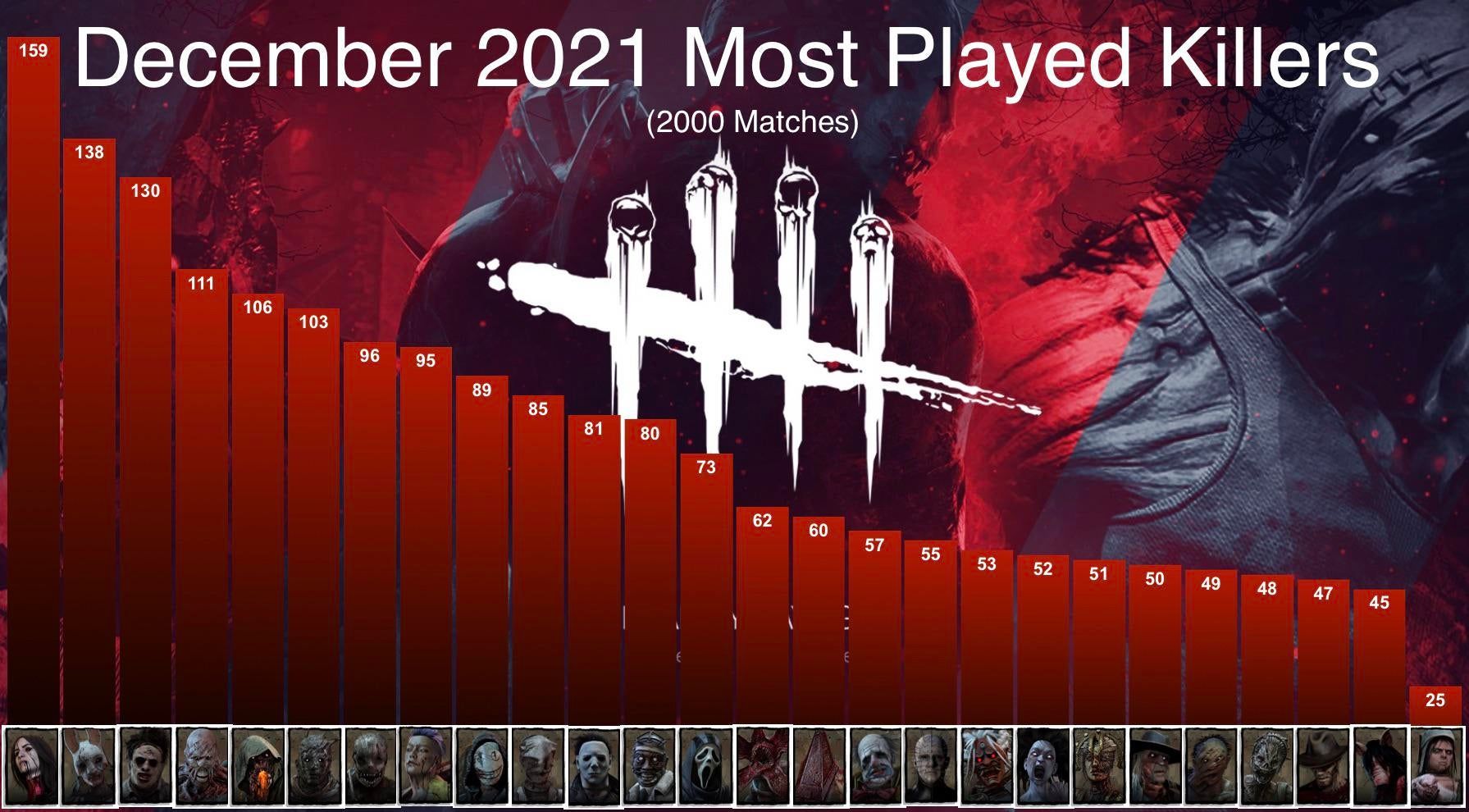 As seen pictured above, the popularity of each killer has a steady decline. Carmina Mora has a noticeable lead, but from then on, the dips in players create a near-smooth curve. But The Twins sharply drop, being used by only 1.3 percent of Dead by Daylight players.
The study is by no means representative of the entire game at large, but it shows who was most common in a pool of 2,000 matches, giving a good indication as to who Dead by Daylight's most popular character could be. With Scream (2022) coming out in less than two weeks, perhaps Ghostface will see a sharp jump in popularity. After all, who doesn't want to run around scaring people with that goofy robe and mask?
Source: Read Full Article