Cal Kestis' lightsaber hilt from Jedi: Fallen Order released two days ago and it's already being scalped on eBay for anywhere between $280 and $790.
Last week, Disney announced that Star Wars fans would finally be able to buy a replica of Cal Kestis' lightsaber hilt from Jedi: Fallen Order, nearly two years after the blade won a community vote to see which blade would be turned into a replica next.
The Lightsaber became available to purchase in Galaxy's Edge on March 25, and as reported by VGC, it's already being scalped and sold for double its asking price at the absolute cheapest.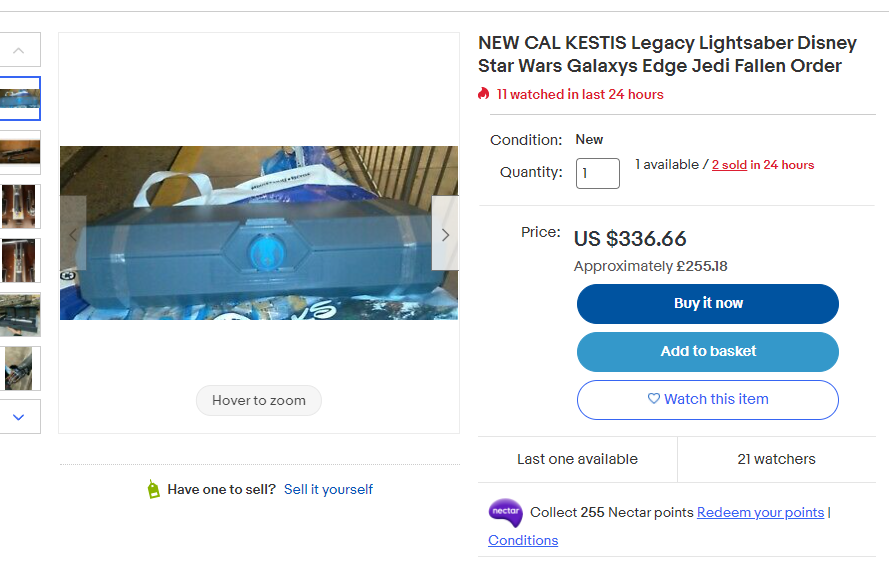 The lightsaber hilt usually retails for $159.99 at Galaxy's Edge, by no means a cheap price for a lightsaber hilt replica, but still more reasonable for the asking price currently. From looking around on eBay, the lowest price we could find was $333, while the highest was a whopping $790.
In fairness, that second one apparently comes with two hilts to turn the lightsaber into the duel-wielding variant that Cal's master, Jaro Tapal, wields in flashbacks. Even taking that into account, that's more than $400 added onto the asking price, and even more if you live overseas and want the blade.
It's no surprise to see the replica selling for so much. Not only does this happen pretty much every week at Disney World (just ask about the Figment popcorn bucket), but Star Wars Jedi: Fallen Order is an incredibly popular entry in the Star Wars universe and one that looks set to continue as early as this year. This is also the first time that an official replica of Cal's lightsaber has been produced, rare for a series that usually has tons of merchandise for every character.
With that popularity in mind and hype for a new entry in the series ramping up as we get closer to May 4, the rumoured reveal date, it's no surprise that Star Wars fans are looking to get their hands on a replica. $700 might be a bit much, though.
Source: Read Full Article