Quick Links
The DM7 may be a marksman rifle but it's also pretty reliable as a medium-range high-powered assault rifle in Battlefield 2042, improved by increasing its fire speed and using a close-range sight.
The DM7 will kill enemies in three shots with our loadout, and you can use it as a run-and-gun rifle with the loadout of your choice, even with the wingsuit flanker Sundance. It has incredibly low recoil and doesn't suffer from bloom like other rifles in the game. As long as your aim is solid, you'll have a lot of fun with the DM7.
Best DM7 Attachments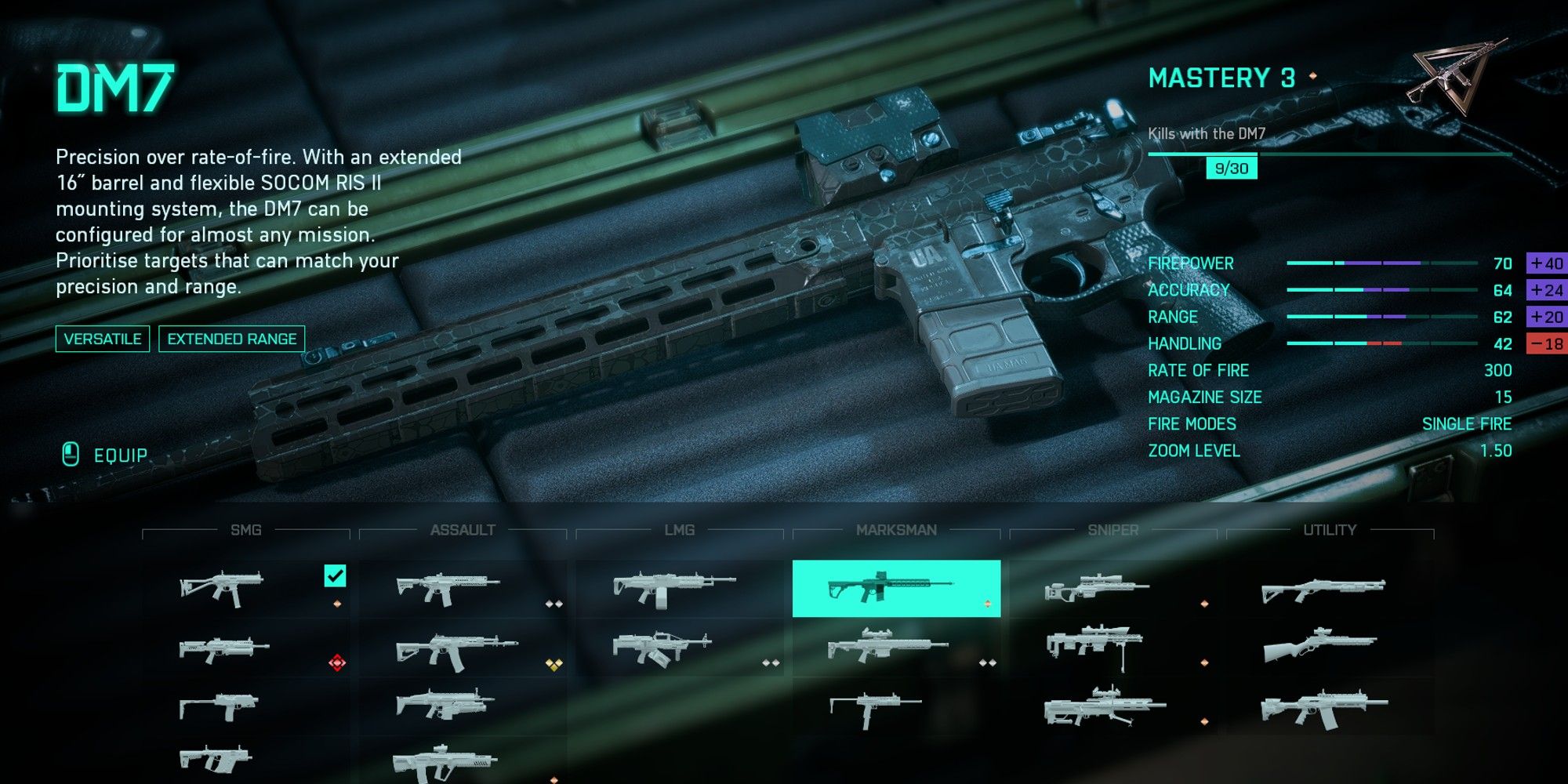 This DM7 build focuses on a faster fire rate and reliable 3-shot damage output.
Sight – Fusion Holo. This is one of our favorite sights in the game.
Ammo – There are two options you should have on your gun at all times – Standard Issue and High Power. Standard Issue is what you should use for the majority of your playtime, only switching to HP for longer-range engagements.
Barrel – We've played around with the different barrel attachments, and it's the standard barrel that seems to work best for recoil control. You can swap out to the Extended Barrel for larger maps or the Close Range barrel if you find yourself in a small, contained area.
Underbarrel – Again there are a few options, at least two, to consider for your underbarrel. If you're running and gunning, run the BCG Light Grip. Find yourself in a static position and swap to the Cobra Grip.
There are a couple of things to watch out for with the DM7. First, although its damage is great (three shots to kill) the fire rate doesn't compare to something like the AK. You have to hit your shots. Secondly, the hip fire on the DM7 is pretty bad. If you aren't running a laser (which we don't really suggest) then you shouldn't hip fire, even at close range.
You can check out some of our other weapon attachment guides here:
Best PP-29 Attachments
Best SVK Attachments
Best AK-24 Attachments
Source: Read Full Article