The second season of Star Wars: Squadrons brings with is a slew of Mandalorian-themed cosmetics.
With less than a week until the release of season two of The Mandalorian on Disney+, excitement for the return of Din Djarin and his band of scoundrels has never been higher. In conjunction with its release on October 30, Star Wars fans can bring a little bit of the show into their Star Wars: Squadrons cockpit.
On October 28, an update to Squadrons will introduce new rewards for players to earn, all based on characters and objects from The Mandalorian. The most sought after item will likely be what EA refers to simply as, "Mysterious Creature."
The Child, referred to by many as Baby Yoda, will be available in the game as a dashboard flair. A small figurine of The Child will rest atop a pedestal, gazing lovingly at pilots as they fly into battle. While it would be amazing if Mysterious Creature were animated or a living creature, at least this version won't steal your thruster nob.
There will be one other dashboard flair, an IG-Model droid based on IG-11. There are also two hanging flairs, a beskar ingot, the same metal used to craft Mandalorian armor, and a miniature version of the Razor Crest, Mando's famous ship.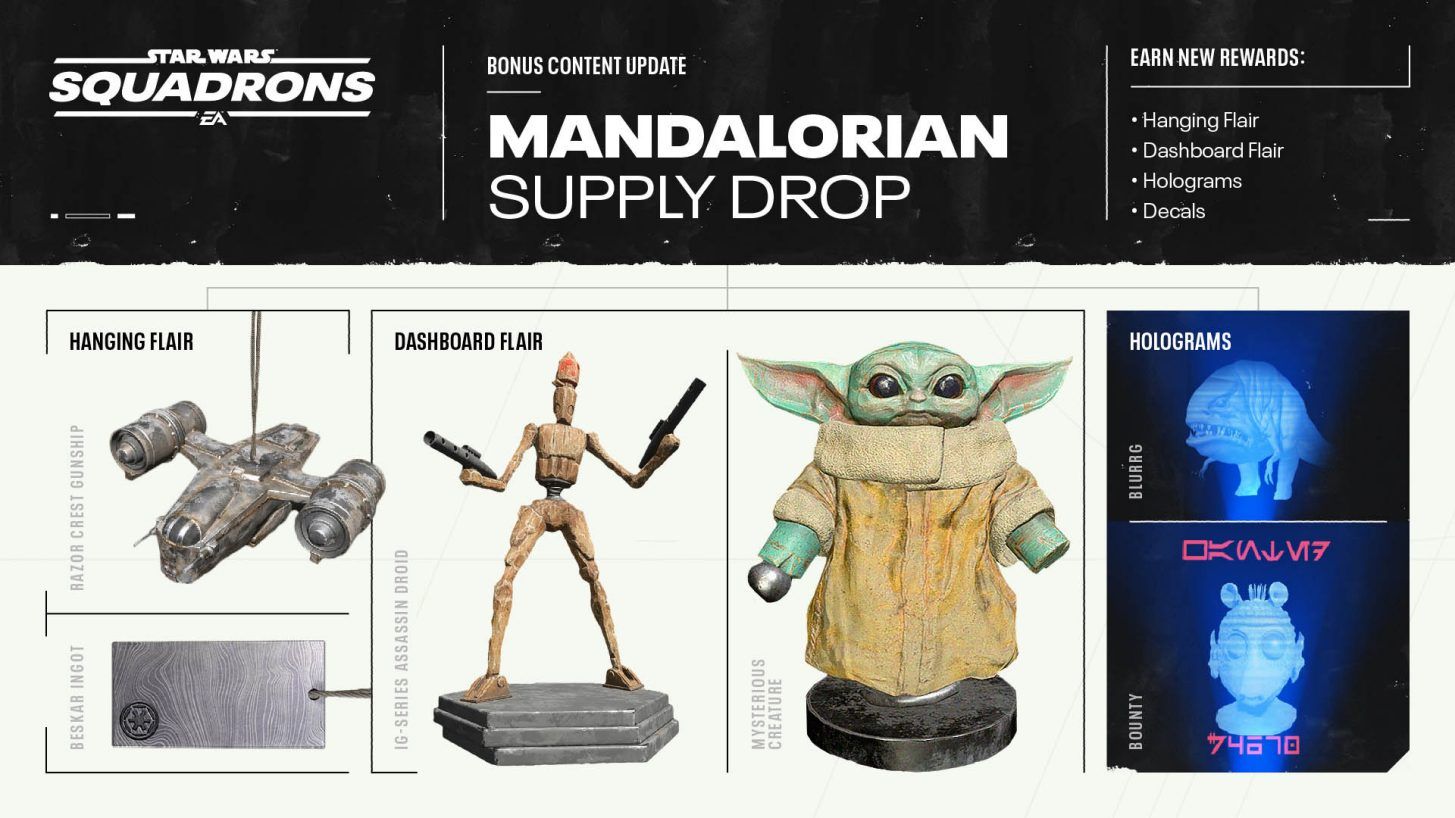 The update also includes two holograms, one depicting a Blurrg while the other features a bounty for an unnamed Rodian. I definitely didn't spend several minutes trying to translate the Galactic Basic above the alien's head only to realize it simply spells, "Wanted."
This update, launching two days before the television series returns, comes at a perfect time to keep players hooked on the game. Players looking for new, non-cosmetic content may be a little disappointed as EA does not plan to add more maps or ships, opting instead to release smaller updates such as this one.
With this update, many Star Wars fans might be tempted to purchase Squadrons and give it a try. If you're new to the game, make sure you check out our list of what we wished we had known before entering light speed.
Source: Read Full Article