Taming dinosaurs is a key part of Ark: Survival Evolved. Once tamed, a dinosaur can gather materials for you, as well as provide a quick mode of transportation for running around the island. As you start to get more dinosaurs though, many of them can start to look the same. If you use the same species of dinosaur for different tasks, this could be confusing.
Thankfully, you are able to paint dinosaurs. This will add uniqueness to each creature, as well as help you tell your dinosaurs apart. In this guide, we are going to go over how to paint your dinosaurs. First, let's look at where to get the dye to do this.
How To Get Dye In Ark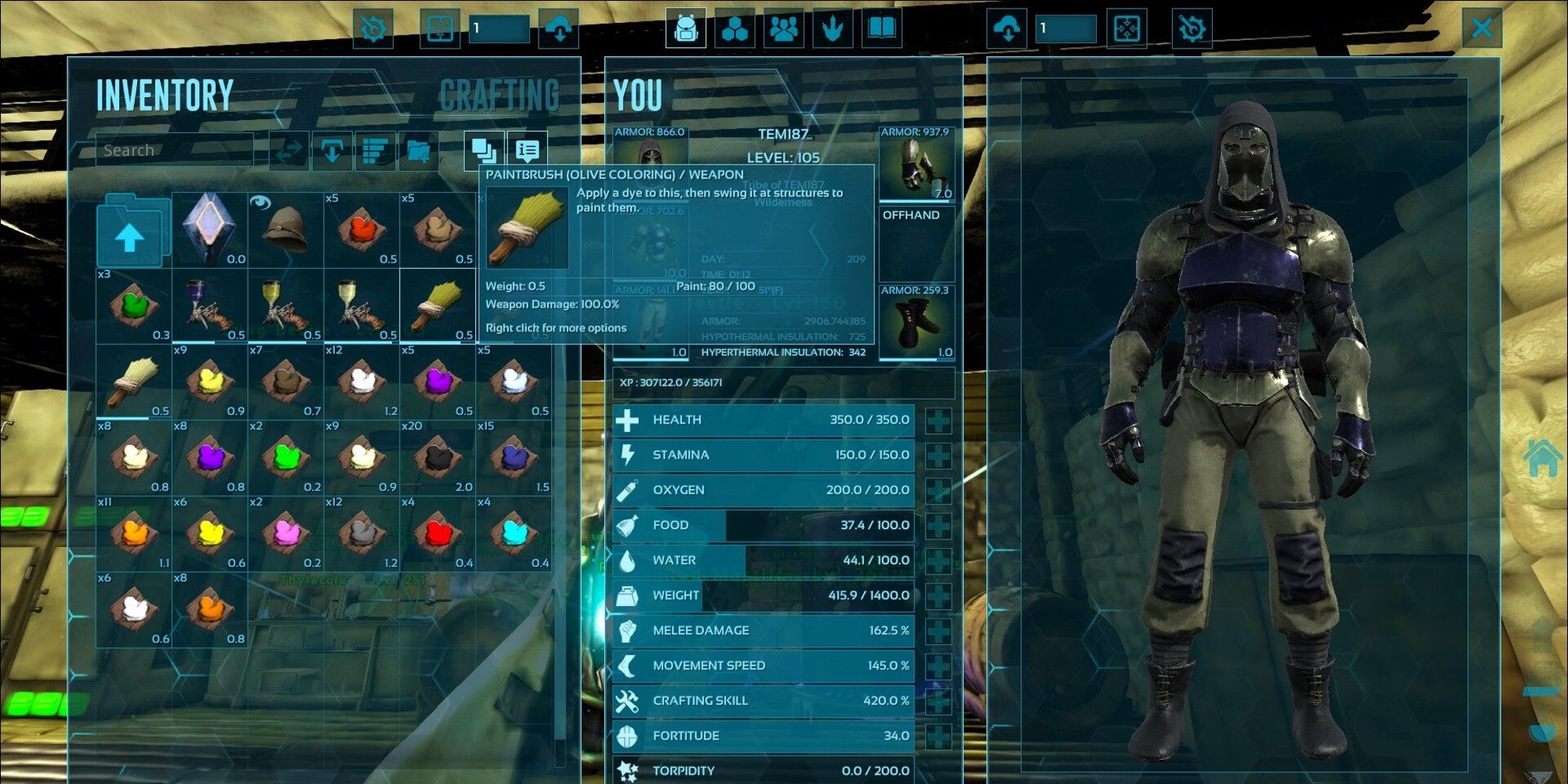 To paint a dinosaur you will need dye, which can be made from the Cooking Pot or Industrial Cooker.
The Cooking Pot is an early game item that will unlock for nine engram points once you become level eight. Prior to unlocking the Cooking Pot, you will need to unlock the campfire engram. To make the Cooking Pot, you will need the following materials.
75 Stone
15 Thatch
10 Wood
5 Flint
The Industrial Cooker is essentially an upgraded version of the Cooking Pot that will unlock with 60 engram points once you become level 89. This will take a while, but you can easily make dye with a Cooking Pot too.
To make the dye, you will need to place the required materials in the inventory slot of the Cooking Pot. Below, you can find the materials to make dye.
1 Full Water Jar, Canteen, or Water Skin
Charcoal, Gunpowder, or Sparkpower

The material needed depends on the color desired

Berries

This depends on color desired

As you can see, the berries needed will depend on the color that you want. In total, there are 25 different dye colors, which we will take a look at next.

All Dye Colors In Ark

Placing these ingredients in the Cooking Pot will produce five dyes that you can use.

Dye Color
Charcoal, Gunpowder, or Sparkpowder?
Berries Needed
Black
2 Charcoal
Blue
2 Charcoal
Brick (deep red)
1 Sparkpowder

12 Tintoberry
6 Narcoberry

Brown
2 Charcoal

6 Amarberry
3 Azulberry
9 Tintoberry

Cantaloupe (tan/yellow)
1 Sparkpowder

7 Amarberry
7 Tintoberry
4 Stimberry

Cyan
1 Sparkpowder
Forest
1 Gunpowder

7 Amarberry
7 Azulberry
4 Narcoberry

Green
2 Charcoal
Magenta
1 Sparkpowder
Mud
1 Sparkpowder

4 Amarberry
1 Azulberry
7 Tintoberry
6 Narcoberry

Navy
1 Sparkpowder
Olive
1 Sparkpowder
Orange
2 Charcoal
Parchment
1 Gunpowder
Pink
1 Gunpowder
Purple
2 Charcoal
Red
2 Charcoal
Royalty (deep purple)
1 Gunpowder

7 Azulberry
7 Tintoberry
4 Narcoberry

Silver
1 Gunpowder
Sky (light blue)
1 Gunpowder
Slate
1 Sparkpowder
Tan
1 Gunpowder

4 Amarberry
1 Azulberry
7 Tintoberry
6 Stimberry

Tangerine
1 Gunpowder

7 Amarberry
7 Tintoberry
4 Narcoberry

White
2 Charcoal
Yellow
2 Charcoal

How To Paint A Dinosaur In Ark

To paint a dinosaur, you will need to drag dye in your inventory to a paintbrush. This is a simple item that will unlock for three engram points once you become level nine. You will need the following materials to make a paintbrush.

With the dye dragged on top of the brush, you can now click on a dinosaur and apply the paint. When applied to the paintbrush, you will be able to use the dye ten times. After this, the dye will run out and you will need to apply more. As you paint, you can click on different parts of the dinosaur to have a variety of colors.

Once you reach level 53, you will have the chance to unlock the Spray Painter for 20 engram points. This is a more advanced version of the paintbrush, allowing you to paint quickly without using as much dye as the paintbrush. To place dye in the Spray Painter, you will just need to drag the dye on in from your inventory.

To make the Spray Painter, you will need the following materials.

50 Metal Ingot
35 Polymer
40 Crystal
60 Cementing Paste
20 Oil
5 Hide

In addition to painting dinosaurs, you will also be able to paint buildings, armor, weapons, robots, and even yourself. Painting these objects works the same as painting a dinosaur; all you need to do is click while holding one of the two painting tools mentioned above.

That's all there is to know about painting dinosaurs. There are a lot of colors available, allowing you to personalize all of your creatures!

Source: Read Full Article