We're on the cusp of the start of another school year. Parents everywhere are wondering where all the time has gone. Kids are ecstatic, disappointed, or somewhere in-between. One thing's for sure — students of all ages are going to need school supplies. The best of the bunch always tout the student's interests in some fashion, and if you're looking at this list, we're guessing those interests involve video games.
That's why we've assembled this shopping guide for the best back-to-school must-haves for gamers. Whether the recipient of your gift is in primary school or a grad program, we've got you covered. And if you're buying these hot scholastic gaming items for yourself instead? Game on.
Backpack and Lunchbox: Pikachu-Themed Four-Piece Set With Water Bottle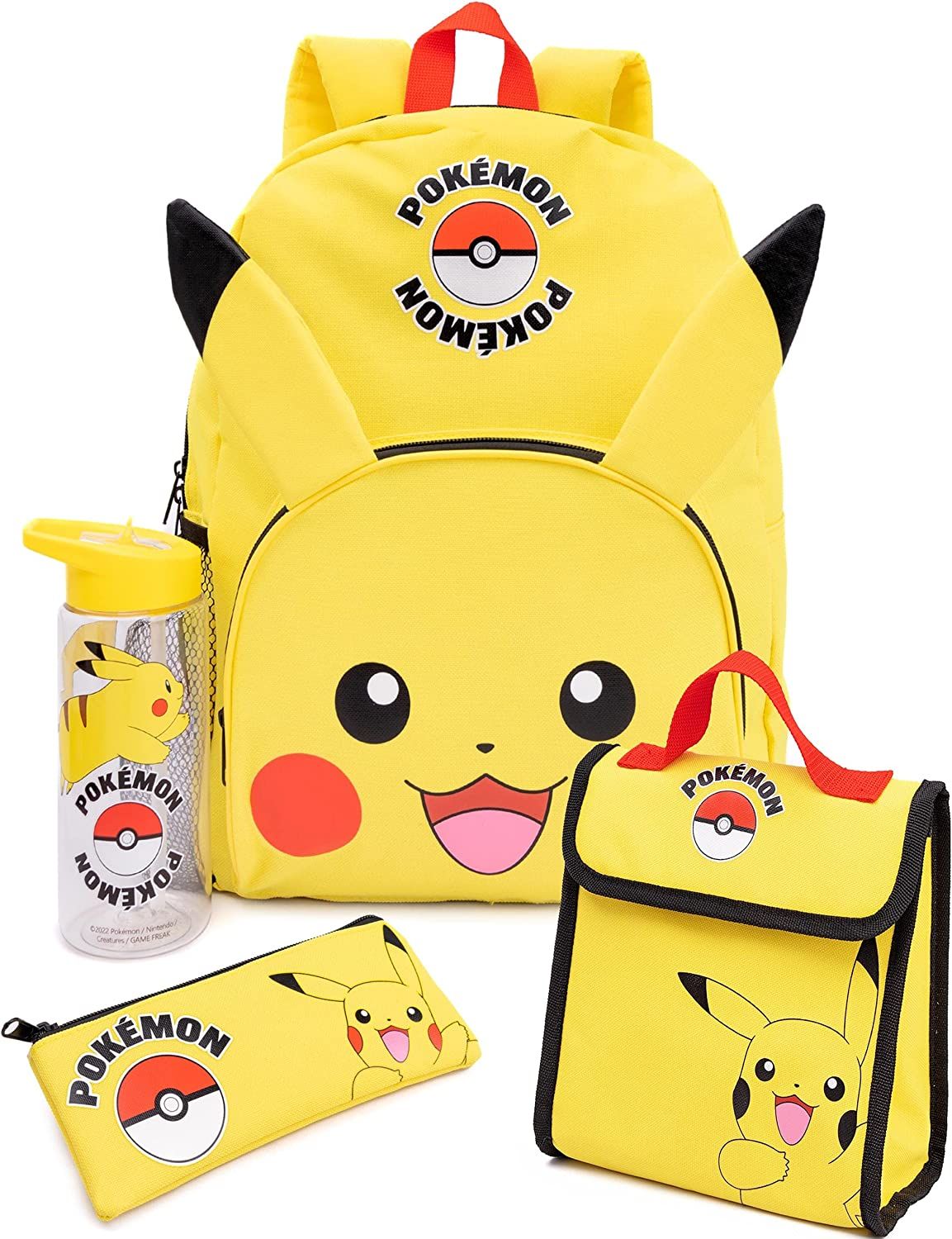 They say yellow really makes a statement. Pikachu makes a statement, too, even if that statement consists of nothing but its own name. Repeatedly. In different pitches. Whether a student's five or 55, they'll be hard-pressed not to mimic this Pokemon icon's adorable voice while they scarf down on some lunchtime grub.
A lunchbox is a must-have in virtually any academic environment, and the inclusion of a water bottle and a pencil case is icing on the Pika-cake. Of course, for all our talk of eating, the real star here is probably the biggest Pikachu in the set — a nice-sized backpack that'll make any kid Pika-ppear like the master trainer they were born to become.
Get it on Amazon here!
Backpack: Fortnite Multiplier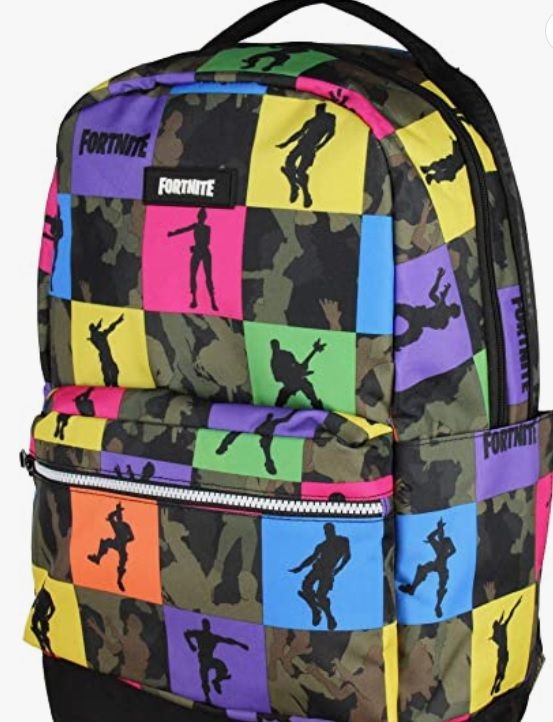 As cute as that Pikachu backpack may be, many students are going to need something heavier-duty. That's where knapsacks like this Fortnite-themed piece come into play. What we love about this line, other than its ultra-high marks for excellent durability and overall appeal, is that it comes in not one, not five, but a whopping nine varieties.
Our personal favorite is visible in the above pic, but there are enough variations to suit any Fortnite fan in the wide and wonderful world of academia. Ample zippers and a sturdy primary compartment ensure that kids and adults alike are battle-ready to hit the books.
Get it on Amazon here!
Stationary Set: 11-Piece Super Mario Pack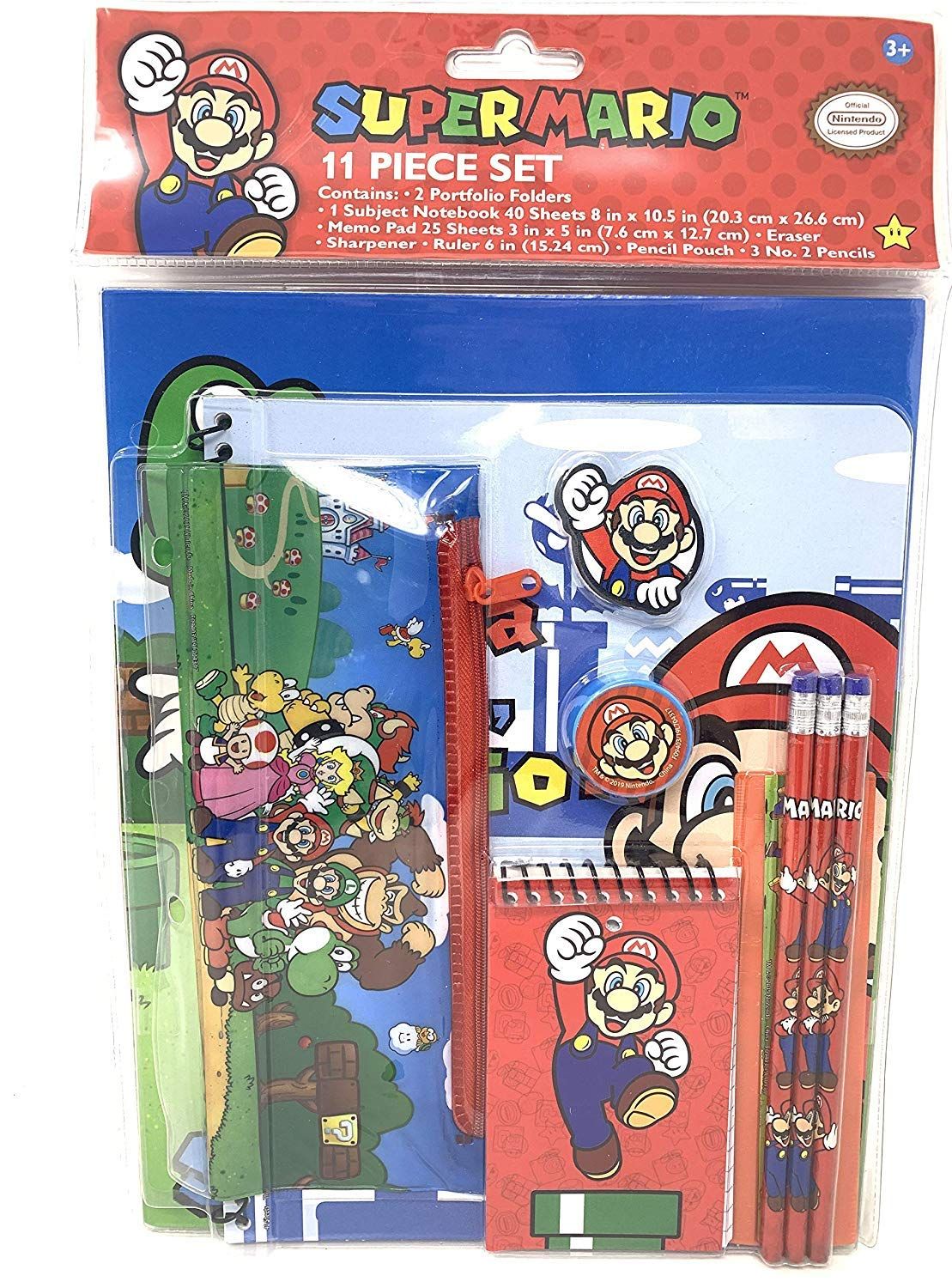 The appearance of something Mario-related on our list of back-to-school gaming gifts was as inevitable as Princess Beach being kidnapped by a certain kingly reptile. We saved history's most heroic fictional plumber for somewhere he can shine on multiple stages — this 11-piece stationery set is sure to pass every written test.
A pair of portfolio folders fit for the Mushroom Kingdom, an equally lively notebook, and a handy little memo pad makes a solid bundle, but it's the ruler, pencils, eraser, and sharpener that promise your student will have everything it takes to study. This even comes with a pencil pouch that pulls (some of) the spotlight off the man in red in favor of his friends and frenemies.
Get it on Amazon here!
Coffee Mug: Game Boy Heat-Changing Tankard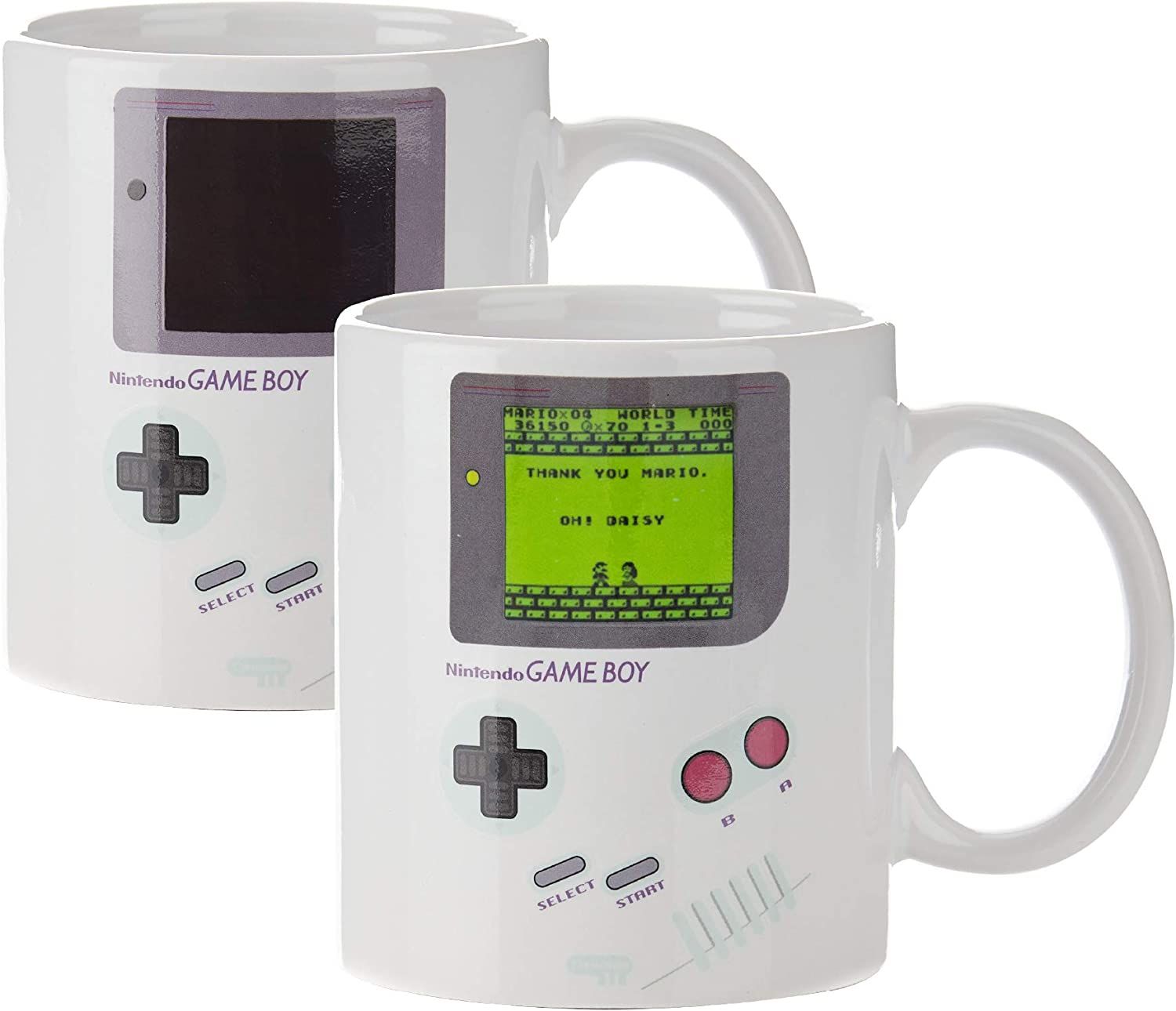 Speaking of Nintendo, how cool is this? Or we suppose we should say, how warm is it? The video game merchandise gurus over at Paladone have done it again with this Game Boy beverage mug that shifts from "off" to "on" as it heats up. Not to oversell this thing, but that's cup-shaped art right there.
The mug even features imagery on the front and back. On one side is the familiar Super Mario Land start screen; on the other, which is visible above, the unsung Princess Daisy gets her moment at last. Even if that moment still involves being rescued.
Whether your back-to-school buddy's a tea-drinker, coffee-drinker, or pines for some delicious hot cocoa, they'll be sure to study hard with this Game Boy gadget on their desk.
Get it on Amazon here!
Laptop: Acer Nitro 5 Gaming Laptop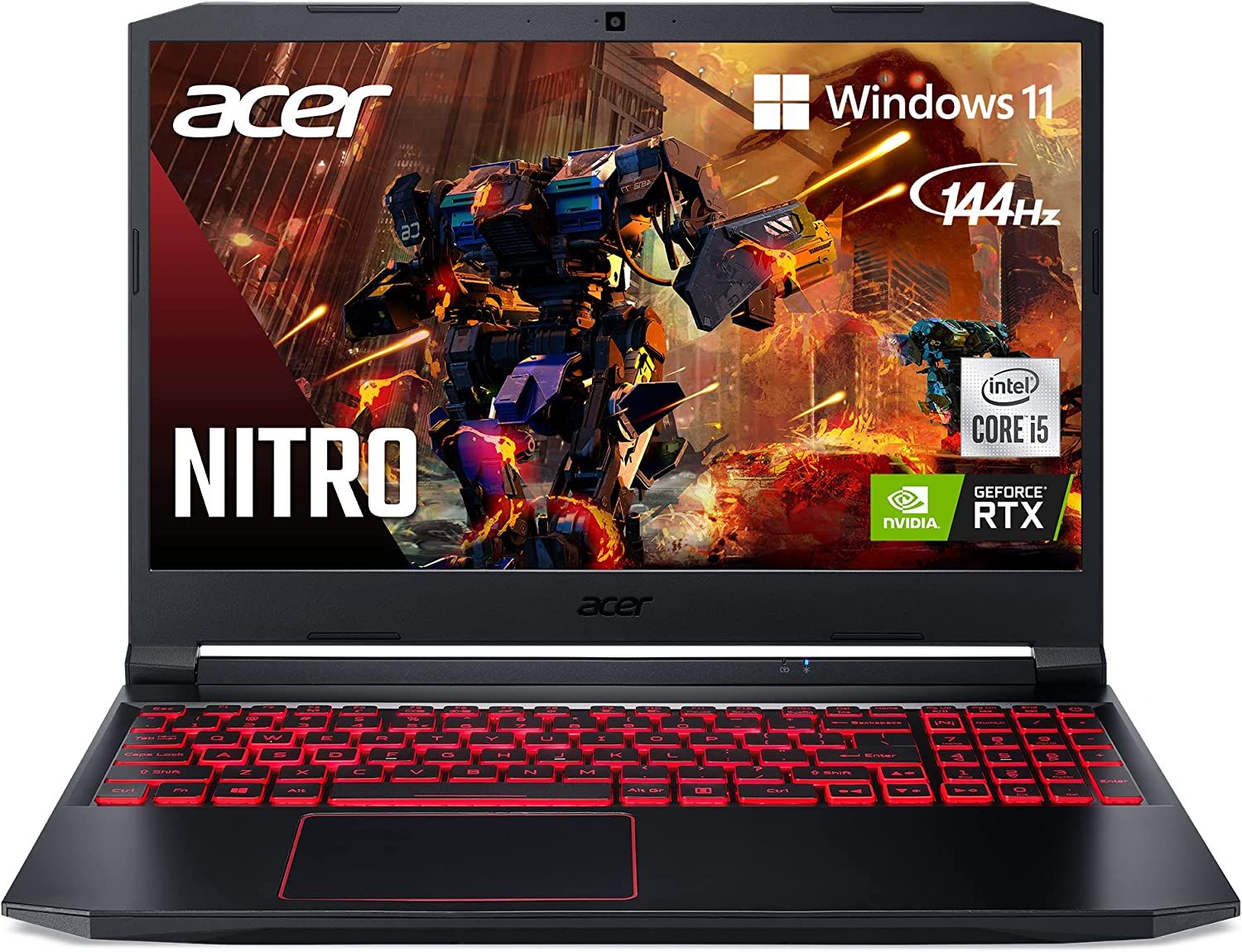 A laptop is the priciest thing a school-bound scholar will need, but if they're off to college, it's arguably a downright necessity. And if your scholar fancies themselves a gamer, it's important for their device to boast adequate specs for some time well-spent with their favorite titles.
We looked at a lot of laptops, but the Acer Nitro 5 is our pick for the best overall package that won't shatter a modest budget. A GeForce RTX 3050 GPU is impressive enough, especially in our current, short-on-semiconductors, environment. The Intel Core i5 processor is tenth-generation, meaning students won't get short-charged on processing power.
Should the 256 GB hard drive size prove problematic over time, it's easy to connect an external device to shore things up with ease.
Get it on Amazon here!
Clothing: "I Paused My Game To Be Here, You're Welcome" T-Shirt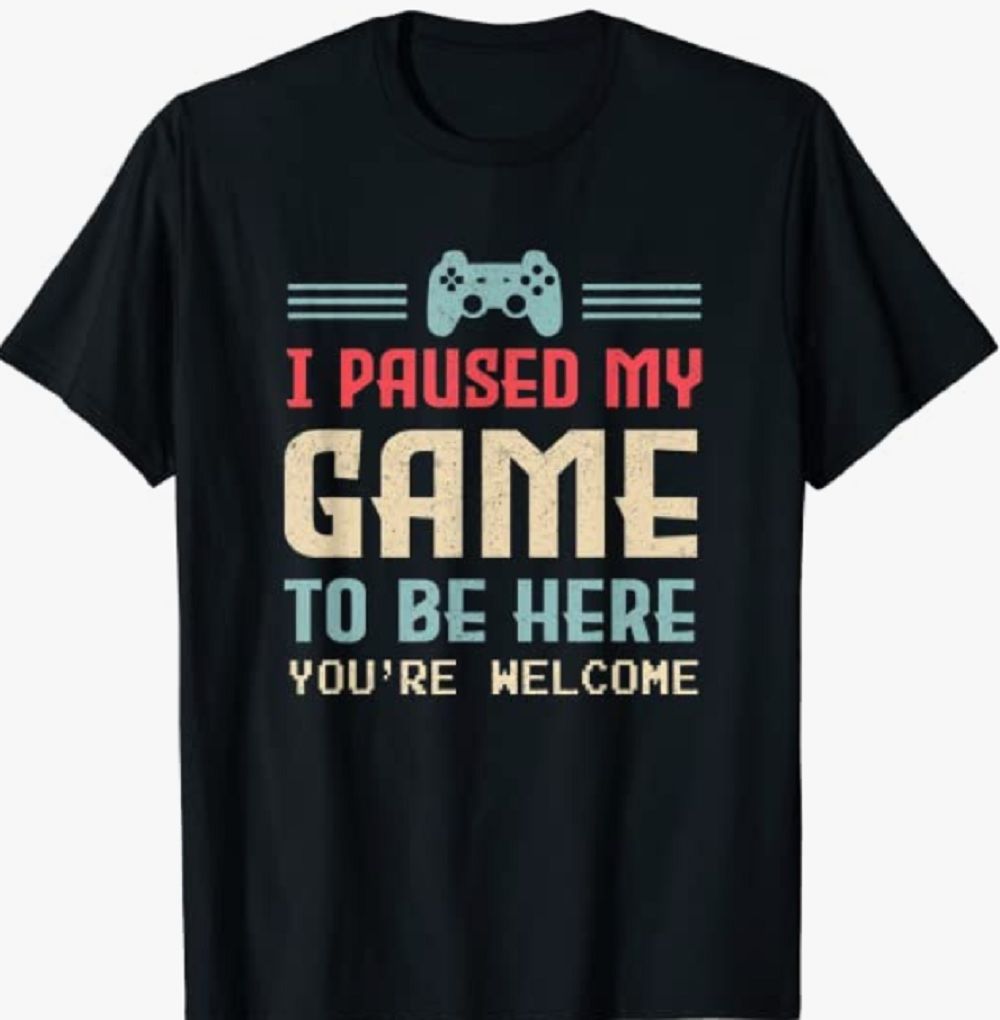 There's nothing like a dollop of lighthearted snark to get through the school day. Gaming enthusiasts eager to display their passion can do so through the time-honored trend of sassy words on a comfortable tee.
While the icon at the top of this gaming shirt is unmistakably PlayStation, fans of every platform will no doubt see the humor here. We'd like to congratulate the future wearers of this witty bit of fabric for taking the time away from bashing Alduin, winning matches in League of Legends, or, you know, whatever it is they were doing. School's cool, too.
Get it on Amazon here!
Gaming Services: Xbox Game Pass Ultimate
When it comes to gaming, nothing's quite so savvy as an all-you-can-play package. Whether you're a diehard PC fan or an owner of any Microsoft hardware from Xbox One on up to Xbox Series X — or both! — Xbox Game Pass Ultimate provides a rotating buffet of video games from every genre to chill with.
Whether it's five minutes between classes with a quick match of Halo Infinite or five hours on weekends with a robust RPG, you're in for a fun time. But don't get us wrong. We chose Game Pass Ultimate for our own published scribble, but Sony and Nintendo both offer good times as well.
PlayStation Plus has recently been revamped to rival Game Pass, and Nintendo Switch Online has a growing library of classic games like Super Mario World and The Legend of Zelda: A Link to the Past. Retro gaming that fits in a backpack? Nice.
Get it on Amazon here!
We hope you like the items we recommend and discuss! TheGamer has affiliate and sponsored partnerships, so we receive a share of the revenue from some of your purchases. This won't affect the price you pay and helps us offer the best product recommendations.
Source: Read Full Article