The best board games are ones that balance time commitment with fun and don't take up your time unnecessarily. Your group may prefer shorter games, playing multiple in a night. Or, perhaps you play one round of Catan and call it quits! However, if you're the kind of people who enjoy a long afternoon or evening of an in-depth board game experience, you've come to the right place!
Long board games have it tough. They need to make sure that you care enough to keep playing! Sometimes that's accomplished through complicated game mechanics that you need to follow closely in order to have a chance at victory. Sometimes they're great conversation starters, and you can't stop laughing over your friends' bad luck or goofy playstyle! Whatever is keeping you hooked, you're bound to enjoy something from this list of our favorite long board games.
5/5

Star Wars: Rebellion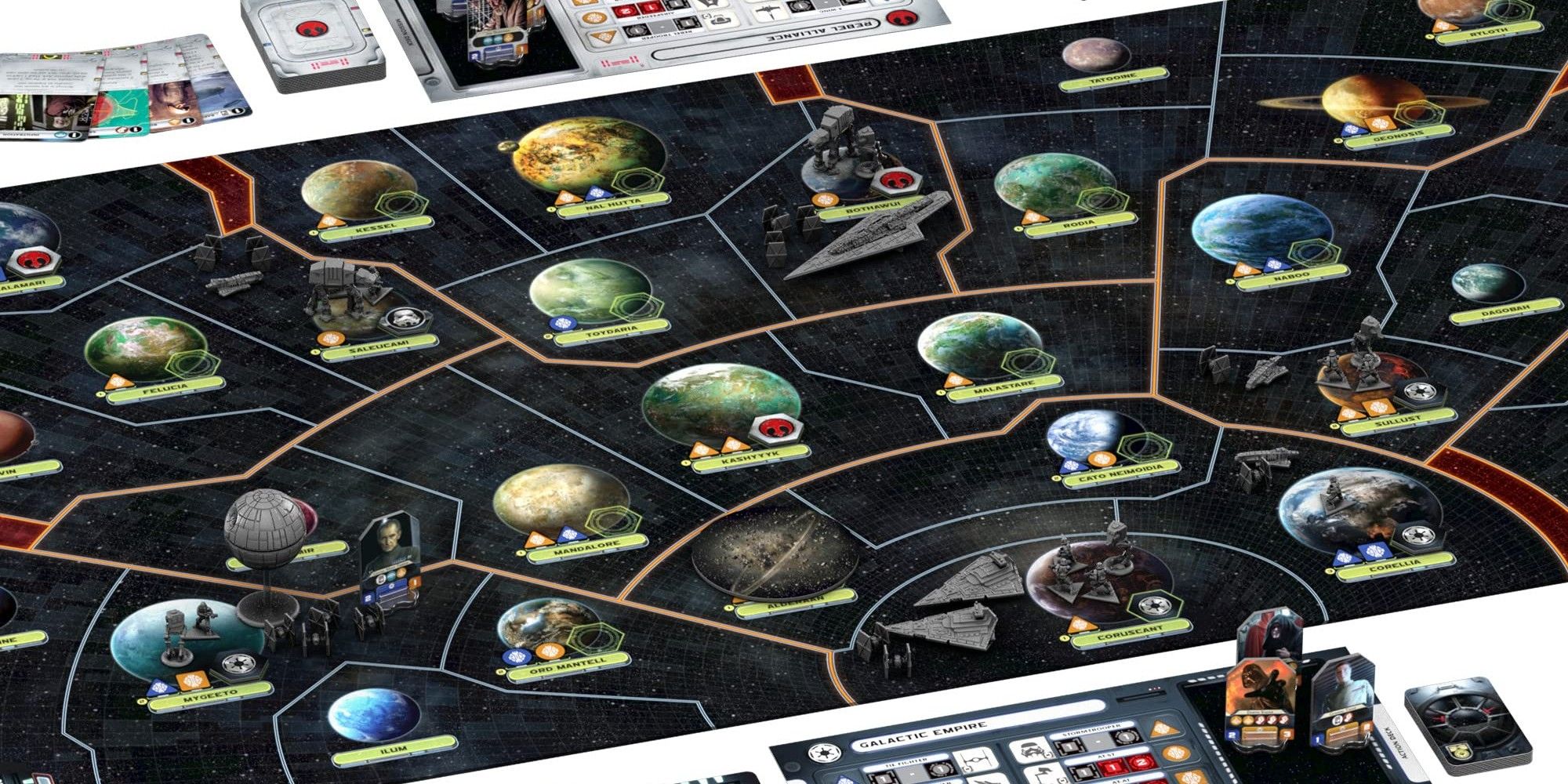 | | | | | | |
| --- | --- | --- | --- | --- | --- |
| Recommended Age | 12-14+ | Average Playtime | 200 minutes | Number Of Players | 2-4 |
Players tend to enjoy Star Wars: Rebellion best in pairs. One person controls the Rebels, the other the Galactic Empire. Each group has unique ships to control and a different goal: the Empire needs to crush the Rebels entirely, while the Rebels are focused on swaying hearts and minds.
You'll also use characters like Emperor Palpatine and Luke Skywalker; they each have their own ways to help your cause! When is the best time to send Luke for Jedi training? How can Palpatine inspire fear and obedience in his troops? Only you can decide!
4/5

Gloomhaven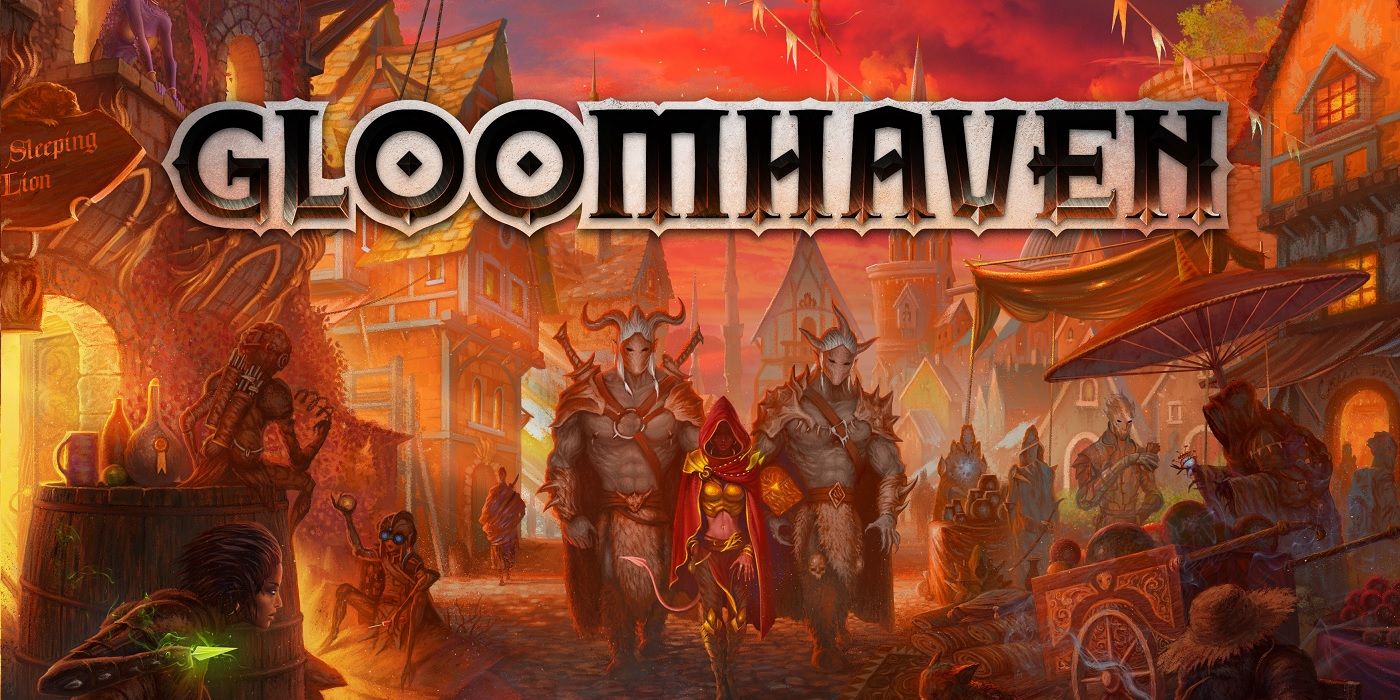 | | | | | | |
| --- | --- | --- | --- | --- | --- |
| Recommended Age | 14+ | Average Playtime | 120 minutes | Number Of Players | 1-4 |
Gloomhaven is a fantasy board game that plays on the classic 'adventurers in a dungeon' theme. You and the other players spend your time looting these locations and facing the monsters there! However, there are a limited number of cards to be used, and if players wait too long they might have to retreat.
Gloomhaven is pretty popular, so there are even more spin-off games to try if you like it! It even has a video game counterpart that can be enjoyed on PC (and it's supposedly coming to consoles in 2023). Besides, if you don't have friends to play with you, it can be enjoyed all by yourself!
3/5

Twilight Imperium: Fourth Edition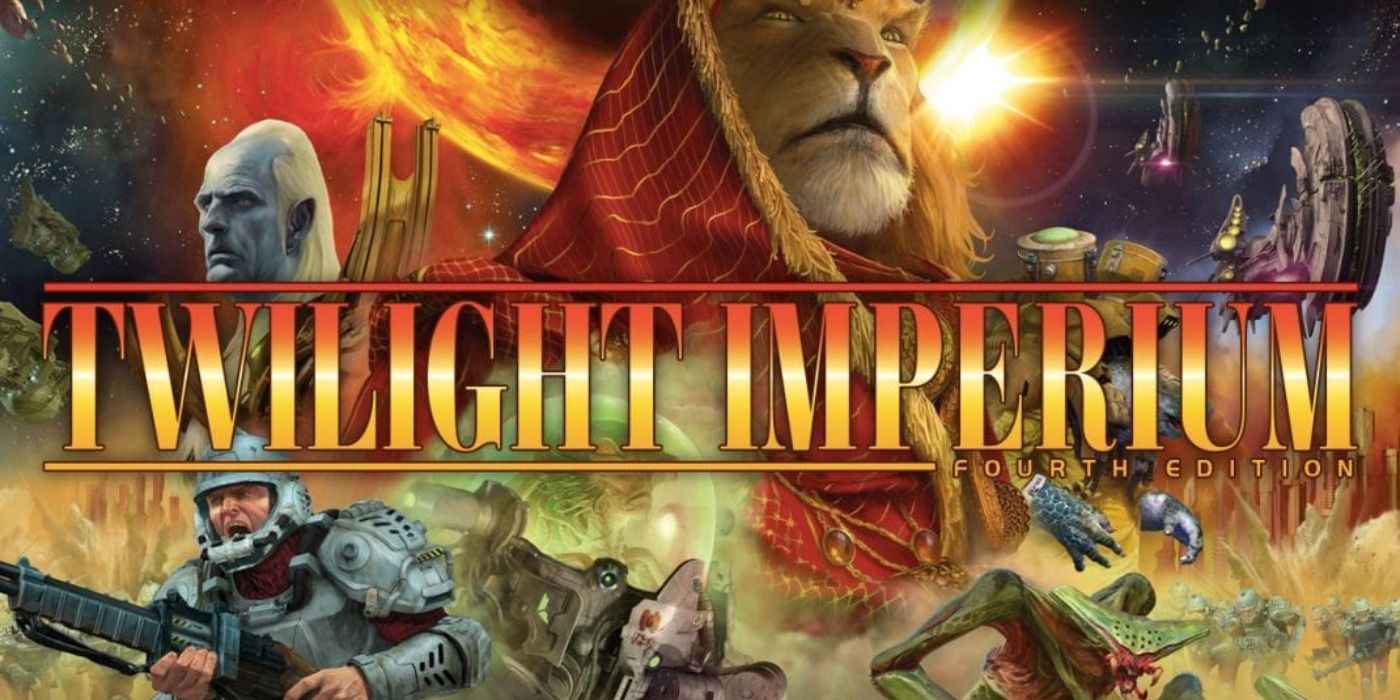 | | | | | | |
| --- | --- | --- | --- | --- | --- |
| Recommended Age | 14+ | Average Playtime | 260-480 minutes | Number Of Players | 3-6 |
Twilight Imperium is set in a fantastical galaxy where various factions are trying to take control! That won't just involve military might, either; you'll need to balance it with politics and a strong economy. The game is really popular and has been around for decades; the most recent version is the fourth edition, with the first-ever edition released in 1997.
You play as one of seventeen factions, each with unique quirks that change how you'll be able to rule the galaxy. That galaxy is built randomly with tiles at the start of the "age," a bit like Catan, so it doesn't ever feel like one faction has too much of an advantage.
2/5

Terraforming Mars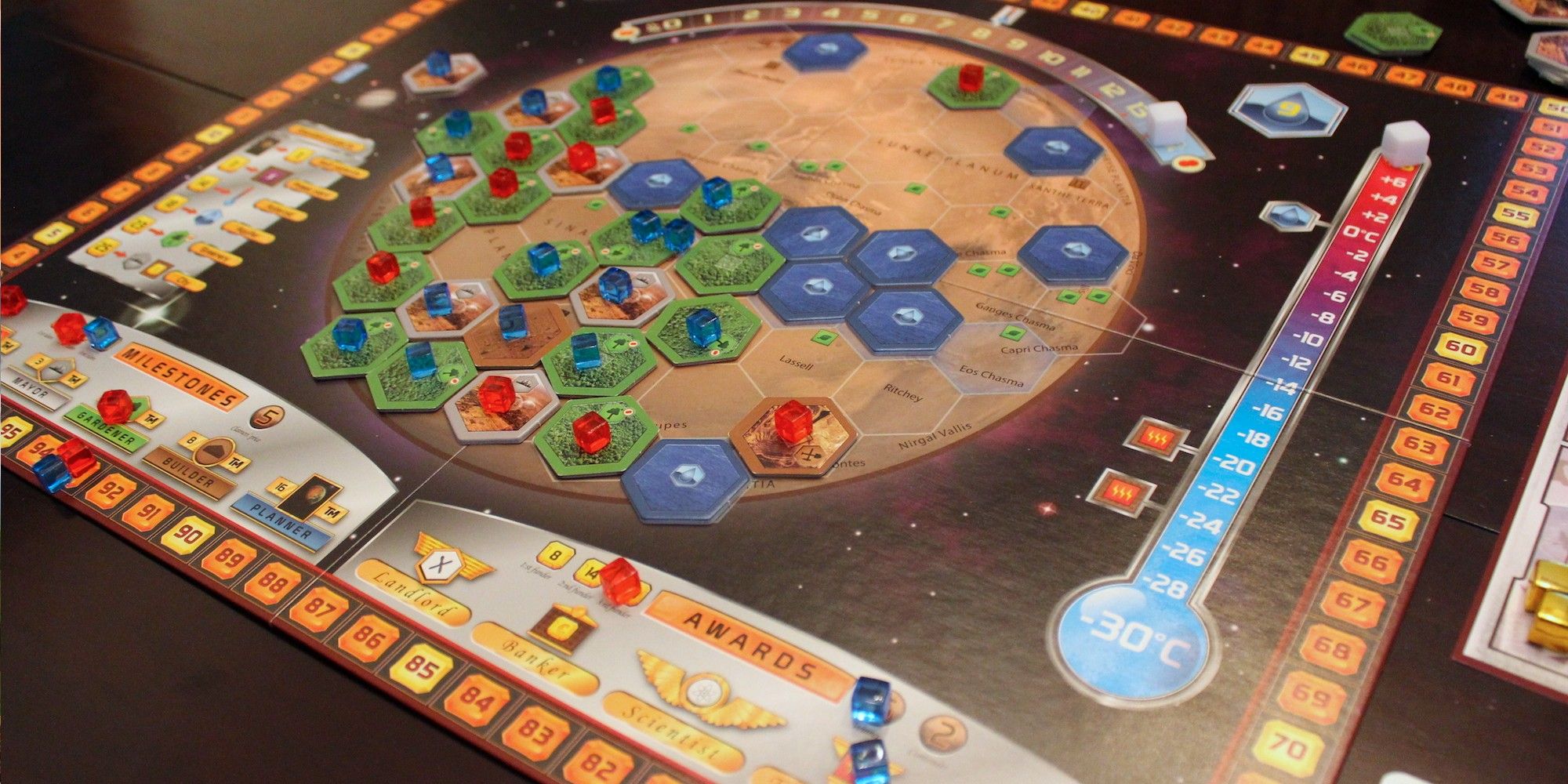 | | | | | | |
| --- | --- | --- | --- | --- | --- |
| Recommended Age | 12+ | Average Playtime | 120 minutes | Number Of Players | 1-5 |
Terraforming Mars is a game about corporations who are attempting to, you guessed it, terraform Mars! Each player is one of those corporations and will work on various different projects.
Each project completed will make Mars a little more habitable. Once Mars has become livable for humans, the game will end and the player whose corporation contributed most will win!
Like Gloohaven, there's also a video game version that you can try if you enjoy the board game.
1/5

Risk: The Lord of the Rings Trilogy Edition

​​​​​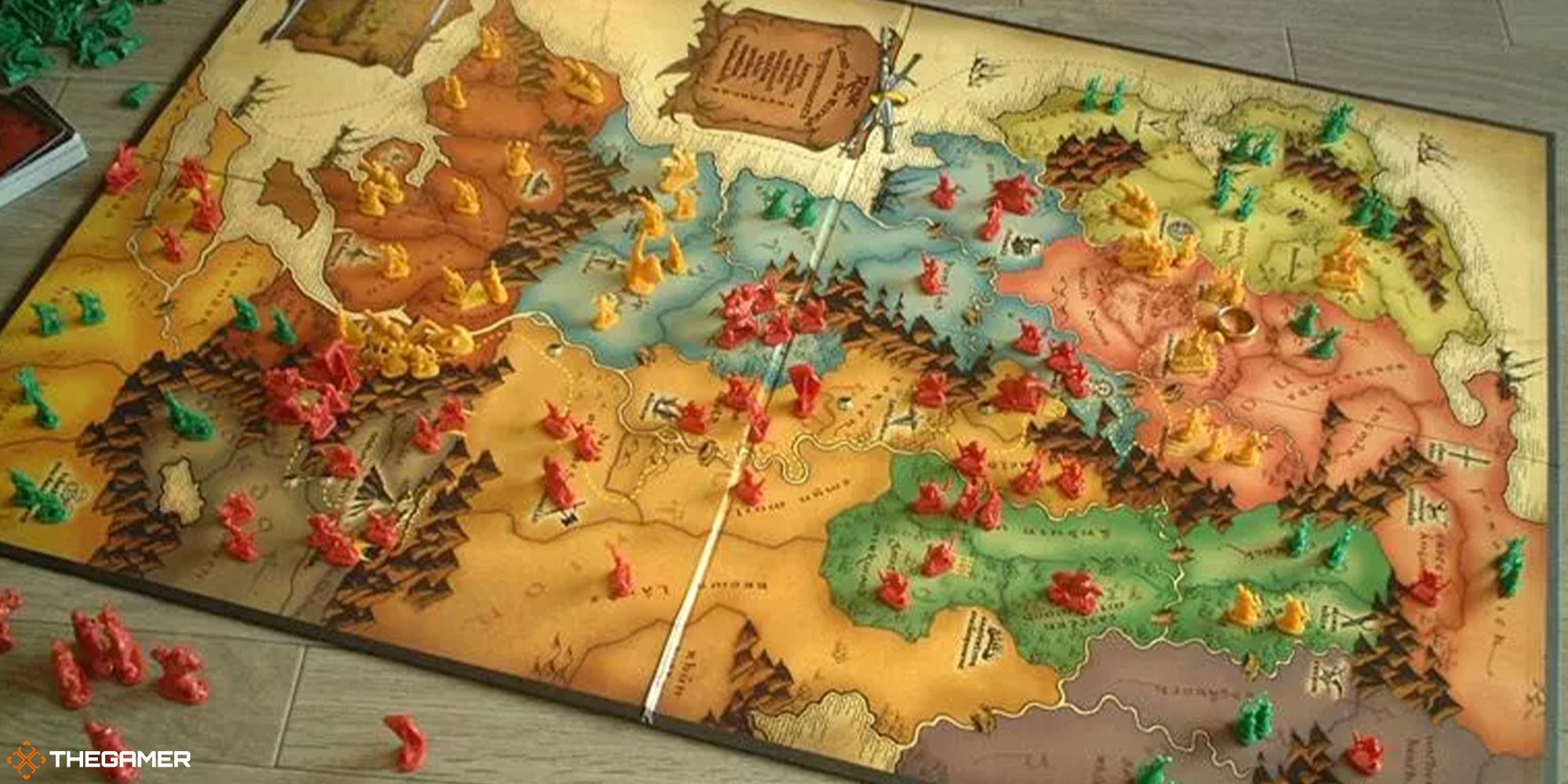 | | | | | | |
| --- | --- | --- | --- | --- | --- |
| Recommended Age | 9+ | Average Playtime | 180 minutes | Number Of Players | 2-4 |
Risk could be on this list in its own right, but people are bored of playing Risk by now. For something with a nerdy twist, why not try a Lord of the Rings version? It even comes with a convincing replica of the One Ring itself!
In addition to the regular goals of Risk, you'll also try to get control of the Ring and move it across the board (towards Mount Doom if you're good, away from it if you're evil). Of course, you can just play regular Risk with the board, but we really enjoy the fun added by special adventure cards, the One Ring, and unique rules for creating alliances.
Source: Read Full Article